Last Updated on January 26, 2013 8:39 am
Saturday Jan 26
Travel conditions much better than this time yesterday. Still some slick spots. Sunny today but windy. Highs in 30s
The wind advisory has been canceled, however gusts of up to 40mph are still in the forecast. Highs in the 30s today.
9am – Per fb report- 421 toward Wilkes is still rough. Only one lane passable but passing state trucks.
It appears road conditions off the mountain are much worse than on. Allow extra travel time this morning til temps warm up.
11:30am – no real travel issues to report, roads across the area are driveable.
For something a little different: horses in the mountains see snow often, the wild horses of Corolla on the Outer Banks not so much. This is a youtube video from Friday Jan 25, 2013.

Sunday Jan 27
19 degrees in Boone at 6:50am. Sunny and 40s today. Freezing rain possible after midnight and early Monday morning.
No major road issues this morning, though there are some slick spots to be found on some side roads.
2:23pm-Freezing Rain Advisory for Avery County from 9pm tonight-9am Monday. No advisory for Watauga & Ashe yet but we do have freezing rain in the forecast for after midnight and early Monday.
This graphic from Brad Panovich shows the freezing rain threat tonight and overnight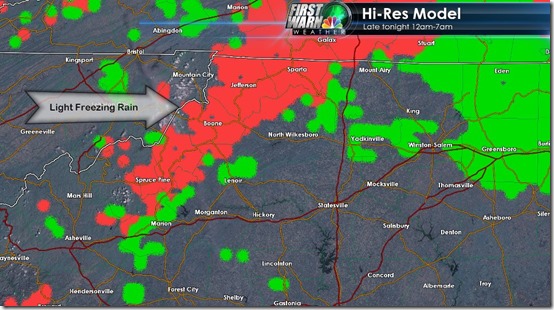 Freezing Rain Advisory for Watauga, Ashe & Wilkes from 9pm tonight-10am Monday. Avery & Caldwell from 9pm-9am Monday.
11:25pm – getting first report of freezing rain in 105/Baird's Creek Road area
Radar view at 11:10pm of the freezing rain