*Updated Wednesday, December 21, 2022*
*Author note from Kenneth Reece* – After a wind gust of 68 mph in Boone on Sunday April 3, 2016 my curiosity was piqued to research how often that had happen, so into weather data I dove. Surprisingly there was not one place that had information already put together about wind, much like when I researched and put together the pages on High Country Tornado History and High Country Earthquake History
In looking back through data from the Watauga Medical Center reporting station, all 4,611 days that wind data was available, I was quite surprised to not only learn how many times there had been a gust of 60mph or more, but how many times a 70mph+ gust had occurred. Take note that wind gust data was only available from September 1, 2005.
50 times 60 mph gusts or more have been recorded, of those 4 were 70 mph or more. Below are the gusts in mph with the dates and times recorded. This list will be updated as either more past historical data is found and as newer gusts are recorded. For a history of Boone Wind Chill History visit this page.
Wind rose graphic courtesy of the State Climate Office of North Carolina. It shows the wind speed and direction from March 30, 2001 to December 21, 2022. Gusts for that station are below.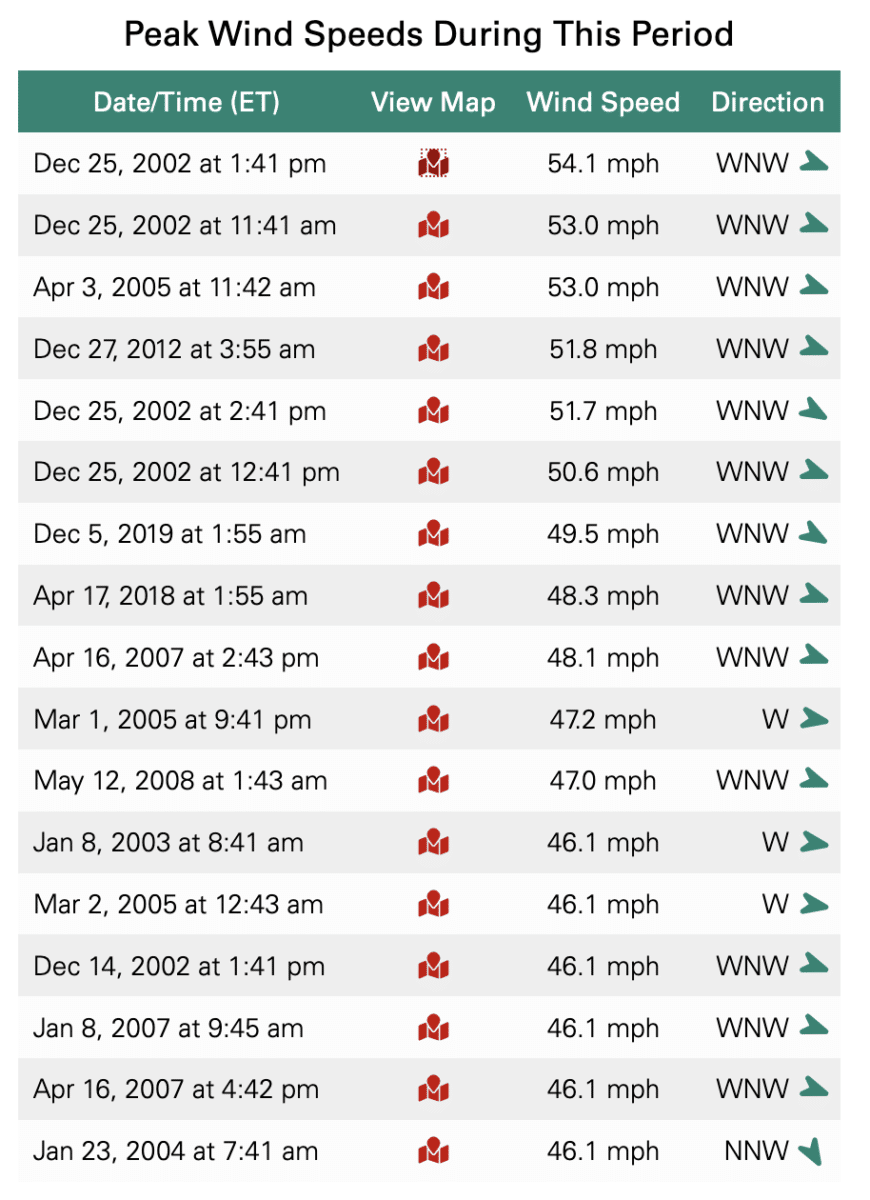 | | | |
| --- | --- | --- |
| Mile Per Hour (MPH) | Date | Time |
| 75 | December 27, 2012 | 3:35am |
| 72 | April 17, 2007 | 1:22am |
| 71 | April 16, 2007 | 12:03am |
| 70 | December 21, 2012 | 7:35pm |
| 68 | January 17, 2022 | 8:39am |
| 68 | January 25, 2006 | 2:03am |
| 68 | April 3, 2016 | 1:35am |
| 67 | January 24, 2006 | 11:23pm |
| 67 | February 22, 2007 | 12:22am |
| 67 | February 10, 2010 | 8:01pm |
| 67 | December 20, 2012 | 11:55pm |
| 67 | December 22, 2012 | 12:35am |
| 67 | June 13, 2013 | 3:55pm |
| 67 | March 30, 2014 | 6:35am |
| 67 | December 12, 2017 | 23:55pm |
| 67 | December 5, 2019 | 1:55am |
| 66 | May 12, 2008 | 4:21pm |
| 66 | December 7, 2010 | 3:02am |
| 66 | January 24, 2013 | 6:15am |
| 65 | Sunday Feb 24 (year unconfirmed) | |
| 64 | April 15, 2007 | 12:41am |
| 64 | February 26, 2010 | 6:40am |
| 64 | March 10 | 1:35pm |
| 64 | March 10, 2017 | 10:15am |
| 64 | April 16, 2018 | 11:15pm |
| 63 | January 14, 2006 | 4:02pm |
| 63 | February 10, 2008 | 2:43pm |
| 63 | May 11, 2008 | 12:03am |
| 63 | March 29, 2009 | 8:01pm |
| 63 | December 31, 2013 | 12:15am |
| 63 | July 8, 2016 | 6:55pm |
| 63 | February 25 | 4:35am |
| 63 | April 17, 2018 | 12:35am |
| 62 | December 28, 2009 | 9:01pm |
| 62 | February 14, 2011 | 2:22pm |
| 62 | December 26, 2012 | 10:35pm |
| 62 | February 3, 2013 | 5:15pm |
| 62 | January 7, 2014 | 2:35am |
| 62 | February 15, 2015 | 4:35am |
| 62 | February 13, 2016 | 2:55am |
| 62 | April 2, 2016 | 10:35pm |
| 61 | April 3, 2006 | 10:03pm |
| 61 | December 22, 2020 | |
| 61 | January 20, 2021 | |
| 60 | December 9, 2005 | 7:23am |
| 60 | January 8, 2007 | 9:45am |
| 60 | February 23, 2007 | 4:03am |
| 60 | February 12, 2009 | 9:41am |
| 60 | December 28, 2011 | 5:55am |
| 60 | October 30, 2012 | 5:35am |
| 60 | February 17, 2013 | 2:35pm |
| 60 | March 2, 2017 | 12:35pm |
| 60 | March 2, 2017 | 12:55pm |
| 60 | January 9, 2019, | 10:35am |