Fall Color Peak Map
Map Conceived by Dr. Howard Neufeld and Michael Denslow
Map Constructed by Michael Denslow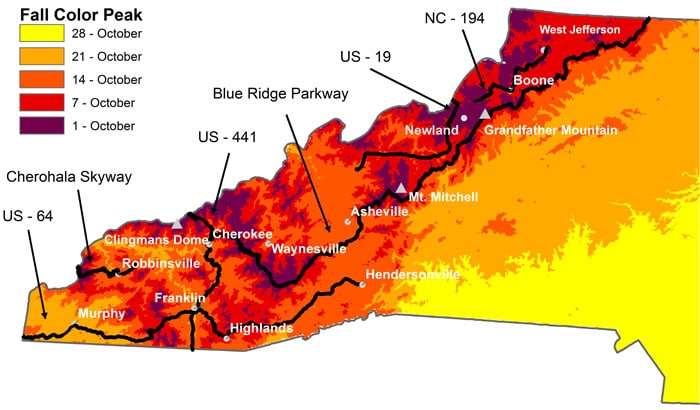 ---
2020 Updates
For the 9th year in a row WataugaOnline.com is teaming up with Dr. Howard Neufeld, Professor of Plant Eco-physiology at Appalachian State University, better known as The Fall Color Guy to provide information as the colors start changing. For reports from previous years click here.
---
Dr. Neufeld shared some thoughts with WataugaOnline.com on Sunday, August 30, about the upcoming 2020 season:
"In short, we've had a mild summer, with no extended periods of high temperatures or drought. The next four weeks will be crucial for determining the timing and quality of this year's fall leaf colors, as  September temperatures are the the most important. The long-term (30 day) NOAA forecast is for September temperatures to be either slightly above, or slightly below, the average, and no drought.

If it gets sunny and cool, especially at night, then we should expect good color this year, particularly among trees that turn red, like red maple and sourwood, red oak and black gum. It should also place the peak timing near it's usual, which would be Oct 12-18 in the High Country at elevations between 3,000′ and 4,000′: a week or two earlier at the highest elevations and 7-10 days later for each 1,000′ drop in elevation.

So, at this point all things point to a good fall color season. Let's hope the weather cooperates and we don't get any hurricanes near peak leaf color."
---
Dr. Neufeld shared some thoughts just before previous fall seasons that are still relevant for this or any fall season:
As for wet weather, there have been some publications on the impacts of weather on fall color (especially timing, not so much quality). Precipitation has only minor effects on timing in the fall. Temperature is more important. So, at this point, I don't see anything to make me think that fall colors will be adversely affected, either in timing or quality.
What happens in mid- to late August and in September, temperature-wise, will be more important, especially for quality (notably the intensity of the red colors)".
People think fall colors are good when they last a long time, and have plenty of brilliant reds interspersed with the oranges and yellows. So, the quality will depend on how much "redness" we have this fall.
Trees tend to make more red colors (anthocyanins) in the fall when it's cool and sunny, and if we have a slight but not severe drought.
Sunny days means more photosynthesis, and more sugars produced in the leaves, and sugars induce anthocyanin production.
A slight drought impairs uptake of nitrogen (we think) and some experiments suggest that plants low on N make more anthocyanins.
Usually, fall colors peak around Oct 11-14 in the Boone area; sooner by a few days up to a week at higher elevations, later at lower ones. Nice colors can stick around for a week or more, although the peak usually comes and goes in just a few days, weather permitting (no high winds for example)".
---
---