Fall Color Peak Map
Map Conceived by Dr. Howard Neufeld and Michael Denslow
Map Constructed by Michael Denslow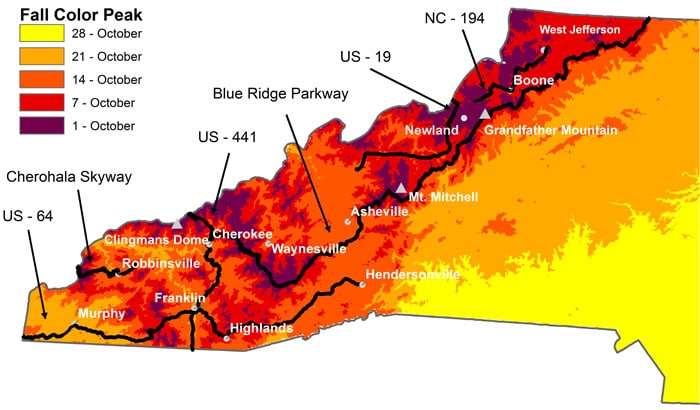 ---
2020 Updates
For the 9th year in a row WataugaOnline.com is teaming up with Dr. Howard Neufeld, Professor of Plant Eco-physiology at Appalachian State University, better known as The Fall Color Guy to provide information as the colors start changing. For reports from previous years click here.
---
Fall Color Report for October 15, 2020
I went out with my wife's mother this morning to check out the leaves one last time this week. The weather is beautiful today – no clouds, warm, and the leaf colors are at their peak now. In fact, a few of the higher locations are getting past peak. But if you are driving the Parkway from Chestoa north past Linville Falls to Grandfather Mt and Blowing Rock, you will be seeing some of the best colors we've had in the last few years. This weekend will be the peak weekend for the High Country. That doesn't mean there won't be any color the following weekend, but they are at their zenith right now.
A little rain is forecast tonight and on Friday, but Saturday and Sunday are supposed to be clear and cool – perfect fall weather. If you are coming up, be aware that the Parkway is already getting crowded, so come early (we were at Grandfather this morning at 8:30 am and had the place nearly to ourselves for short time. But as we were leaving 45 mins later, it was getting crowded). So, get up early – the color is better then and you'll take home nicer pictures.
If you want to get away from the crowds, try Roan Mt, on the NC/TN border just west of Elk Park; Elk Knob State Park, just north of Boone, with a 2 mile easy hike to the top and spectacular views in all directions. The forest below the north-facing overlook has some of the most vibrant color anywhere in the High Country; and finally, Mt. Jefferson State Natural Area, where you can drive to the top, picnic, then take a leisurely level hike about a mile to some rock outcrops and great views. Doughton Park up in Ashe County also has great hiking trails and overlooks. The Smokies will be coloring up over the next two weeks, so they should be on your radar, but be forewarned that traffic can come to a standstill there during peak leaf season.
I will be checking out Roan Mt. this Sat or Sun. Happy Leaf Looking!
---
Fall Color Report for October 13, 2020
I went out on the Blue Ridge Parkway today to see how the leaves survived the storms that rolled in on Friday and stayed until Monday. Luckily, for us, the rains were fairly gentle and there was no wind to speak of, so while a goodly number of leaves did fall off over the weekend, most remained on the trees. Which means that they are there and showing off some great colors now! Today was a spectacular leaf looking day – skies were clear blue beginning late morning and the leaf colors were bright and varied.
Today in my opinion was peak color day on the Blue Ridge Parkway from Boone Fork, south of Blowing Rock, all the way to Grandfather Mt. Birches and tulip poplars were at their peak, giving the forests a golden hue, accented by orange-red sugar maples and browning Fraser magnolias. Red maples and sourwoods were at their best today, providing spots of bright red against the mostly yellow-orange of the forests. Colors were brightest above 3,500', but extended down to 2,500', although it was relatively greener at those lower elevations.
This would be THE week to see the colors in the High Country of NC. I hear they are also at or near peak in the Highlands area too, so if you can get out this week or the coming weekend, you should have a great experience. The colors are on-time this year, and exceptionally bright, and I would rank the fall color season this year as an 8.5 to 9.0, depending on where you are.
Colors should last through this week and into the weekend. After that, and because of some rain predicted for Saturday, the best colors will move downslope some. But the oaks are still coloring up, so some color will persist after this weekend in the High Country.
I'll be heading out to Roan Mountain, on the NC/TN border this Saturday to check out the colors there. If you haven't been to this location, it is on the Appalachian Trail and somewhat off the beaten track of the Parkway. You can hike either north or south on the trail, and because the peaks are grassy balds, you have 360 degree views from them. You can access it by heading out US 19E from Elk Park, NC about 20 miles to Roan, TN, and at the sign, take a left and head up the mountain. There is parking at the top.
I'd also suggest heading out to Mt. Jefferson State Natural Area in West Jefferson, right off U.S. 221. You can drive right to the top, have a picnic, and then take an easy level hike to the rock outcrops at the end of the trail (about 1 mile) and see some great views. Another suggestion is Elk Knob State Park – it's probably past its peak given how high this park is, but the views from the top are the tops! It's just north of Boone about 8 miles on Rt. 194. Lastly, Doughton Park on the northern section of the Blue Ridge Parkway. There are numerous hiking trails and some great overlooks and the colors should be good this week and next.
Despite the pandemic, the BRP is crowded (even on a Tuesday morning), so if you head up here this weekend, expect traffic, slowdowns and crowds. Best to avoid the weekends if you can!
Happy Leaf Looking!
Fall Color Report for Week of September 27, 2020
Wow, somebody hit the color switch this week! From Thursday to Sat, the colors just popped out all around Boone and along the Blue Ridge Parkway. This cool weather has really jump started the fall color season for us this year. Between Boone and Grandfather Mountain there is noticeable color, maybe even up to 20% in some places, and it is progressing quickly. The next two days will be warm, but then after some rain on Monday and Tuesday, we are supposed to get some of our coldest weather yet, and that should push the trees to color up quickly after that happens.
I got up early today and hoofed it all the way down to Graveyard Fields (mile 419 on the Blue Ridge Parkway, south of Asheville, https://www.blueridgeheritage.com/desti…/graveyard-fields/). This bowl shaped valley, at over 5,000' elevation, always has early color change, and so most years, I miss it because I go there too late in the season. But this year, I hit it just as it is approaching its peak – now! Fall color is well on its way there now and by next week, it should peak for the season. I highly recommend a visit, but go early, as there is very limited parking. And because it is so popular, it gets crowded and you won't be able to find a parking space.
The initial trail down to the creek from the parking lot is paved and then switches over to wooden stairs and boardwalk, so it is fairly easy hiking. Once you reach the creek you have two options: one is a loop trail that goes to the upper falls. This is about 2 miles roundtrip, and it can be muddy and slippery, with some places so eroded that you have to negotiate fairly large step ups to continue your hike. It takes you to a falls known as Yellowstone Falls. It is also prime bear country, so if you don't need to, don't bring any food with you on this hike.
The other hike is down to the bottom of the lower falls, and is only about a quarter of mile, with much of it on a boardwalk. At the bottom, it reverts to dirt and there are some slippery rocks at the bottom, so you should be careful there. But you will be rewarded with a very nice view of the falls from this vantage point.
Today, the red maples, blueberries, and sourwoods were in great color at Graveyards and a tree with dark blue drupes, that I am currently trying to ID. Some birches were also turning yellow. Goldenrod is abundant at this site, along with asters and St. Johnswort plants, which are fruiting now. I also saw some Galax leaves beginning to turn deep burgundy, something they don't usually do until mid-October in other locations along the Parkway.
After Graveyards, I went to Craggy Gardens. This high elevation site is behind Graveyards, but colors are starting to appear on the hills that you see from the overlooks. If you go past the visitor center there (going north) there is a larger parking lot and you can take a very nice trail up to the top were there are some very nice stone overlooks. It is not a hard hike, maybe 1 mile roundtrip, and the view from there are stunning.
I took the Parkway all the way from Craggy Gardens back to Boone. As you approach Mt. Mitchell State Park, there are occasional hillsides with well-developed color now, mostly 4,500' and above in elevation. Unfortunately, there are very few places to stop and take pictures on this stretch, because it is part of the Asheville city watershed. But there are occasional overlooks with great views.
Lower down on the Parkway, around 3,000', maples and buckeyes, sourwoods and Virginia Creeper vines (which are peaking in red color right now) are providing most of the color in the forests. Each weekend now, as we get into October, we will see more color than the week before, and if our weather stays cool, we should have a normally timed fall color season (see earlier posts for exact dates, but at 3,000' or so, I'm predicting around Oct 10-18th). We might even be a little early this year in fact, something that hasn't happened in many years!
I'll be posting an album of pictures soon and I'll let you know the link to it. On the trails today, I'd say only about 1/3 of the hikers were using masks. It was hit or miss on that. I wish people who shun the masks would think more about their failure to take responsibility when they are out in the open, because all they are doing is endangering others who want to get out and view nature at its best. My rant of the week. I wore a mask, and when anyone approached, I put it on. It's not hard to do!
If you come up to the High Country to see the fall leaf colors, have a safe drive and an enjoyable time outdoors!
---
Dr. Neufeld shared some thoughts with WataugaOnline.com on Sunday, August 30, about the upcoming 2020 season:
"In short, we've had a mild summer, with no extended periods of high temperatures or drought. The next four weeks will be crucial for determining the timing and quality of this year's fall leaf colors, as September temperatures are the the most important. The long-term (30 day) NOAA forecast is for September temperatures to be either slightly above, or slightly below, the average, and no drought.

If it gets sunny and cool, especially at night, then we should expect good color this year, particularly among trees that turn red, like red maple and sourwood, red oak and black gum. It should also place the peak timing near it's usual, which would be Oct 12-18 in the High Country at elevations between 3,000′ and 4,000′: a week or two earlier at the highest elevations and 7-10 days later for each 1,000′ drop in elevation.

So, at this point all things point to a good fall color season. Let's hope the weather cooperates and we don't get any hurricanes near peak leaf color."
---
Dr. Neufeld shared some thoughts just before previous fall seasons that are still relevant for this or any fall season:
As for wet weather, there have been some publications on the impacts of weather on fall color (especially timing, not so much quality). Precipitation has only minor effects on timing in the fall. Temperature is more important. So, at this point, I don't see anything to make me think that fall colors will be adversely affected, either in timing or quality.
What happens in mid- to late August and in September, temperature-wise, will be more important, especially for quality (notably the intensity of the red colors)".
People think fall colors are good when they last a long time, and have plenty of brilliant reds interspersed with the oranges and yellows. So, the quality will depend on how much "redness" we have this fall.
Trees tend to make more red colors (anthocyanins) in the fall when it's cool and sunny, and if we have a slight but not severe drought.
Sunny days means more photosynthesis, and more sugars produced in the leaves, and sugars induce anthocyanin production.
A slight drought impairs uptake of nitrogen (we think) and some experiments suggest that plants low on N make more anthocyanins.
Usually, fall colors peak around Oct 11-14 in the Boone area; sooner by a few days up to a week at higher elevations, later at lower ones. Nice colors can stick around for a week or more, although the peak usually comes and goes in just a few days, weather permitting (no high winds for example)".
---
---