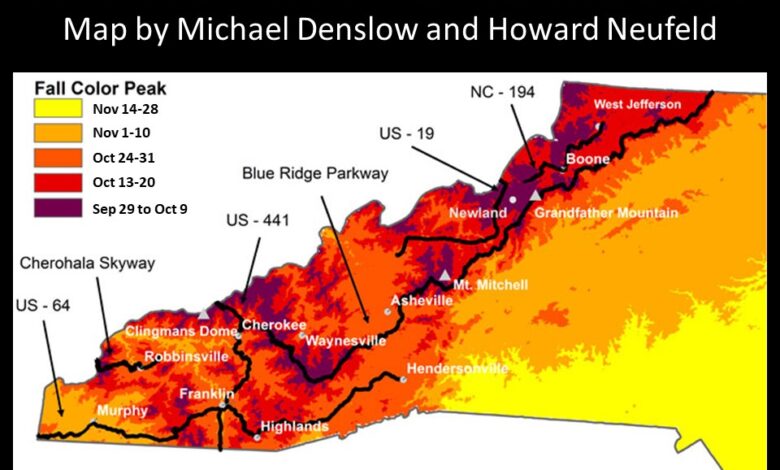 2023 Updates
For the 12th year in a row, WataugaOnline.com is teaming up with Dr. Howard Neufeld, Professor of Plant Eco-physiology at Appalachian State University, better known as The Fall Color Guy to provide information as the colors start changing. For reports from previous years click here.
Dr. Neufeld shared some thoughts just before previous fall seasons that are still relevant for this or any fall season:
As for wet weather, there have been some publications on the impacts of weather on fall color (especially timing, not so much quality). Precipitation has only minor effects on timing in the fall. Temperature is more important. So, at this point, I don't see anything to make me think that fall colors will be adversely affected, either in timing or quality.
What happens in mid- to late August and in September, temperature-wise, will be more important, especially for quality (notably the intensity of the red colors)".
People think fall colors are good when they last a long time, and have plenty of brilliant reds interspersed with the oranges and yellows. So, the quality will depend on how much "redness" we have this fall.
Trees tend to make more red colors (anthocyanins) in the fall when it's cool and sunny, and if we have a slight but not severe drought.
Sunny days means more photosynthesis, and more sugars produced in the leaves, and sugars induce anthocyanin production.
A slight drought impairs uptake of nitrogen (we think) and some experiments suggest that plants low on N make more anthocyanins.
Usually, fall colors peak around Oct 11-14 in the Boone area; sooner by a few days up to a week at higher elevations, later at lower ones. Nice colors can stick around for a week or more, although the peak usually comes and goes in just a few days, weather permitting (no high winds for example)".
---
Fall Color Report for the Week of September 24, 2023
Last week I started off my report with a whole lotta "greens". This week isn't much different, but if I were to do that again, I'd take off two greens because there is just a teeny hint of color now at the high elevations which is now extending down to about 3,500'. The maples, particularly sugar and red, plus some birches, are beginning to color up. Buckeyes, which normally lose leaves early, are dropping them quite rapidly now and they will probably be leafless by next weekend. Dogwoods continue to intensify in color and some tulip poplars are starting to show some upper canopy yellowing here and there.
We've had seasonally cool temperatures this week and on several mornings the lows were in the mid to high 40s, with others in the low 50s. Combine these with the moderate daytime temperatures we're having, and low cloud cover, we setting up perfect conditions for an on-time and vibrant fall color season. However, we should temper our enthusiasm since there is still plenty of time to get an unwanted heatwave which would stall the development of color, but so far, there is no evidence of that happening.
Tropical Storm Ophelia came up to the NC coast this weekend, but because it was heading rapidly north, the rains never really made it to the mountains, nor did we get exceptionally strong winds. I went to Grandfather Mountain this morning, with my graduate student Leigha, and Dr. Jason Fridley and his wife Genevieve. Jason, who is a professor at Clemson University, gave an excellent seminar yesterday at Appalachian State University about how certain non-native woody plants can become "superinvaders" in the understory of our southern Appalachian forests.
It was very windy at the Swinging Bridge Saturday morning, but not so much as to ruin our trip there. From the bridge and the overlooks, you could see the beginnings of color in the forests below, but you really had to look hard to see it. I think that by next week, it will be much more noticeable. The most fully developed colors are still mostly confined to urban street trees, particularly the red maples, but I did see a sourwood in town in full color.
Weekends are going to become more and more crowded as we approach peak color, so if you want to avoid large crowds, try to come up during the week instead. Grandfather was quite busy today, but remember, you have to reserve a ticket online to get into the Park. They do this to avoid overcrowding and also to avoid blocking Highway 221 with cars waiting to get into the Park. Also, if you go out early, you'll miss the big crowds.
That's about all I have for this weekend. Next week, I'll be heading up to either Roan Mountain, on the border with NC and TN, or to Elk Knob State Park, just north of Boone. If you're wondering where to go this week, I'd recommend high elevations along the Blue Ridge Parkway, including Waterrock Knob south of Waynesville; Graveyards, just south of Asheville (note: parking is tight at Graveyards, so an early visit will be the least stressful for you); Craggy Gardens, about 20 miles north of Asheville; and of course, Mt. Mitchell State Park, 15 mins north of Craggy Gardens. Views will be mostly of green trees, but Graveyards often turns color early due to cold air drainage there, so it might be more showy than the other locations.
Off the Blue Ridge Parkway, I'd recommend Roan Mt. and Elk Knob State Park, with having hikes that are not difficult or strenuous. On Roan, you'll be hiking on the Appalachian Trail, and once you reach the top of the mountain, you'll encounter a mostly treeless bald, with unique plants and great views. There is one section near Jane Bald (about a mile or so out from the parking lot going north) where there is a great stand of Mt. Ash trees off to the left. Since this is a mast year, meaning the trees are fruiting abundantly, that should provide you with some great photo opportunities.
Elk Knob has a 2-mile hike to the summit, with lots of switch backs, so the grade up is not that steep and there are benches along the way if you want to rest. About halfway up there is a nice viewpoint with benches, plus a lot of hobblebush, which should be at peak color this week. At the top, you'll have 360-degree views from the two viewpoints (one faces north, the other south). From the north-facing vista you can see Whitetop Mt. in VA, the second highest peak in that state and right on the Appalachian Trail, while from the southern vista, you can see Grandfather Mt., the Linville Gorge Wilderness Area, and possibly Mt. Mitchell if it is really clear out.
I'd also consider heading out to Jefferson State Natural Area, which is adjacent to the mountain town of West Jefferson. You can drive right to the top and then begin a 1-mile hike along the ridge to great views before heading back on a loop trail. The forests up there are reminiscent of those further north in VA and MD (oak, hickory) but they also have American chestnut trees, remnants of time when this species dominated these forests. This species can sprout from its roots but it still has the blight and when the shoots get about 15-20' tall, they die back and the tree resprouts. If you didn't know that this species wa once one of the largest trees in eastern North America, you'd think it was an understory shrub or small tree like a dogwood.
Finally, a travel warning for those who want to head north on the Blue Ridge Parkway toward Virginia. There is major road construction taking place and it would be best to consult the Park's road closure website before heading that way, and also if heading south toward Blowing Rock and Grandfather Mt. Go to https://www.nps.gov/blri/planyourvisit/roadclosures.htm to see all road closures and notices, both in VA and NC. That's the report for this week
---
Fall Color Report for the Week of September 17, 2023
Green! Green! Green! Green! Green! Red! Green! Green! Green!
That about describes the state of the fall colors for this week. With the occasional red maple that has turned red, and the dogwoods, which are nearing peak color, the rest of the trees along the Blue Ridge Parkway (BRP) and in the mountains of North Carolina, are still quite green. However, there are some signs of the upcoming fall color season, but we still have several weeks to go before we get to peak color.
On Saturday I went to Craggy Gardens (about 20 miles north of Asheville) and on my way back to Boone I also stopped off at Mt. Mitchell State Park. These are two high elevation sites on the Parkway (Mt. Mitchell is the highest peak in eastern North America) and if anything was going to be happening this week, it would be at these two sites.
There were lots of folks making the short hike to the top of the Craggy Garden view point. I should mention that when you get near the top, the trail splits and the one veering to the right ends up at a lower observation point but has many fewer people. While the trees that you see from the top were mostly green, there was some hint of color on the lower slopes, most likely some early turning maples or dogwoods (couldn't make out species because the hills were too far away).
But along the trail there was an abundance of wildflowers and two woody species that were adding a nice bit of red color: hobblebush (Viburnum lantanoides) and Mountain Ash (Sorbus americana) with its bright orange-red berries. Hobblebush is one of my favorites because the leaves turn a deep orange, then red, then purple, often in a splotchy pattern on the leaf before the entire leaf turns just one color. It's common on this trail and also very abundant midway up the trail going to the top of Elk Knob State Park.
Mountain ash don't have very showy leaves and in fact, many of the leaves are dropping now, but the berries stand out from a distance, especially when viewed against a deep blue sky. Last year for some reason, despite a spectacular foliage season with bright colors, there were almost no berries at all anywhere along the Blue Ridge. But this looks to be a banner year, and they are at peak color right now above 5,000' elevation. Although some people say the fruits are edible, they are very astringent and could be unsafe according to WebMD, so I'd advise against eating them. Leave them to the wildlife, which need them for a food resource.
Native trees often exhibit irregular patterns across the years when they fruit in abundance, and when they do, we say that is a "mast" year (https://www.woodlandtrust.org.uk/…/what-is-a-mast-year/….) Oaks are especially known for doing this. What the cues are for determining when a tree has a mast year are still not fully understood. The prevailing theory for why trees have mast years has to do with "predator satiation".
In a good year, the tree saturates the environment with fruits (a single oak can drop hundreds of acorns in one square yard, for example). This in turn, provides abundant food resources for animals that eat these fruits, like mice, squirrels, and jays, and in these good years their populations build up to large numbers.
But if all these animals eat the seeds, then there is no successful tree reproduction and that's not good for the species. So, after a few years of good seeds, trees will have a fallow year where they produce very few fruits, like acorns. This causes a massive die off of the seed predators. If the next year is a mast year, then many of the seeds will survive because the predator populations were decimated the previous year. By doing this on an irregular basis, the predators can't figure out which year will be a good one and which a bad one. Thus, the tree sacrifices seeds in some years to ensure they will escape predation in another year. Pretty smart tactics on the part of the tree I must say!
Back to fall color. Today I occasionally observed the lone red maple that had totally turned color. As with people, no two maples are exactly alike, and some may be genetically predisposed to turn color early, or, perhaps they may be growing on a dry or nutrient poor site and be more stressed than other trees, and hence they color up before the other trees do. Whatever the reason, they were rare on the landscape this week.
There are lots of native perennial wildflowers in bloom right now, including green-headed or cutleaf coneflower (Rudbeckia laciniata), while snakeroot (Ageratina altissima), Eastern Aromatic Aster (Symphotrichum oblongifolium, but correct me if I have mis-identified this one), maybe white heath aster (Symphyotrichum ericoides), Solidago species (several different ones, and which are difficult to identify to species), a morning glory (possibly in the genus Ipomoea), and a yellow composite (related to coneflowers, but I don't know the species), plus others. So, while the trees may not be doing much this week, there is a profusion of color, ranging from white to blue to yellow, at ground level.
And finally, if you aim your view toward the ground, or look up at the trunks of trees, you notice all the mosses that grow at these high elevation sites. These small plants cover logs and rocks and also grow on tree trunks, and are exceptionally abundant in high elevation forests, in part because of the higher rainfall that these sites receive.
Mosses have been around since before flowering plants and conifers evolved (over 400 million years) and are thus very successful life forms. Yet we often overlook them due to their small stature. North Carolina is home to almost 400 taxa of mosses (https://auth1.dpr.ncparks.gov/bryophytes/index.php), and it is one of two areas in the United States with the highest number of endemic moss species (meaning they live only in the Southern Appalachians and nowhere else; California is the other endemic hotspot).
Places with abundant moss cover are indicative of healthy ecosystems, since their absence usually indicates something is wrong, like too much pollution or disturbance. The Fraser fir – red spruce forests at the top of Mt. Mitchell are home to many moss species which can serve as refugia for very small animals. For instance, tardigrades, which are primitive microscopic animals, live in these mosses (https://www.npca.org/articles/1067-the-mosses-at-our-feet), as does the endemic spruce-fir spider (Microhexura montivaga, the world's smallest tarantula at only 1/8" long and which is extremely endangered; https://www.nwf.org/…/Conservation/Spruce-Fir-Moss-Spider). So, give the mosses a look-see the next time you're wandering around these high elevation ecosystems.
This coming Saturday, September 23rd, at 2:49 am, is the fall equinox, when the length of the day equals the length of the night. It also marks the official end of summer and start of autumn. After this date, the days get shorter until we reach the winter solstice on December 21st at 9:47 pm, after which they will start to get longer.
Next week I'll check out some other high elevation sites, including Grandfather Mt and the surrounding area. So far, its looking good for the upcoming fall color season. The weather has cooled off this week, which is something we need for bright, on-time colors, so let's hope that continues. Until next week, wishing you the best.
---
Fall Color Report for the Week of September 3, 2023
I'm a day late with the report for this week, but I've been under the weather since last Thursday with some flu-like bug and it sapped all my energy such that I was laid up all day Saturday. It unfortunately caused me to cancel my trip to Atlanta to see my son and his wife and my new grandson, but better to not give them what I got! Plus, it so wiped me out that I couldn't have endured the long drive down. And no, it wasn't COVID – I tested negative for that. Oh well, I'll see them another time!
The other bummer is that Spectrum and Disney are having a contractual dispute and like a petulant child, Disney turned off all its ESPN stations (even on ROKU and on phones) and so I can't watch the US Open unless they show matches on the ABC station. Disney has turned away from what its founder wanted and become a greedy mega-company that throws its weight around at the expense of regular people. I hope the two companies can come to an agreement soon. This hurts everyone.
As for fall colors, I present you with this article from the Raleigh News & Observer by Martha Quillin. It's a very comprehensive guide to fall color viewing in the High Country, and I am using it as this week's report. She really got it all together here!
https://www.newsbreak.com/…/3143286103771-nc-s-fall…
Our urban trees continue to color up and were helped along by a cool front that moved in last week and which lowered our night time temperatures into the low to mid 50s. However, starting Labor Day (today), temperatures are rising substantially and the high today is already in the lower 80s, which is too warm for my comfort. Let's hope it starts to cool off in the next two weeks as that will bring on the fall colors.
Fall Color Report for Week of August 27th, 2023
I am asked each year whether I expect this year's fall colors to be "on time", or whether they will be late. I admit that I often forget when they occurred in previous years, so I have a difficult time answering this question.
Last year I went back over all my fall color reports from 2008 to 2021 (14 years' worth of reporting) to determine what week I told people would be peak color time for each of those years. This year, I have added in 2022 and revised the statistics. The numbers I report are for the Boone-Blowing Rock drive along the Blue Ridge Parkway, which ranges between 3,000' and 4,000' elevation.
As we found last year, there were some surprising findings.
Below is a graph labeled "Trend in Peak Fall Color in October by Year". This is simply a plot of the day in October when colors were at their peak. More specifically, it is the day in the middle of the week that I specified in my reports. Note I have added in last year's peak color time.
Here's the surprising finding: despite what it looks like on the graph, there is NO statistical relationship between year and the week when peak fall colors occur. Although the slope of the line appears to be going up, indicating that peak color is coming later each month as the years go by, it is variable enough that this could just as likely be due to chance. That means we can't conclude that there is a significant relationship between year and peak color time. At least for now.
But one senses that something is going on there. Let's look at some other statistics to see if we can find out what else is happening.
In the other graph, labeled "Week of Peak Fall Color in NC Mountains", I have plotted the week that my reports said would be peak fall color along the Parkway. It' s just another way of plotting the data shown in the other figure, but this time I highlight the entire week, not just the midpoint of that week.
Note that in 2017 I have two lines. That's because this was a very unusual year. Here's what happened: as we got into October, it cooled down and leaves began to turn color, only to have a heat wave move in and stop further color development. Then, after a bit, it began to cool down again. But by this time, the trees that had turned color earlier had dropped most of their leaves, and without them, the forest turned back to green again, as if fall colors hadn't even started. I had never seen that happen before! But, shortly thereafter, due to this second cool period, the remaining trees started turning color, and we had a second, albeit late, display of color, hence the two lines.
Now back to the second figure. You can see that in most years, the week of peak fall color fell within a narrow window between October 9th and October 20th. For example, from 2008 to 2016 (a 9-year period), 8 out of those 9 years had peak colors essentially "on time", that is, between October 9 and October 18. Only one year, 2010, had a delayed color season, and it started around October 18 and extended to nearly October 24. Up to 2016, there doesn't appear to be any trend with time.
But look at the years after 2016. Now the weeks of peak color are all over the place, and four of those six years, which includes the second line in 2017, have their peak week at least one or more weeks later than those in the preceding 9 years. But on occasion, we can have years when the colors are right on time, such as in 2020 and 2023. In fact, last year was not only on time, but also perhaps the most vibrant in terms of color for any of the past 15 years. And that vibrancy was seen all up and down the east coast, from Maine to Maryland to North Carolina. Something was going on that led trees across a wide swath of North America to produce more pigments in their leaves than in past years. Wish I knew what that recipe was!
Now, regarding this increase in the variability of peak color timing. How can we quantify this? One way is to calculate a measure of variability known as the standard deviation. I won't go into the heavy statistics on this, but all you need to know is that if this number is high, there is more variability in your sample.
For the years 2008-2016, the standard deviation is 2.93 while for the years 2017-2022 it is 7.93. If I calculate the ratio of the standard deviation to the mean for each of these periods, which gives me a statistic known as the coefficient of variation, I find that in the earlier years the CV is 20, while for the more recent years it is 37. This means that the variability in peak color timing is almost twice as high as the earlier years. Or to put it another way, it is now nearly twice as hard for me to predict the timing of peak fall color!!
If climate change begins to extend warming farther into the fall, as scientists predict it will, then I'm pretty sure that in a few more years, the trend for later peak color will become statistically significant (the new normal!) and I'll be able to answer the question poised at the beginning of this report by saying "Yes, fall colors are coming later in the season than they did in past years."
As for this year, stay tuned. If I have to guess now, I'd say we might be 3-5 days late this year, because the long-range NOAA forecast calls for slightly elevated temperatures through November. Otherwise, all other conditions point to a good fall color season (no drought, no major diseases, no new insect infestations that I am aware of). The only other cause for concern would be hurricanes, since this might be an active year. But the chances of one hitting right during peak week, which is when the leaves are the easiest to dislodge, is small. When the trees have green leaves, they are quite resistant to high winds and rains, but once they start changing color, they can be blown off quite readily.
That's the report for this week. Forests are still green, while the dogwoods and urban maples are coloring up quite well right now. And all those brown trees along the roadsides are the black locust trees whose leaves are being eaten by the locust leaf miner (a native insect) and not a cause for concern.
Next Saturday is my son's birthday and I'll be going down to the Atlanta burbs to see him, his wife and my first grandson, Oliver, born just over 4 months ago. I'll check out the trees up and back for you (I travel through Franklin, NC to Clayton, GA down US 441 to Gainesville, GA, then get on I-85 and finally the Beltway (5 hrs). A nice trip until you hit that beltway, which is always under construction. But it will be good to see everyone. Hope you all have a good week!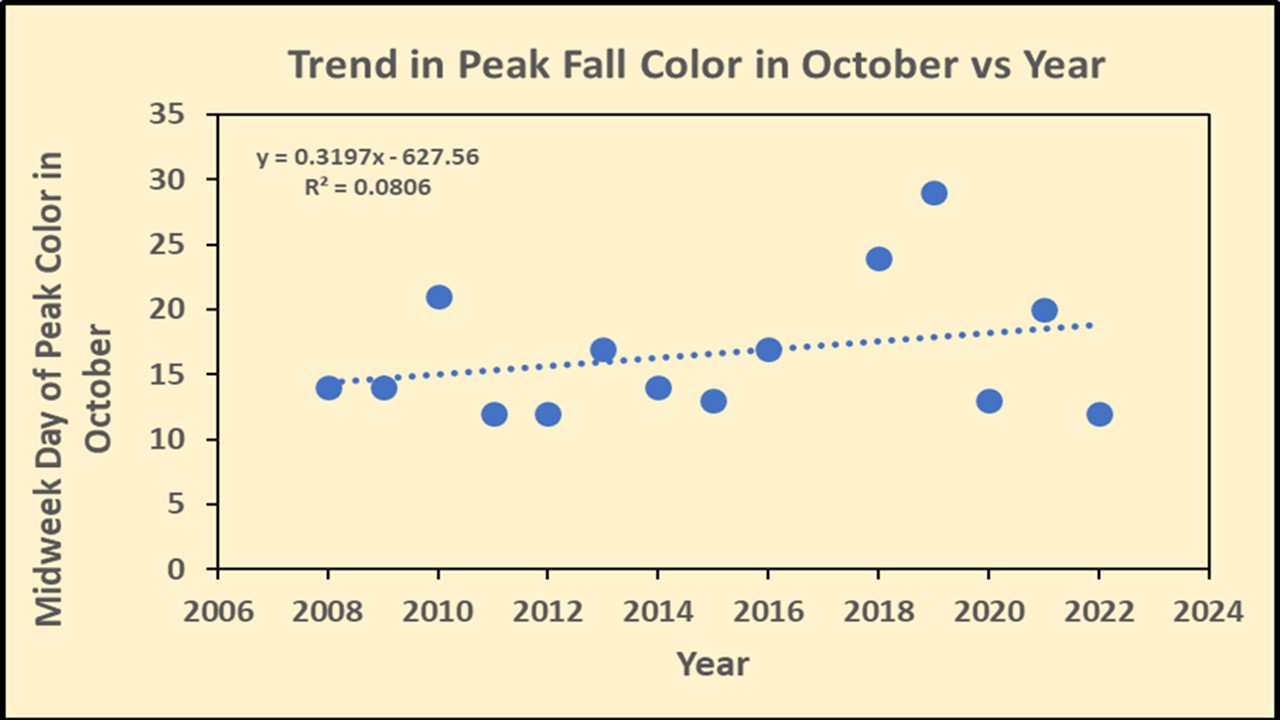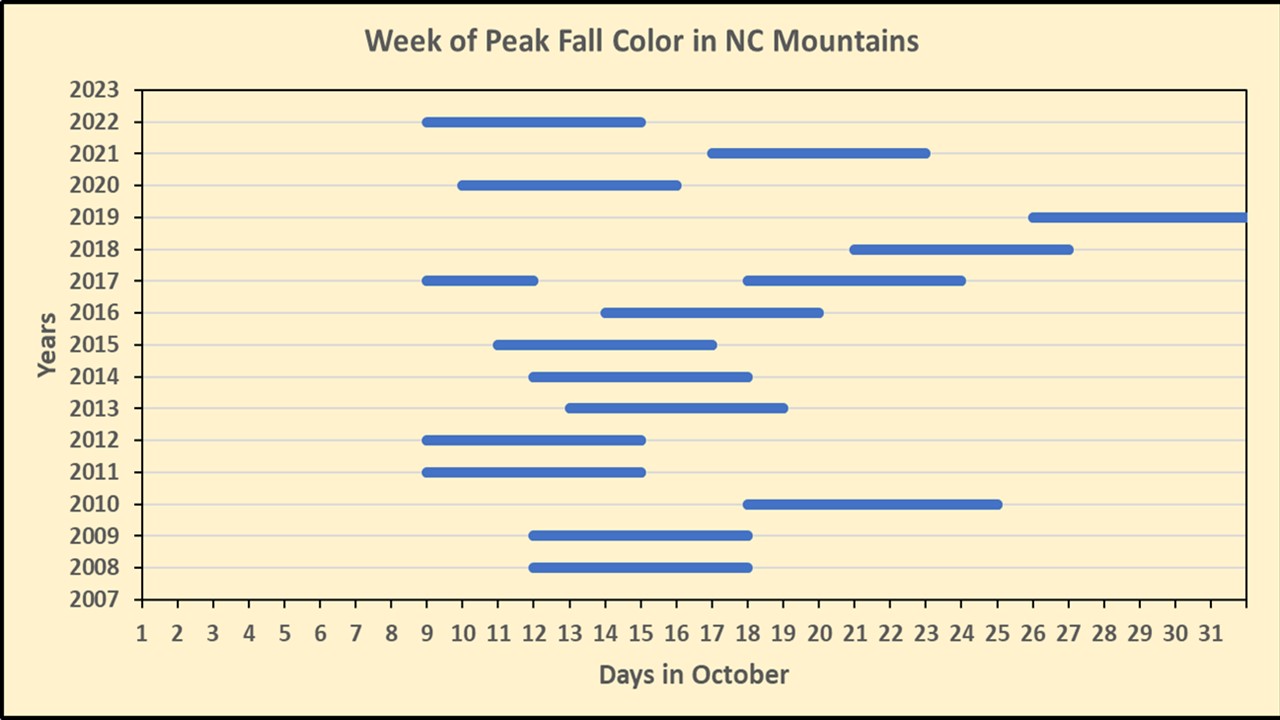 ---
Fall Color Report for Week of August 20, 2023
It's still quite early in the season to be making any definitive predictions about the fall colors we'll get in a few months, but there are some signs to take note of. First off, we are not in a drought situation. We've had abundant rain this summer, the soils are quite moist, and the trees aren't showing any signs of distress. Of course, that could change between now and the end of September, but so far so good.
Second, the long-range NOAA forecast (see attached figure) suggests that we will have slightly elevated temperatures through November and above normal precipitation. Both of these would lead me to predict that colors could be slightly delayed this year. The excessive rainfall, if it happens, could dampen the brightness of the red colors, especially if we get a lot of cloudy, rainy days in late September and early October.
As I noted in a previous posting, our urban maples are starting to turn color, as they always do at this time of year, as are the native flowering dogwoods. Buckeyes are also losing their leaves now, which is something they do early each fall. You may also be seeing a lot of browning along roadsides. That is most likely black locust, which is attacked in late summer by a native insect known as the locust leaf miner. This is an insect that eats out the inside of black locust leaves (it mines the leaf for food, so to speak, hence its name). The leaves then turn brown, die and fall off. It looks worse than it is, but this is a native predator and the trees seem to tolerate the damage, no worse for wear.
There are numerous native wildflowers and garden plants putting on a flowering show at this time of year, including evening primrose, jewelweed (both yellow and orange), goldenrod, ironweed, white aster, bee balm, yarrow, phlox, hydrangea, and Joe-Pye weed. You can also find the white Indian pipe in wooded areas. Most of the species mentioned are attached in the photos provided.
For those planning a trip up to the High Country, remember that colors will start first at higher elevations, and then move downward over time. In the Boone/Blowing Rock area, that means peak colors will be around mid-October (12-20th), unless warming delays the onset of coloration. But we won't be able to pin it down better until we get closer to those dates.
Hope you have a good end to your summer and a fun Labor Day weekend. I'll post again next weekend.
---
---