Historical High Country White Christmas Data
Dreaming of a White Christmas?
The National Climate Data Center provides the historical probability of a white Christmas across the nation. The map shows the percentage that a snow depth of at least an inch can be found on December 25. Click on the map for a larger view.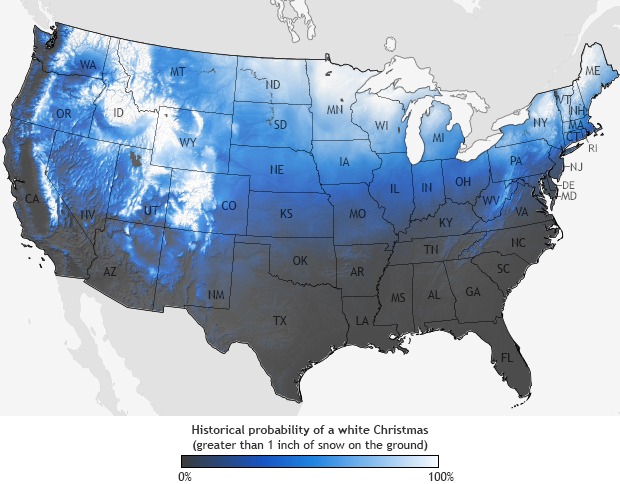 For the High Country data from the State Climate Office shows local NWS Cooperative stations that measured snowfall from Dec 24-26 of the stated year.
*All data from State Climate Office Of North Carolina*
Boone (station 310977 – this station's period of record runs from January 1, 1929 – May 31, 1980)
Year Total Snowfall Observed December 24-26
(inches)
1930 – 1
1935 – 2.5
1938 – 5.5
1939 – 12
1945 – 2
1947 – 1
1948 – 4
1960 – 0.5
1961 – 3
1962 – 2.5
1963 – 1
1965 – 2.5
1966 – 6
1968 – 0.5
1969 – 16
1970 – 1.5
1975 – 1.5
1976 – 0.5
1979 – 3
Frequency of a White Christmas 19 out of 51 (0.373)
---
Boone 1 Se (station 310982 – this station's period of record runs from July 1, 1980 – current)
Year Total Snowfall Observed December 24-26
(inches)
1983 – 0.5
1985 – 3
1989 – 1
1992 – 1.5
1993 – 3
1995 – 2
2007 – 0.10000000149011612
2009 – 0.30000001192092896
2010 – 4
Frequency of a White Christmas 9 out of 32 (0.281)
---
Blowing Rock 1nw (station 310901 – this station's period of record runs from January 1, 1893 – June 22, 2009)
Year Total Snowfall Observed December 24-26
(inches)
1912 – 3
1945 – 2
1947 – 1.300000011920929
1948 – 3
1960 – 0.5
1962 – 2
1963 – 1
1966 – 4.899999916553497
1969 – 14
1975 – 0.5
1976 – 2
1981 – 9
1983 – 1.399999976158142
1989 – 0.30000001192092896
1992 – 0.30000001192092896
1993 – 2
2007 – 0.10000000149011612
Frequency of a White Christmas 17 out of 61 (0.279)
---
Banner Elk (station 310906 – this station's period of record runs from September 1, 1907 – current)
Year Total Snowfall Observed December 24-26
(inches)
1907 – 0.5
1908 – 6
1909 – 10
1913 – 2
1915 – 3
1930 – 1
1933 – 0.30000001192092896
1935 – 4.5
1938 – 3.5
1939 – 1
1944 – 2.0999999046325684
1945 – 2.5
1948 – 4
1961 – 1.5
1962 – 3
1968 – 1
1969 – 16.900000005960464
1970 – 1
1975 – 1.4999999552965164
1979 – 1
1981 – 7
1985 – 4.5
1993 – 5
1995 – 2.4000000059604645
2002 – 3.300000011920929
2003 – 0.20000000298023224
2005 – 1
2010 – 5.100000001490116
2013 – 0.20000000298023224
Frequency of a White Christmas 29 out of 106 (0.274)
---
Jefferson 2 E – (station 314496 – this station's period of record runs from February 1, 1896 – current)
Year Total Snowfall Observed December 24-26
(inches)
1914 0.5
1915 1
1917 2
1935 1.5
1938 3
1939 5
1945 2
1947 0.20000000298023224
1960 1
1962 4
1963 1
1966 5
1969 14
1970 1
1975 0.5
1976 0.5
1979 0.5
1981 11
2010 4
Frequency of a White Christmas 19 out of 106 (0.179)