Last Updated on February 12, 2022 6:34 pm
5:15am – overnight snow has left many surfaces slick
5:25am – 27 in Boone with gusts over 40mph
5:44am – from twitter report "roads are ok from Zionville, Boone Mtn is a little patchy, though." "Main roads coming from Bethel area to Boone r ok just watch side roads & sidewalks. Pretty icy in on campus"
6am – here are some updates from the facebook and twitter pages. "Meat camp to Boone: roads are covered in places. Clear for the most part" "321 is slick at the top of the mtn"
6:09am from ASU – Classes will be held as scheduled on Thursday, January 31. Please refer to AppalCART's web site for any of their schedule changes
6:13am – not really seeing any major travel issues this morning on the social media feeds. Continue to use caution however as ice is possible from the rain last night freezing over night. Good covering of snow in the area this morning too.
Water has receded at the airport on bamboo road. Deerfield and Bamboo are snow covered and watch for debris.
6:20am – AppalCART Fixed Routes are on regular schedule with no county routes
6:20am – tractor and trailer stuck in a curve on Deerfield Road between Wilson's Ridge and first entrance to Bamboo, due to ice. 6:45am – Tractor Trailer is out of the roadway on Deerfield still use caution as the roadway is still Icy
6:27am per facebook – "Wilson's Ridge very slick. Airport is back open"
Here are some of the pictures from the floods on Wednesday. Will be adding more to it as the day goes along
6:55am – it appears per reports coming in that travel for the most part is ok. There are slick spots for sure, but so far not hearing of any major travel issues at this time.
7am – here are selected updates from the facebook page "Secondary roads have some snow cover. Few scattered icy spots. With a little caution, all seems good. There is always potential for more ice, but what I'm seeing this morning is not to bad."
"Just drove in from Vilas (Post Office area) and it was fine – until you get into town (in other words, past the light at the 105 Ext.), and then I felt a few slick spots.Then – the sidewalk into Walker Hall is not great – I walked in the grass. Some of it's fine – BUT very slick from the Broyhill Lot circle towards the building – so I opted for the grass."
"Aho to 321 to 421 to 221 is all good"
7:11am – more selected facebook reports
"421 from Deep Gap to Boone was good…still wet and snow in a few spots but no real issues."
"321 and 105 are good and are being traveled on pretty consistently, but most side streets I saw, parking lots and sidewalks are currently either frozen, or freezing over."
"Right hand lane going up rock crusher is hammered huge pot holes"
7:25am – from NCDOT twitter feed "Roby Greene Rd, East of Boone Watauga, Weather Event, Road Closed, at 1/31 6:42 AM" 
"New River Heights, East of BooneWatauga, Weather Event, Road Closed, at 1/31 7:15 AM"
"Watauga River, West of BooneWatauga, Weather Event, Road Closed, at 1/31 7:24 AM"
7:28am – EMS has been dispatched to 421 south near Parkway overpass for a rollover. Expect delays in that area.
8:15am – continue to use caution for slick spots around the area. By large it has been a smooth morning for motorist, gauging by the few police scanner calls and facebook comments. Throughout the day this post will be updated with information about the current and coming snow. Be sure to check the site for the weather forecast and more pictures of the flood.
8:21am –
THE NATIONAL WEATHER SERVICE IN BLACKSBURG HAS ISSUED A
* FLOOD WARNING FOR…
  ASHE COUNTY IN NORTHWEST NORTH CAROLINA…
  EXTREME NORTHWESTERN WILKES COUNTY IN NORTHWEST NORTH CAROLINA…
  NORTHWESTERN ALLEGHANY COUNTY IN NORTHWEST NORTH CAROLINA…
  WATAUGA COUNTY IN NORTHWEST NORTH CAROLINA…
  SOUTHWESTERN GRAYSON COUNTY IN SOUTHWEST VIRGINIA…
* UNTIL 215 PM EST THURSDAY
* AT 800 AM EST…FLOODING CONTINUED ALONG THE WATUAGA RIVER AND THE
  NEW RIVERS.
* LOCATIONS ALONG THESE RIVERS WILL CONTINUE TO BE IMPACTED BY HIGH
  WATER. THE WATAUGA RIVER IS RECEDING AND SHOULD CONTINUE TO RECEDE
  THROUGH THE DAY. FLOOD WATERS ARE WORKING THEIR WAY DOWN THE NEW
  RIVER AND FLOODING WILL CONTINUE ESPECIALLY DOWNSTREAM INTO THE
  STATE OF VIRGINIA.
8:35am from DOT – No operations on 321 in Blowing Rock today due to weather. Slow down, stay alert. Call 828-964-3260 for project info only.
The view this morning on the ASU campus. Photo: Samantha Farris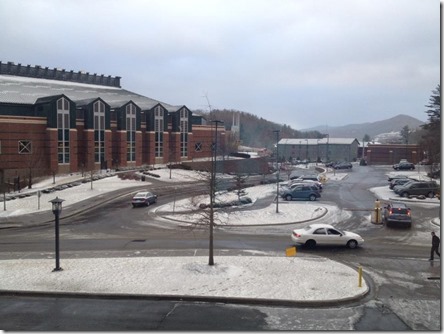 10am – snow continues to fall at a moderate pace. Windy and much cooler with highs around 30. West winds 20 to 30 mph. Gusts up to 65 mph…decreasing to 45 mph this afternoon. Chance of snow 50 percent. Wind chill values as low as 6 above according to the National Weather Service
A view of Durham Park. Big difference from Wednesday afternoon. Floods to Snow. Photo:Kara Harmon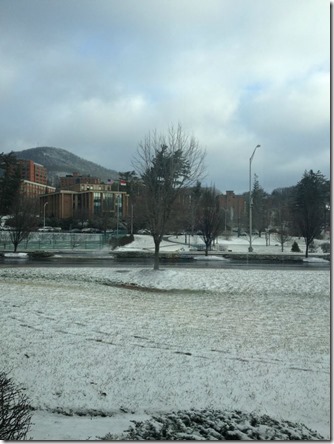 Hannah emailed this pic of Boone Mall in last night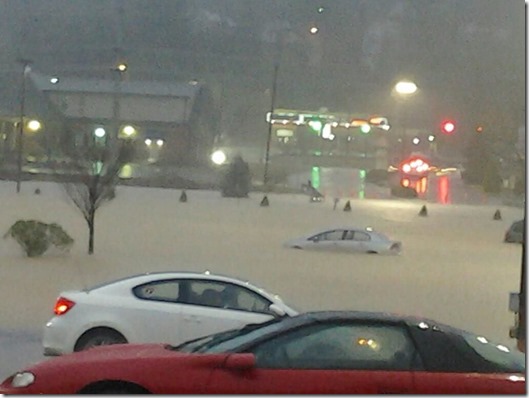 This NWS graphic shows the rainfall from 9am Wednesday to 9am Thursday morning
Video of 321 last night at 10:19pm. Video:Paul John Bloedel
NWS graphic showing just how high the Watauga River in Sugar Grove got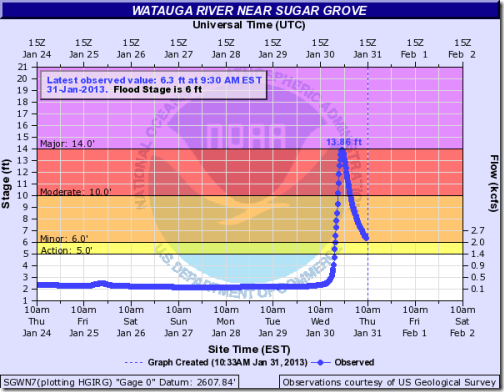 There are NO sports practices today for WHS athletes according to Watauga High Athletics facebook page
Rainfall amounts from National Weather Service: unofficial precipitation totals for a 14 hour period ending at 10pm Wednesday
…ASHE COUNTY…
    4.14   LAUREL SPRINGS RAWS
    1.29   ASHE COUNTY AP
…WATAUGA COUNTY…
    5.06   BOONE RG (TVA)
    3.59   TRIPLETT RG DCP
    2.61   HOWARDS KNOB IFLOWS
    1.98   WATAUGA R/FOSCOE IFLOWS
unofficial precipitation totals for a 24hour period ending at 4am Thursday
…ASHE COUNTY…
    4.53   LAUREL SPRINGS RAWS
    1.29   ASHE COUNTY AP
…WATAUGA COUNTY…
    5.34   BOONE RG (TVA)
    3.86   TRIPLETT RG DCP
    2.73   HOWARDS KNOB IFLOWS
    2.30   WATAUGA R/FOSCOE IFLOWS
    1.00   BLACKBURN KNOB IFLOWS
unofficial precipitation totals for a 24hour period ending at 7am Thursday
…ASHE COUNTY…
    5.34   2 E TODD CCR
    5.05   JEFFERSON 2 E COOP
    4.46   LAUREL SPRINGS RAWS
    3.86   TRANSOU COOP
    1.29   ASHE COUNTY AP
…WATAUGA COUNTY…
    5.79   BOONE 1 SE COOP
    5.28   BOONE RG (TVA)
    4.32   1 WSW FOSCOE CCR
    4.25   3 ENE BLOWING ROCK
    3.76   TRIPLETT RG DCP
    2.69   HOWARDS KNOB IFLOWS
    2.19   WATAUGA R/FOSCOE IFLOWS
    1.00   BLACKBURN KNOB IFLOWS
The High Wind Warning has been extended until 4pm on Friday afternoon
5:50pm – DOT twitter feed reports Payne Branch Road, South West of BooneWatauga, Weather Event, Road Closed, at 1/31 5:43 PM