Last Updated on February 7, 2013 7:59 am
Thursday Feb 7
7:54am – the scene at 105ext/421 at SAKS Grill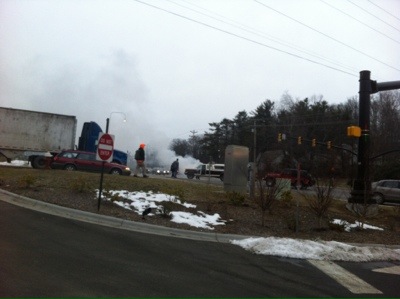 8:04am – very congested at 105ext/421 at SAKS Grill due to truck fire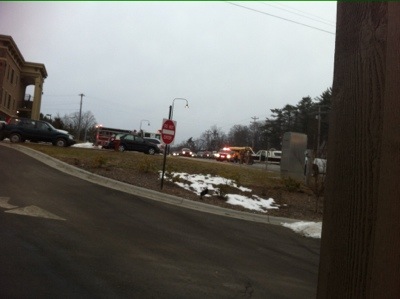 8:10am per Boone PD – Officer on 421 x 105 ext scene calling for DOT assistance with ice on the roadway from firefighting efforts.
8:18am – 105ext/421 at SAKS Grill is clear of the truck fire. Careful for possible ice spots.
No road closures on 321 in Blowing Rock today. Possible lane closures, limited ops. Call 828-964-3260 for project information.
2:40pm – getting a report that it's snowing on Grandfather Mtn and Sugar Mtn
2:51pm – Grandfather Mountain reports "The entire Mountain is now closed due to snow and slick surfaces on the roadways inside the park."
Snow on Beech Mtn 3:15pm. Photo: Debbie Canady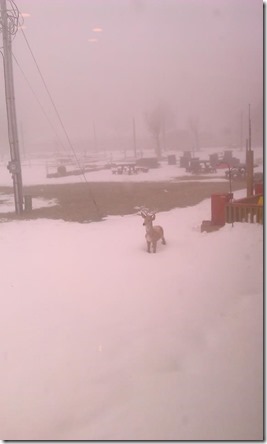 Getting a report of "Snowing on Aho road" – 4:15pm
"snow / rain mix out 221 in Blowing Rock" – 4:25pm
4:40pm Snow reports coming in from all across the county including Boone, Meat Camp, Blowing Rock
5:30pm – huge flakes across much of the county
6:20pm – a lot of slick spots being reported due to the quick shot of snow. Caution advised traveling
Friday Feb 8
6am – so far no reports of travel issues from the social media outlets. 34 degrees in Boone at 6am
Ashe, Avery & Watauga schools are on a 2hr delay for today (Friday Feb 8)
Airlines cancel 3,288 flights in advance of a storm expected to bring significant snow to the East Coast per CNN. Double check if you have a flight to the northeast.
6:30am – only getting reports of wet roads in Watauga this morning
Limited operations, possible lane closures on 321 in Blowing Rock today. Slow down, stay alert. Call 828-964-3260 for project information.