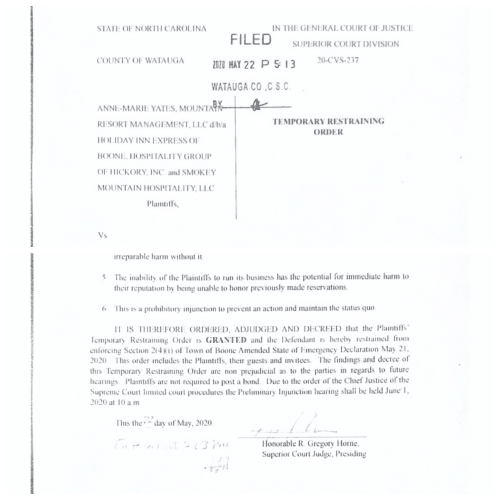 Last Updated on May 23, 2020 12:55 pm
Order issued over one section of Town's updated COVID 19-SOE order
UPDATE Saturday 12:50pm – Per Boone Chamber of Commerce: The Boone Town Council has called a special meeting for this coming Tuesday, May 26th at 9AM, to continue to further discuss recently passed State of Emergency Declaration. The meeting will be held with a limit of 30 minutes on public comment, which will be randomly assigned from those who sign up to speak.
To sign up for the opportunity to speak as part of the public comment, contact John Ward, Town Manager, at John.ward@townofboone.net.
Viewing instructions will be announced once the official agenda is posted. More info to come.
Update 12:15am Saturday May 23 – Breaking: the Boone Town Council will hold an Emergency Meeting virtually beginning at 11:00 a.m. Saturday, May 23, 2020. After entering into closed session, the agenda calls for clarification and/or modifications of the State of Emergency Declaration.
——————————-——————
A temporary restraining order (TRO) has been issued against the Town of Boone over one section of their updated COVID-19 State of Emergency order.
The order was filed today, Friday May 22. Watauga County attorney Nathan Miller is representing the plaintiffs.
Miller tells WataugaOnline.com that the TRO only pertains to one section of the updated Town of Boone's SOE order. That section refers to the 14-day quartine of persons arriving in the Town.
Miller also tells WataugaOnline.com the plaintiffs include, Holiday Inn Express, Fairmont Inn and Comfort Inn & Suites and more are expected to join.
The Honorable R. Gregory Horne, Superior Court Judge, signed the TRO today and a hearing is scheduled for June 1 at 10 am.
The full section regarding the 14-day quartine of the Town's updated SOE reads:
Except for commuters who regularly work in Watauga County, all persons (residents and non-residents) arriving in the Town of Boone who previously overnighted outside Watauga County, whether such persons are visiting the Town for the day or staying overnight, are not permitted to enter any establishment open to the public other than medical offices and medical facilities unless and until such time as they have stayed in Watauga County for an uninterrupted overnight stay of at least 14 days; provided, however, that this subsection does not apply to a person who is confirmed pursuant to current testing guidelines issued by the CDC or NCDHHS not to be infected with COVID-19;
This story is developing and WataugaOnline.com will update as more information becomes available.