Last Updated on February 3, 2013 7:01 am
7am – it's not a good travel morning. Roads were already slick last night, overnight snow didn't help. Early morning travel is not advised.
7:45am – getting some reports that main roads are in decent shape, considering the amount of overnight snow. With 1-4 more inches of snow and high winds today motorist are advised to use caution and allow plenty of extra travel time. Winter Storm Warning is up until 7pm tonight.
8am – main roads in good shape per reports. More snow and high winds could cause low visibility at times.
Daniel Martin passes this pic along "East Valle Crucis about 8:00 AM.
Total measured snow depth was around 6.0" (5.5" new), likely had more earlier but has subsided due to compaction…"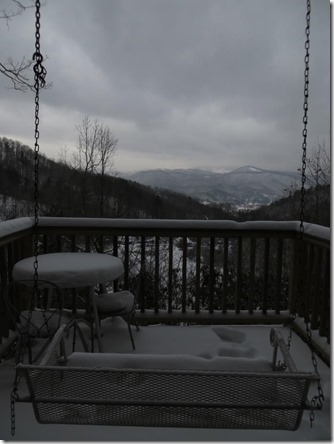 Ted Henry sent in this pic around 8:30am "
Just drove up to 221 from outside Blowing Rock and on 321 near Tweetsie Railroad. The highway department send a great job of clearing the roads."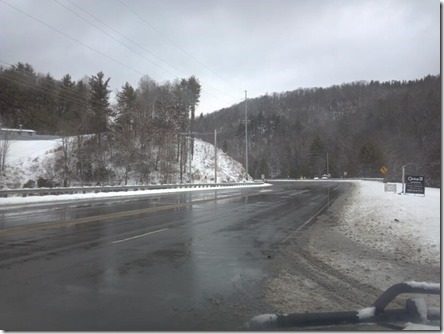 Sharon Houck shares this view of the snow depth in Zionville at 10am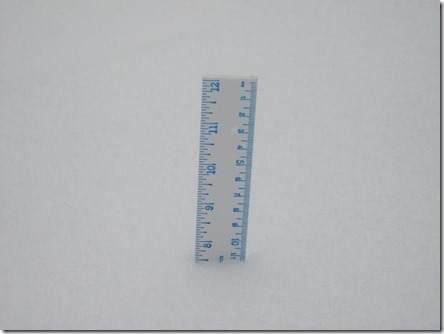 Photo: Andy Rominger
11am – main roads are still ok per social media reports, secondary and gravel roads are snow covered
Blue Ridge Parkway this morning at sunrise at The Lump. Photo: Annkatrin Rose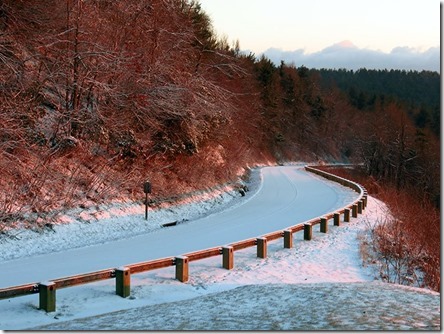 Almost at the 9" mark on the back side of Old Beech Mtn. Photo: Diane Stansberry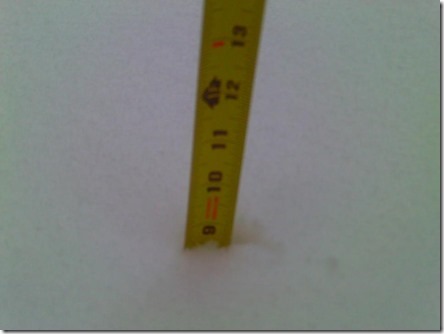 Oak Street Parking lots @ 11 am! Photo:Alex Deimler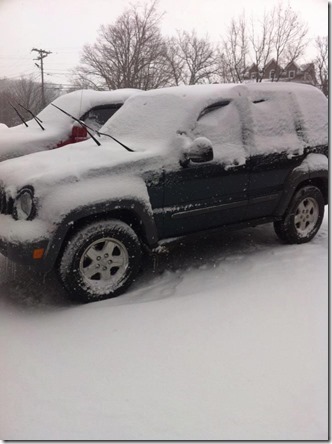 Jennifer Burris sent in this panorama from Foscoe taken 2/3/13 at 10am

12:50pm – getting the first report of snow sticking to some main roads, which have been in good shape all day. Secondary roads still snow covered and slick.
*Below is from the National Weather Service*
938 AM EST SUN FEB 03 2013
THE FOLLOWING ARE UNOFFICIAL OBSERVATIONS TAKEN DURING THE PAST 3
HOURS FOR THE STORM THAT HAS BEEN AFFECTING OUR REGION. APPRECIATION
IS EXTENDED TO THOSE WHO PROVIDED REPORTS. THIS SUMMARY IS ALSO
AVAILABLE ON OUR HOME PAGE AT WEATHER.GOV/BLACKSBURG
********************STORM TOTAL SNOWFALL********************
LOCATION          STORM TOTAL     TIME/DATE   COMMENTS                  
                     SNOWFALL           OF
                     /INCHES/   MEASUREMENT
NORTH CAROLINA
…ALLEGHANY COUNTY…
   TWIN OAKS              1.8   700 AM  2/03                         
   ROARING GAP            0.5   731 AM  2/03                        
…ASHE COUNTY…
   3 SW CRESTON           6.7   815 AM  2/03                         
   2 E TODD               6.5   700 AM  2/03                         
   JEFFERSON              6.0   738 AM  2/03                         
   WEST JEFFERSON         5.0   742 AM  2/03  FROM FACEBOOK          
   FLEETWOOD              2.0   806 AM  2/03  FROM FACEBOOK          
   2 WSW GLENDALE SPRIN   1.2   800 AM  2/03                        
…WATAUGA COUNTY…
   VILAS                  6.5   758 AM  2/03  FROM FACEBOOK          
   BETHEL                 6.5   807 AM  2/03  FROM FACEBOOK          
   3 SSE VILAS            5.0   800 AM  2/03                         
   5 ESE BANNER ELK       4.7   800 AM  2/03                         
   5 E BOONE              3.0   800 AM  2/03                         
   4 NE BLOWING ROCK      3.0   700 AM  2/03                         
   1 WSW FOSCOE           2.7   640 AM  2/03                         
   3 ENE BLOWING ROCK     1.3   700 AM  2/03   
1pm – roll over wreck reported on Baird's Creek Road in front of Willow Creek Golf course, expect delays in that area
1:30pm – wreck at 321/Aho intersection, EMS on the scene, traffic slow in that area
1:45pm – scanner dispatching out to more wrecks this afternoon, most weather related it appears
Great shot from Valerie Fuller "Looking at 6 inches of snow just off of 105 in Boone"

Johnson County TN Schools will be CLOSED on Monday, February 4th 2013 due to inclement weather
4pm – winds have really picked up. Gusts in Boone of 45, 47, & 52 since 2:30pm
The Winter Weather Warning has been downgraded to a Winter Weather Advisory until 1am Monday. Up to 2 more inches of snow, 50mph wind gusts and freezing drizzle possible per NWS.
Watauga County Schools are closed for students and teachers for Monday
Avery County Schools will be closed for students on Monday, February 4.  It is an optional workday for staff on a two-hour delay.
5:15pm – roads in downtown Boone snow covered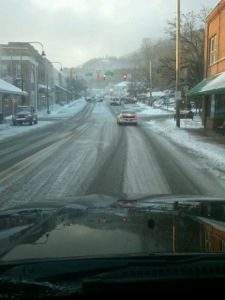 Watauga Communications reports that road washed out 2500 block of Payne Branch Rd. DOT has marked the area.