Last Updated on February 12, 2022 6:35 pm
Punxsutawney Phil did not see his shadow. He predicts an early spring.
7:35am – use CAUTION between Aho Road and Tweetsie on 321. Large area of run off water has turned to black ice
Winter Weather Advisory from 10am today – 7pm Sunday. 2-4 inches for most spots.
9:25am – Report that the incline in the area of Valley Blvd / Main St between Food Lion and Shoppes on Parkway slick.
DOT reporting they will be out in force starting at approx 10:00 am. per Watauga Communications
10:15am 6 car accident in stretch between Daniel Boone BP and Aho Rd area on US Hwy 321 S. Please use caution in that area
11:12am – possible delays on State Farm Road near the red light at 105 ext due to a wreck
12:40pm – starting to get some snow flurries in the area
2:10pm – snow picking up a little more now, from flurries to moderate
1pm view of part of Valle Crucis. Photo:Daniel Martin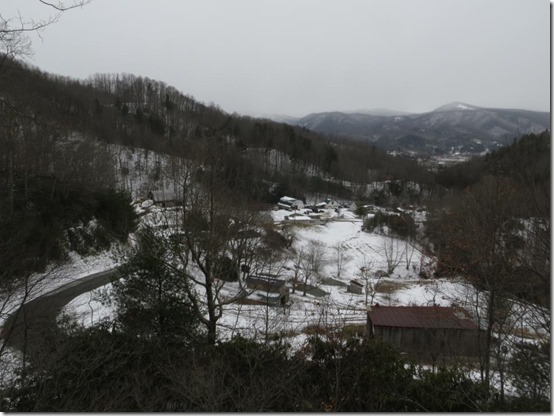 3:17pm – no weather related travel issues currently
6:15pm – getting a few reports of snow covered roads. Gravel roads are totally snow covered
6:50pm – reports coming into the social media outlets
"from Mabel, NC to Mountain City, TN and around Watauga Lake, the roads are really bad!!!!"
"194 N is covered in areas. Big Hill Road completely covered."
"105 snow covered from rock crusher to Foscoe."
7pm – if you are traveling tonight plan on your route being snow covered. Secondary roads are covered per reports coming in
7:30pm – "Hwy 105 from 321 towards 221 is covered"  and "421 from Ashe to boone is bad" per fb report
roads in Boone reported snow covered – 7:33pm
Silver Alert issued for woman possibly traveling to  Blowing Rock from Jacksonville NC http://ow.ly/hmK3n
Snow covered roads will continue to impact travel tonight and overnight. Plan accordingly
Almost 4 inches at this home in Valle Crucis at 9:15pm
Slick conditions all across the area, travel not advised until tomorrow if possible
Sent in from the Bethel area with the quote "I see your orange ruler and raise you 1 paper towl ruler at a little over 4in" – 9:25pm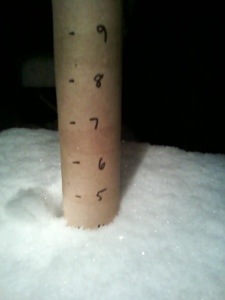 Sent in from Boone – 10pm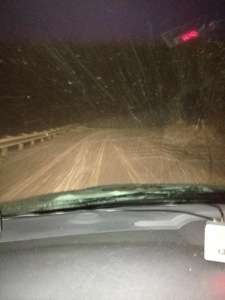 Zionville 5inches. Photo:Heather Bower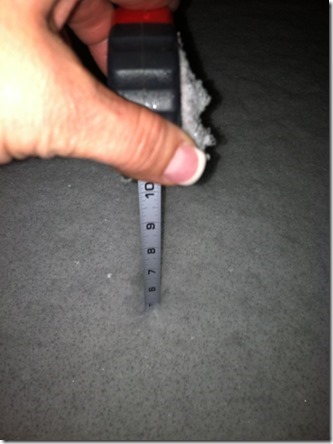 Near Todd, NC. 3 inches. Photo:Catherine Altice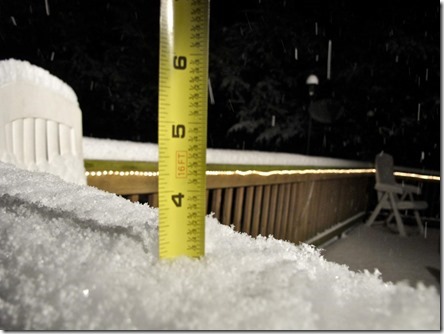 10:30pm – roads continue to be snow covered and slick across the area. Use caution traveling if you have to be out. Ending real time reports for tonight.