Last Updated on February 16, 2013 8:26 am
Just a little bit of overnight snow. No reported road issues have come in. More snow in forecast today.
8:35am – light snow for the most part in our area. Snowing to our south and east too. No reported road issues
12:30pm – report coming in that Poplar Grove above Diamond Ranch is getting icy.
12:44pm – report coming in via twitter "@WataugaRoads Poplar Grove behind tomato shack is a sheet of ice – hubby went up on a bank and another truck into the guard rail!"
2:10pm – earlier there were several reports that Poplar Grove was slick. So far that's the only road trouble area received any reports about.
2:50pm – scanner report that 321 north near Trashcan Falls is snow covered and slick
3:19pm – possible delays on 105 near Broadstone Road due to a vehicle fire
4pm – received a tweet "@WataugaRoads Banner Elk is slick! Rough travel thru there! Everyone be safe!"
4:10pm is this 321? Maybe 421? 105? Neither, it's I85 near Gastonia. Looks like conditions are worse off the mtn. Photo:Lisa Sides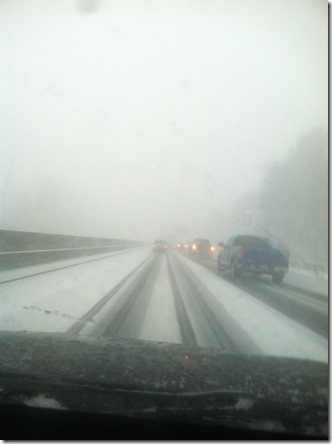 Our friends at Piedmont Triad Road and Weather Conditions pass along this view from I40 in Hickory.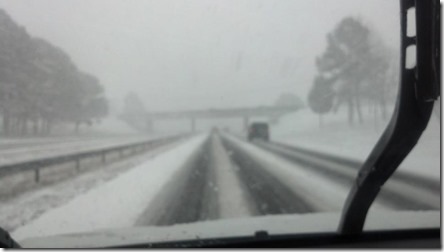 4:40pm – It seems really ODD to share pics from off the mtn of snowy roads. Remember we are under a Winter Weather Advisory until noon Sunday. Have had a few reports of slick spots but by and large roads have been ok. Use caution as we get hit by more burst of snow tonight. Wind chill values as low as 6 below after midnight, 10 below Sunday morning per NWS.
Brandy Black shares the view from York, SC this afternoon.
A picture postcard from….Boone?, Blowing Rock?, Valle Crucis? None of the above! Rock Hill, SC. Photo submitted by Brandi Norris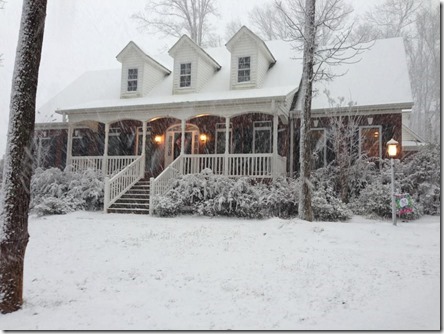 Brandi Norris shared this pic from friends in Rock Hill, SC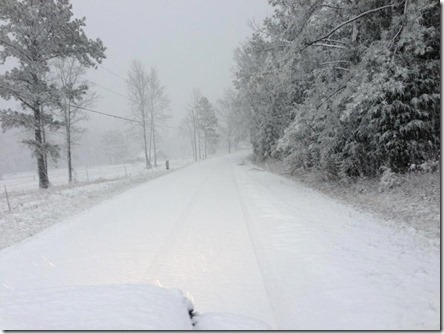 Rosa Stewart sends this in from Lenoir today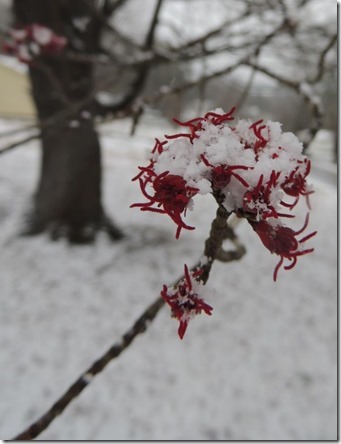 9:10pm – Snowfall has increased quickly. Use caution traveling.
9:17pm via twitter – Heavy heavy snow in Boone with white out conditions
9:24pm from facebook – Just traveled 421 and Bamboo Rd. Both are covered and extremely slick
9:25pm – conditions have went down hill and fast. Send in your reports and use caution traveling.
Boone, 9:10pm. Photo: Alison Seramur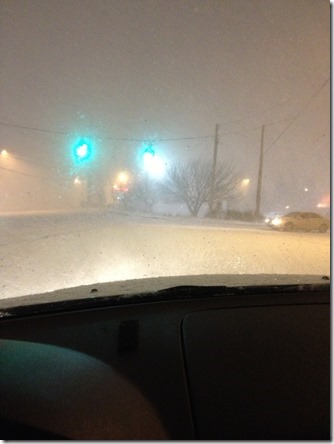 @WataugaRoads 321 near Appalachian signpic.twitter.com/wvCXweHR
@WataugaRoads downtown Boonemypict.me/nKS0Q
9:45pm – Thanks to our new media partners at Ski Southeast & Resortcams.com (http://www.resortcams.com) for this view of downtown Boone tonight.
9:55pm – via twitter – Slick, slippery roads all thru Boone, and 421 towards wilkesboro. Very bad driving conditions @WataugaRoads
10:04pm – unconfirmed report that ASU PD is shutting down Bodenheimer Dr on campus.
10:06pm via facebook report " Bodenheimer Drive on the ASU campus: 2-vehicle collision in front of the Living Learning Center, at least 3 other vehicles stuck on the roadway that are currently unable to be moved due to conditions. Campus police turning away cars, offering escort to dorms."
10:11pm – per scanner – Seven Devils Road icy and slick