Last Updated on February 4, 2013 6:25 am
21 degrees and single digit wind chills in Boone this morning
6:30am – Many area roads are snow covered but so far no reported widespread travel issues
7am – No active watches, warnings or advisories for any of the High Country counties
8:15am – still no major travel issues. Secondary roads especially are snow covered
32 degrees in Boone at 11am, forecast temps in the upper 30s. Rain and snow in the forecast for tonight and tomorrow.
Below is information from the National Weather Service about area snowfall totals.
NATIONAL WEATHER SERVICE BLACKSBURG VA
954 PM EST SUN FEB 03 2013
THE FOLLOWING ARE UNOFFICIAL OBSERVATIONS TAKEN DURING THE PAST 48
HOURS FOR THE STORM THAT HAS BEEN AFFECTING OUR REGION. APPRECIATION
IS EXTENDED TO THOSE WHO PROVIDED REPORTS. THIS SUMMARY IS ALSO
AVAILABLE ON OUR HOME PAGE AT WEATHER.GOV/BLACKSBURG.
********************STORM TOTAL SNOWFALL********************
LOCATION          STORM TOTAL     TIME/DATE   COMMENTS                  
                     SNOWFALL           OF
                     /INCHES/   MEASUREMENT
NORTH CAROLINA
…ALLEGHANY COUNTY…
   2 SW PINEY CREEK       2.3   918 PM  2/02  TRAINED SPOTTER        
   TWIN OAKS              1.8   700 AM  2/03  PUBLIC                 
   ROARING GAP            0.5   731 AM  2/03  PUBLIC                 
   1 E SPARTA             0.5   900 PM  2/02  TRAINED SPOTTER        
…ASHE COUNTY…
   4 WNW ASHLAND         13.0   550 PM  2/03  TRAINED SPOTTER        
   2 WSW ASHLAND          9.6   109 PM  2/03  PUBLIC                 
   TROUT                  8.0   345 AM  2/03  PUBLIC                 
   JEFFERSON              6.0   738 AM  2/03  PUBLIC                 
   LANSING                6.0  1200 AM  2/03  PUBLIC                 
   CRESTON                5.9   200 AM  2/03  PUBLIC                 
   WEST JEFFERSON         5.0   742 AM  2/03  FROM FACEBOOK          
   3 NNW SHATLEY SPRING   3.0   500 PM  2/02  PUBLIC                 
   1 SE WEST JEFFERSON    2.5   856 PM  2/02  TRAINED SPOTTER        
   FLEETWOOD              2.0   806 AM  2/03  FROM FACEBOOK          
…WATAUGA COUNTY…
   BEECH MOUNTAIN        12.0   817 PM  2/03  TRAINED SPOTTER        
   1 SE BEECH MOUNTAIN    6.8   500 AM  2/03  COCORAHS               
   VILAS                  6.5   758 AM  2/03  FROM FACEBOOK          
   BETHEL                 6.5   807 AM  2/03  FROM FACEBOOK          
   BOONE                  4.3   107 AM  2/03  TRAINED SPOTTER        
   2 E SUGAR GROVE        4.0   200 AM  2/03  VILAS                  
   1 NNW BOONE            2.5   851 PM  2/02  911 CALL CENTER        
   2 SSE SUGAR GROVE      1.5   712 PM  2/02  PUBLIC                 
   1 WSW FOSCOE           1.2   816 PM  2/02  PUBLIC
40 degrees in Boone at 12:45pm
Sunrise photos from Courteney Sanderford
Sunrise this morning from Heather Edmisten
Sunrise this morning from Annkatrin Rose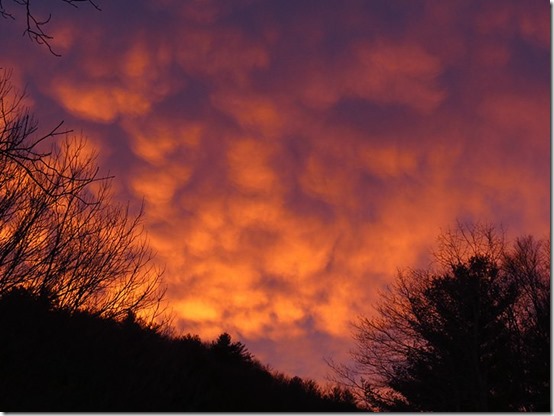 From Sunday. Photo: Brenda Hicks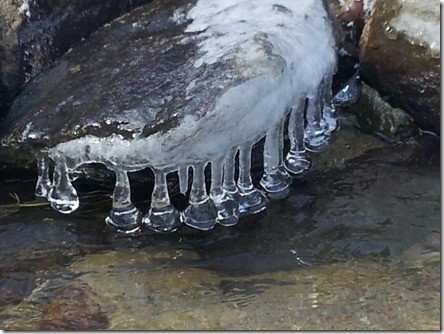 Photos from Marie Weaver