Last Updated on October 2, 2022 5:48 pm
It's 9 degrees with wind chill of -8 in Boone at 3:50am. Travel is not recommended due to falling snow, blowing snow and bitter cold.
wind chill on Grandfather Mountain is -36.5 at 5am, 9 degrees and -4 wind chill in Boone at 5am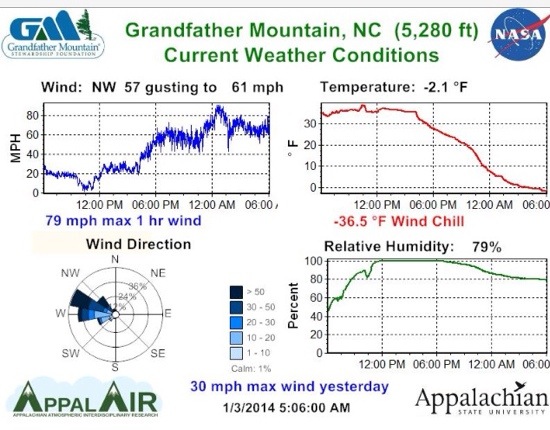 5:30am – roads are snow covered and slick, blowing snow also an issue this morning. Caution advised if travel is necessary
Wind Chill Advisory from 1/3/2014 6:25 AM to 12:00 PM EST for Ashe County, Watauga County. http://1.usa.gov/1dfVr89
7am – Main roads have been scraped and treated and some secondaries are scraped as well per Watauga County Communications. Junaluska area is "bad." Laurel Branch has about 5 inches accumulation. White out conditions still possible Keep in mind that blowing snow could/will cover roads back this early morning so allow plenty of travel time if you do have to be out. 8 degrees with wind chill of -7 in Boone, -27.4 wind chill on Grandfather Mtn. Wind Chill Advisory up until 12noon.
7:15am – Winds continue to gust above 20mph, peak gust in Boone 54mph just before midnight, 60mph at 1:15am at Jefferson Airport in Ashe County
Watauga County has a number to call to see status of County Offices in bad weather. That number is 265-8159.
Limited ops on 321 in Blowing Rock today due to weather. Call 828-964-3260 for more project info.
Downtown Boone, Valle Crucis, Banner Elk & 105 in Foscoe, downtown Blowing Rock at 7:33am – http://wataugaroads.com/cams/
8:40am – most roads are snow covered, not hearing of any major traffic accidents. Allow extra travel time & dress warm 9 degrees with wind chill of -8 in Boone 
downtown Boone, Valle Crucis, Banner Elk & 105 in Foscoe at 11am – http://wataugaroads.com/cams/
Unofficial snow observations from the National Weather Service during the past 24 hours – 10:26am
...ASHE COUNTY...
   FLEETWOOD              2.0   627 AM  1/03  PUBLIC                  
   WEST JEFFERSON         1.7   729 AM  1/03  COCORAHS                

...WATAUGA COUNTY...
   1 SE BEECH MOUNTAIN    5.4   728 AM  1/03  COCORAHS                
   SEVEN DEVILS           3.5   810 AM  1/03  PUBLIC                  
   FOSCOE                 3.1   729 AM  1/03  COCORAHS                
   BOONE                  3.0   707 AM  1/03  PUBLIC 
With a low so far of 8 degrees it's still not a record for this date. -8 Blowing Rock 1979, -4 Boone 1979, 2 Blowing Rock 2001, 4 Blowing Rock 2008 & 1999. Record snow 3 inches in Boone in 1942 & 1999
Charlotte skyline on the horizon, as viewed from Grandfather Mountain earlier today. Photo: Danny Buxton Photography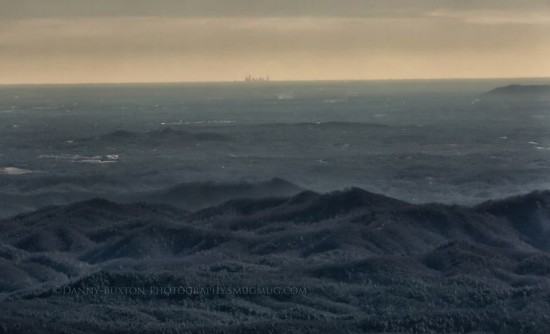 definitely too cold to bike, this one will need thawing out at Grandfather Home For Children. Photo: Kristin Uhler