Last Updated on January 29, 2013 9:25 am
Tuesday Jan 29
Road closure w/detour on 321 in Blowing Rock today. Possible lane closures south of Green Park Inn
NWS Weather Update
Brad Panovich weather update

From DOT – Watch for mud on 321 between Rocky Knob Road and Elk Ridge Lane south of Blowing Rock due to construction. Slow down, watch for flagmen.
3pm – more clouds have entered the area now ahead of the rain tonight. High winds, heavy rainfall and possible thunderstorms are the story for Wednesday. High Wind Watch is up starting Wed morning.
3:15pm- from DOT: 321 in Blowing Rock is now open to traffic for all approaches.
High Wind Warning from 1/30/2013 6:00 AM to 1/31/2013 12:00 AM EST for Ashe County, Watauga County.
7:25pm – Line painting on 321 near "the big light".
Wednesday Jan 30
Tornado Watch for Johnson County TN until 1pm today. High Wind Warning and Flash Flood Watch for Watauga & Ashe today
NWS graphic showing the watches and warnings for today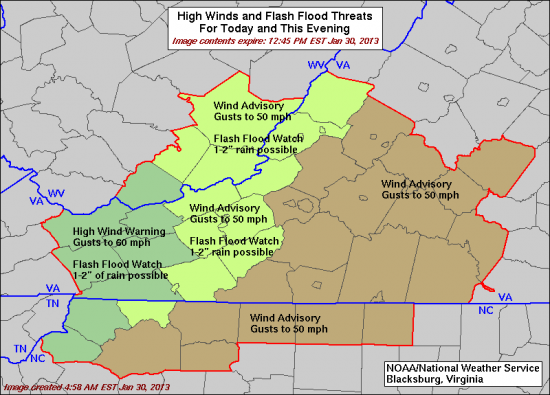 Here's a look at just how large this storm system is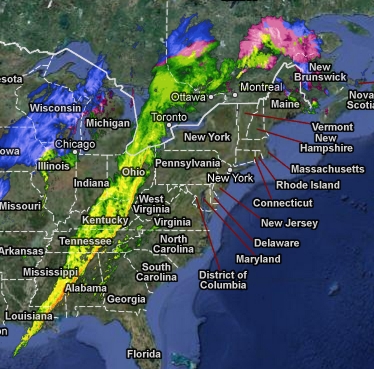 From Brad Panovich this morning – TRACKING SEVERE STORMS: The cold front and line of strong to severe storms is moving east through eastern Tennessee this morning. It arrives in the mountains 11am-1pm. the foothills 1pm-3pm then the Piedmont and Charlotte areas 4-7pm. I expect a tornado watch will likely be issued before the line arrives. Expect the wind to really pick up as we go through the day. Stay alert of possible warnings as well.