Last Updated on January 15, 2013 3:30 pm
*List of updated items as they come into the facebook, twitter, text and email outlets*
Monday Jan 14
11:26am – Semi trk stuck on wilsons ridge
12:35pm – 3 car wreck on 105 just before Sagebrush light inbound
2:35pm – per Boone PD – Jack-knifed tractor & trailer 421 near Modern Toyota, please avoid the area if possible. Please try to divert over Wilson Ridge Rd.
2:42pm – per Boone PD – Roadway is now clear at 421 near Modern Toyota.
3pm – possible delays on 421/Boone Mtn. Wreck at Danny's Used Cars. Use caution this afternoon as heavy rains and fog continue to be an issue.
3:11pm – Mud slide reported in the curves on 194 pass Howards Crk Rd. DOT is responding to that scene.
4:57pm – tractor trailer blocking Rush Branch Road per scanner
5pm – expect delays on Rush Branch, tractor trailer stuck in mud blocking the road per scanner
Tuesday Jan 15
Via DOT – No road closures on 321 in Blowing Rock today due to weather. Limited ops. Slow down, stay alert. Call (828) 964-3260.
2:45pm – Ralph Stout Park in Mountain City, Tn. from Melissa Fletcher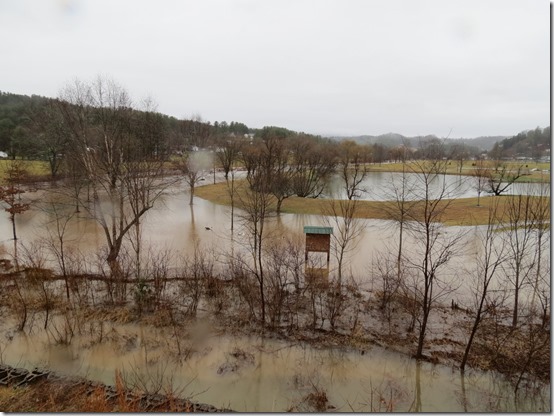 3:30pm – via twitter report "Water is at base of low water crossing bridge on Dewitt Barnett Rd and flowing over top of the bridge on Hubert Thomas Rd."
4pm via facebook – "First low bridge at Roby Greene about to go under, FYI. DOT is out there now and they may block off the road eventually if the water continues to rise."
Wednesday Jan 16
6am – no known road issues at this time