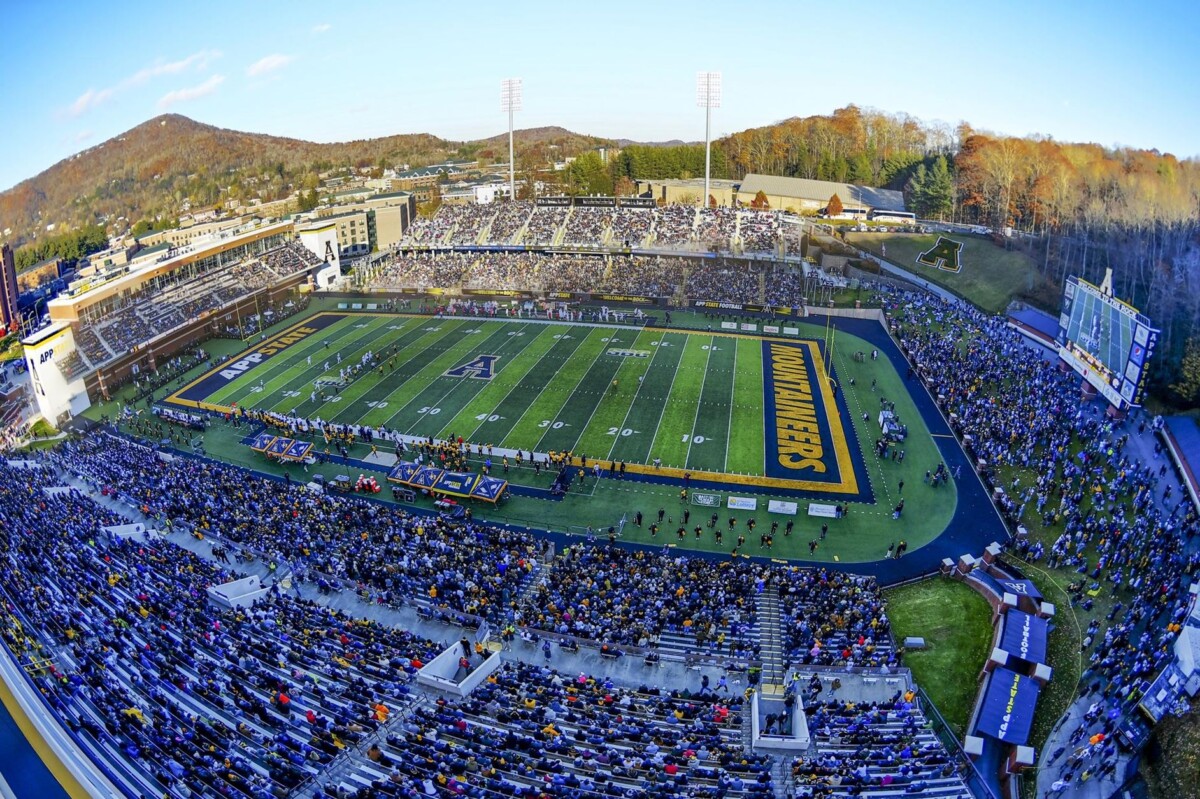 Last Updated on May 1, 2022 10:30 am
BOONE, N.C. — The New Orleans Saints picked App State linebacker D'Marco Jackson in the fifth round of the NFL Draft on Saturday, and several Mountaineers have signed post-draft deals with teams. 
As of Saturday night, the list of free agent signings included, in alphabetical order: WR/PR Thomas Hennigan (Minnesota Vikings), CB Shaun Jolly (Cleveland Browns), WR Corey Sutton (Detroit Lions), DE Demetrius Taylor (Detroit Lions), WR/KR Jalen Virgil (Denver Broncos) and WR/PR Malik Williams (Buffalo Bills).

THOMAS HENNIGAN, WR/PR, MINNESOTA VIKINGS
Hennigan departed Boone at No. 1 in App State history in career catches (242) while ranking No. 2 in career receiving yards (3,124) and No. 4 in career receiving touchdowns (23).

He ended his career with an FBS-record 65 starts, was an Academic All-American (second team) following the 2020 season and received All-Sun Belt recognition in four of his five seasons. He closed his career with 4,082 all-purpose yards thanks to work as a receiver and returner.

Hennigan recorded three 100-yard receiving games in his final college season and finished his career with five total. He increased his yards-per-catch average over each of his last four seasons and had a career-best 823 receiving yards in 2021.
SHAUN JOLLY, CB, CLEVELAND BROWNS
Jolly earned first-team All-Sun Belt honors in each of the last three seasons to go along with All-America recognition in 2019 (second-team from PFF College) and 2020 (honorable mention from Phil Steele). He was selected to participate in the East-West Shrine Bowl following his senior season.

In three seasons as a starting cornerback, Jolly totaled six interceptions (with two pick-six touchdown returns), 25 passes defended, 112 tackles, 6.5 tackles for loss and two forced fumbles.

In eight games during the 2021 season, he delivered a tone-setting interception in a league-opening win at Georgia State and totaled 26 tackles (22 solo) with a missed-tackle rate of only 4.0 percent, according to PFF data. He allowed just 19 receptions and no touchdowns while being targeted 40 times, with the long reception against him covering 33 yards.
COREY SUTTON, WR, DETROIT LIONS
Sutton finished his App State career among the program's career leaders in touchdown receptions (No. 3 with 24), receiving yards (No. 6 with 2,278) and receptions (tied for No. 8 with 146). He accomplished all of that in just 35 games for the Mountaineers and received All-Sun Belt recognition in each of his three competitive seasons, including first-team honors as he returned successfully in 2021 from a 2019 knee injury.
Named the Sun Belt's "Most Dangerous Deep Threat" during his career, Sutton had eight catches of 30-plus yards in 2021 and 23 gains of 30-plus yards in his three seasons at App State. That production helped earn him an invitation to the NFLPA Collegiate Bowl.
After missing the end of the 2019 season and working through 2020 to fully recover, Sutton was named a candidate for the Mayo Clinic Comeback Player of the Year Award thanks to a 2021 season in which he ranked among the Sun Belt leaders in receiving yards (No. 4 with 904), receptions (No. 4 with 61) and receiving touchdowns (tied for No. 4 with seven). He started App State's first 13 games and missed the Boca Raton Bowl after having a procedure on a wrist injury that he had persevered through late in the season.

He also made several acrobatic, toe-dragging touchdown catches, including one against Marshall in 2021 to earn him the No. 1 top play of the day on ESPN's SportsCenter.
DEMETRIUS TAYLOR, DE, DETROIT LIONS
A first-team All-Sun Belt selection in each of his last three college seasons, Taylor finished his App State career with 26.5 sacks to rank No. 4 in program history.

He also totaled 136 tackles, 45.5 tackles for loss, five forced fumbles and three blocked kicks in 65 career games, notably being named national defensive player of the week thanks to his 2.5 sacks, two forced fumbles, a fumble return for a touchdown after one of his sacks and an interception in a 2019 win at North Carolina.

In 2021, Taylor recorded 7.0 sacks and 10.5 tackles for loss while being credited with 43 quarterback pressures by PFF College. He received an invitation to play in the Hula Bowl and recorded a sack in that game.
JALEN VIRGIL, WR/KR, DENVER BRONCOS
Virgil produced 15 plays of at least 40 yards in his App State career, with seven of those being among his 11 career touchdown receptions, including a 60-yard score in the 2021 Boca Raton Bowl. In 61 career games, his 2,633 all-purpose yards included 1,436 yards on 98 catches (14.7 average).

The speedy Virgil ran the 40-yard dash in 4.37 seconds during App State's Pro Day. He was a four-time member of The Athletic's "Freaks List" based on his athleticism — ranking No. 1 among offensive skill players in each of his last two seasons, when he totaled 1,142 yards on 36 kickoff returns (31.7 average) with touchdowns at Georgia Southern in 2020 (100 yards), at Miami in 2021 (100 yards) and again against Georgia Southern in 2021 (97 yards).

In 2021, Virgil ranked No. 7 nationally with a kickoff return average of 30.0 yards and had the second-most kickoff return yards in a season (781) in App State history. He led the Mountaineers in all-purpose yards in each of the last three games, totaling 220 in the Boca Raton Bowl (thanks to 75 receiving and 146 on kickoff returns).

After the bowl game, Virgil started at receiver in the Hula Bowl.
MALIK WILLIAMS, WR/PR, BUFFALO BILLS
Williams finished career among the App State career leaders in receiving yards (No. 5 at 2,382), catches (No. 5 at 190) and receiving touchdowns (tied for No. 7 at 17). He totaled 23 touchdowns with one rushing touchdown (in the 2018 bowl win) and five passing touchdowns (three in bowl games).

After starting at Georgia in his first game as a true freshman, Williams played in 65 of 66 games over the next five years and received All-Sun Belt recognition in each of his final three seasons.

Williams was named the Capital One Orange Bowl National Player of the Week after making 10 catches for 206 yards and one touchdown in a victory against Coastal Carolina in 2021. He finished the season with 52 catches for a career-best 819 yards with seven receiving touchdowns (also a career high).

Williams averaged a career-best 13.1 yards per reception in 2021, ranked No. 2 in the Sun Belt with seven receptions of at least 40 yards and finished the season with 1,023 all-purpose yards.