Last Updated on February 12, 2022 6:26 pm
*running list of conditions and reports*
3am- Along with areas of black ice blowing snow is an issue overnight. Gusts up to 60mph possible through the afternoon with single digit wind chills.
Blowing snow and falling snow causing issues this morning
5:47am – 421 from Vilas to Boone is snow covered
5:50am – getting some reports of snow covered roads. Allow that extra travel time this morning.
6am -Getting reports that conditions from the TN/NC stateline on 421 are not good, snow covered and slick
105 is snow covered but has been plowed. Through Valle Crucis is snow covered
6:05am per ASU – All classes that meet before 10 a.m. Friday, Feb.1, have been canceled. The university will monitor conditions and issue updates as needed.
6:23am – tractor and trailer stuck on the 105 ext due to the snow per scanner. 6:27am – the truck has been able to start moving again
Facebook reports of 421 to Boone is snow covered, 105 is also snow covered
AppalCART will be on a 2 hour delay routes will start at 9am with no county routes. The silver route will be on limited route. The nearest stop to White Oak Road is West Heaven Apartments on POP-105
High Wind Warning still up til 4pm, Winter Weather Advisory until noon
6:40am – from a fb report "105 snow covered, but had been plowed. Still some slick spots though. 221 snow covered and slick!!"
7am – continue to allow extra travel time this morning. Blowing snow, falling snow and snow covered roads making the morning drive a little longer to make today.
Aho/321 into Boone (Sorrento area) snow-covered but drivable as of 6:30 am.
7:07am – 421 is slushy. Not too bad from Old 421 into Boone. New Market area slushy. State Farm road is not too bad with slushy spots. Deerfield is very slick. Caution. Bamboo by the airport the same due to high wind and drifts.
16 degrees with -4 wind chill in Boone at 7:15am
7:15am – this report from WataugaRoads facebook page "Just got into West Jefferson from Boone on 221. NERVE RACKING driving on ice! Lots of state trucks out close to WJ though."
7:30am reports:
"421 from 221 in Deep Gap to Boone mostly covered but passable. 421 from 221 to Wilkes/Watauga County line covered in patches and wet. Be cautious. Wind and blowing snow are the biggest issues."
"221 leaving WJ is slow going. Snow and ice covered."
"321 from blowing rock to Boone very icy and slick. Going the opposite direction seems a bit better"
1-3 inches of snow today per NWS. Gusts up to 60mph decreasing to 15-20 then back to 40mph today. Wind chills in single digits today and tonight and Sat morning.
7:50am – possible delays on 321 between the Parkway bridge and Tanger outlet due to a rollover wreck (per scanner)
The view in Valle Crucis from Daniel Martin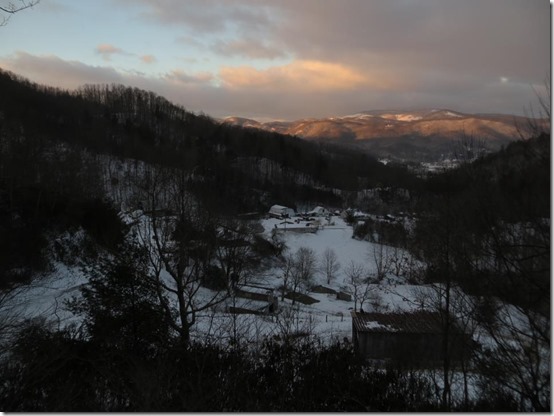 No operations on 321 in Blowing Rock today. Slow down, stay alert. Call 828-964-3260 for project related information
8:32am – Deerfield Rd., State Farm Rd., & 105 Ext. all very slick. Deerfield being the worse. Although the roads look somewhat clear they are still slick.
8:40am – still getting several reports that 321 between Boone and Blowing Rock is slick. No reported problems on 421 & 105. Secondary roads across the county are snow covered and slick for the most part per reports coming in.
AppalCART Purple Route will not be going into Village of Meadow View pick up will be at the bottom of the hill
9:45am: 13 degrees in Boone with wind chill of -5
Valle Crucis at 10:30am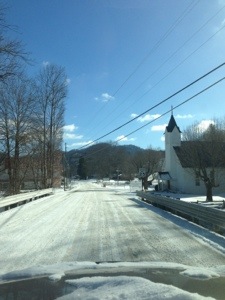 105 10:30am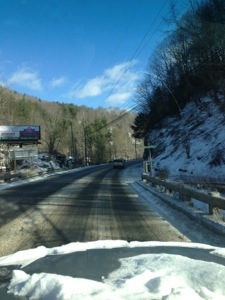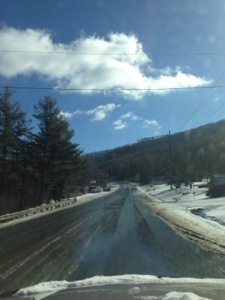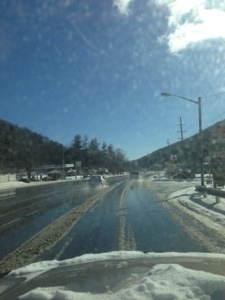 10:51 per Boone PD -Wreck w/injuries near Tweetsie avoid the area if possible the south bound lane is closed at this time.
11:15AM BOTH southbound lanes of 321 at Tweetsie remain closed due to a wreck.
11:40am southbound lanes of 321 at Tweetsie are back open
High Wind Warning is canceled, Wind Advisory is up until 1pm today
12:45pm – 17 degrees in Boone with a windchill of 0
Winter Weather Advisory from 2/2/2013 10:00 AM to 2/3/2013 7:00 PM EST for Ashe County, Watauga County.http://1.usa.gov/14E5VNw
3:50pm 18 degrees with wind chill of -0 in Boone
ALERT for black ice tonight and overnight!!! There's a lot of water in the roads from some melting today. Temps will still be in the teens with wind chills in single digits today, tonight and Saturday morning
National Weather Service Video Update Friday afternoon
Water from melting snow, on some roads, will re freeze tonight as forecast highs are forecast to be around 8 above and below zero wind chills.