Last Updated on December 29, 2012 5:54 am
*collection of reports coming into the facebook and twitter pages*
Overnight facebook reports: 2:10am – Sleet is accumulating now south of Blowing Rock, and snowflakes are starting to mix in too., 12:55am – Heavy sleet up @app ski mtn. Galax circle sheet of ice, 12:42am – Sleet 3 miles south of Blowing Rock on 321, 11:44pm – Shulls Mill Road is a sheet of ice towards Blowing Rock.
Snow, sleet and freezing rain all in the forecast for this morning, snow and rain this afternoon. 32 in Boone at 6am.
Early morning report from Ashe County – Watertank Rd. has a small coating of ice topped with a small coating of sleet here in Ashe – 6am
6:09am – fb report "The trees aren't weighed down but my road (off Bamboo) is a big sheet of ice.", "a mix, sleet, rain. Little Plumtree, Avery, Co."
6:23am – via twitter – @WataugaRoads A little rain, snow, ice, rime & LOTS of fog–no signifcant wind–in Blowing Rock this morn. US 321 is passable. Use caution.
6:38am – fb report "Vilas to watauga medical center was fine. No problems as I drove in just now."
6:52am – fb report "421 from Boone to almost Parkway bridge is the foggiest ever (20 mph foggy!!!) BE CAREFUL!!!"
6:55am – so far have received no reports of any trouble areas on the roads. That's not to say there are none so keep an eye out. Temp has bumped up to 33 in Boone.
7am via twitter – @WataugaRoads 105 in foscoe is clear
7:04am – getting two reports from Blowing Rock "Ice patches start after Tweetsie heading south on 321." & "Blowing rock is a lot worse than Boone had to push the snow, sleet and what ever it was off before salting"
7:09am – power outages – Watauga 44 near Blowing Rock, 7:14am – power outage correction – Watauga 44 in Foscoe area
7:13am – per fb comment "Just drove through to Boone..roads wet..still take it easy..slush on sides of Road."
7:14am – power outage correction – Watauga 44 in Foscoe area
7:25am – fb report "221 four miles outside of Blowing Rock toward G'father are very icy!"
Photos from Dec 28 by Barry Houck Photo Works
Looking toward Ski Beech from 421 in Zionville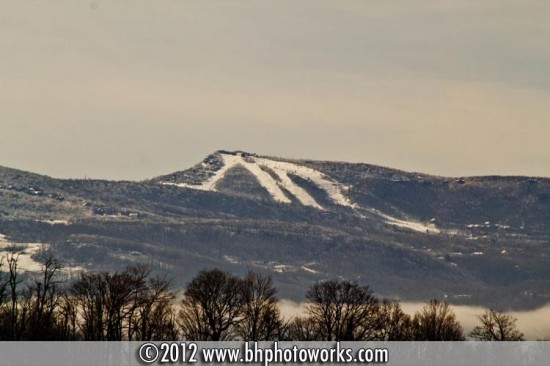 Tater Hill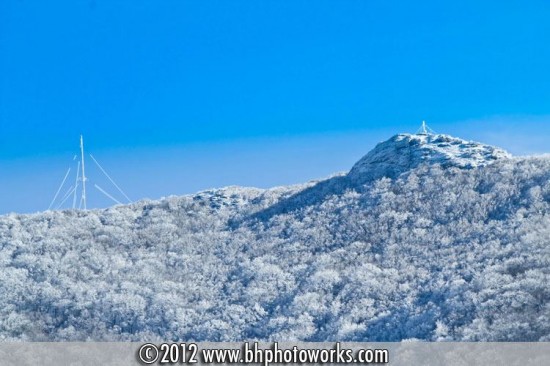 7:41am – fb report of snow starting around Willow Valley
7:45am – fb report "Hound Ears, near Foscoe, 3300 ft, car encrusted completely with ice; despite ice melt, slick deck. Temp. 32 d. at our house. Still have power."  & "Boone mall to edminston in br not bad, wet. Towards br getting more icy…edminston to app ski mtn was BAD"
Icy branches just across the line in Ashe
Slick porch just across the county line into Ashe County
8am – Main trouble areas on roads appears to be around Blowing Rock (and that end of the county) with icy spots. Foggy across a good portion of the county. Per most reports coming in roads are mainly wet. Winter Weather Advisory still up until noon, Wind Advisory goes up at noon until noon Sunday.
8:12am  via twitter – @WataugaRoads the drive in my n'hood is complete ice. To the right, the gravel is also covered in ice. B.R. hwy 221 S. http://pic.twitter.com/CJUPjkZo
8:35am – snow starting to fall in some southern sections of the county.
9am – another classic example of how different the county can be weather wise at any given time. Continued icy around Blowing Rock and 221, while roads are mostly wet elsewhere, however there are still slushy ice spots. Reports of snow in the western and southern end of the county, hints of brief sun in Foscoe and sleet/freezing rain falling in other areas. Winter Weather Advisory still up until noon, Wind Advisory goes up at noon until noon Sunday.
11am – few more spots reporting snow falling now. The Winter Weather Advisory has been extended until 6:00am Sunday.
Radar image from early this morning showing the sleet/freezing rain.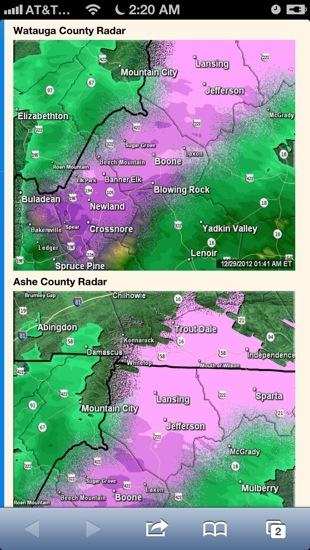 2:45pm – snow starting to stick to grassy surfaces, car hoods etc pretty quick in some parts of the county.
4:13pm – scanner report that 421 is snow covered and little icy around Hilltop
4:22pm – wreck at Ruff Drive and Deck Hill Road, use caution in that area.
4:42pm – use caution on area roads, another report via scanner of very slick road but missed the exact location.
5:10pm – twitter report "@WataugaRoads Going down Food Lion hill in Banner Elk. Slow crawl w/ slush on top of rd. 5:10pm 25°F (gonna freeze real soon) #wncwx"
6:49pm – getting couple of reports that 105 at county line is snow covered and slick
7pm – report coming in that 105 down Rock Crusher Hill and through Valle Crucis is snow covered and slick
7pm – road conditions are expected to go down hill because of the weather.
Use caution as slick conditions are already being reported.