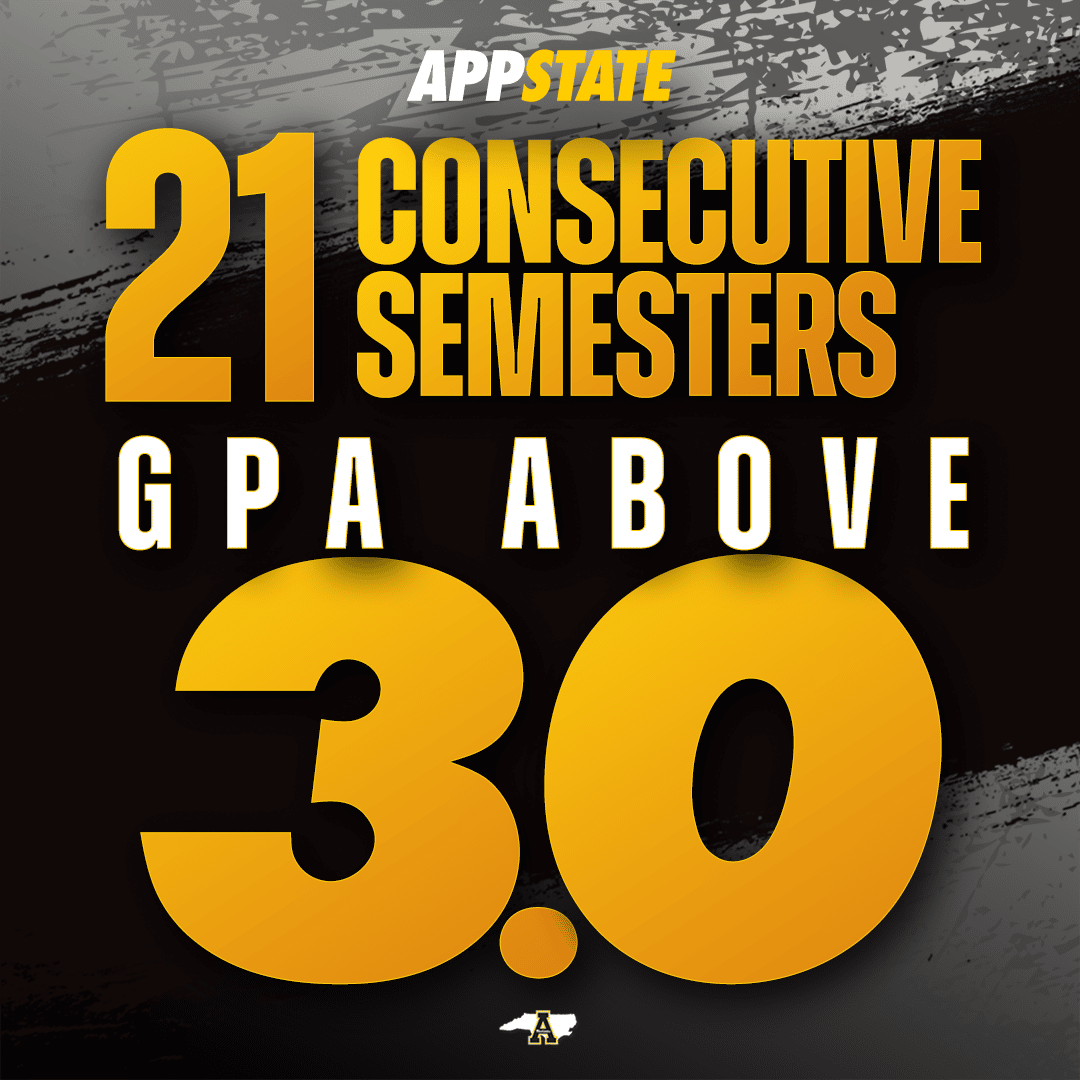 Last Updated on January 19, 2023 11:19 am
BOONE, N.C. — App State student-athletes extended their impressive streak to 21 consecutive semesters with a cumulative GPA above 3.0 thanks to their impressive academic performances during the 2022 fall.

The Mountaineers ended the fall with a 3.13 semester GPA for all student-athletes, contributing to a 3.21 cumulative GPA for all student-athletes. The semester average jumped 0.13 points from the 2021 fall to the 2022 fall.

Additionally, 190 student-athletes earned recognition on either the Chancellor's List or Dean's List.

The 65 student-athletes on the Chancellor's List were full-time students with a GPA of 3.85 or higher during the fall, with inclusion determined solely by the performance in courses that earn credits toward graduation.

The 125 members of the Dean's List either posted a GPA of 3.45 or higher while carrying 12-14 academic hours or a GPA of 3.25 or higher while carrying at least 15 academic hours. Every App State Athletics program had at least two team members make the Dean's List.

Every program at App State finished the fall with a semester GPA above 2.8, led by a 3.49 from volleyball. Every program at App State also has a cumulative GPA above 2.95, led by soccer with a 3.6.

On the men's side, cross country led the way with a 3.24 semester GPA and is No. 1 with a 3.379 cumulative GPA.

In September, when the Sun Belt Conference had more than 2,000 student-athletes named to the Commissioner's List and Academic Honor Roll for the 2021-22 school year, App State had a league-high 211 selections on the two lists.

| | |
| --- | --- |
| Teams (Alphabetical Order) | Fall Semester GPA |
| Baseball | 2.88 |
| Field Hockey | 3.42 |
| Football | 2.87 |
| Men's Basketball | 2.82 |
| Men's Cross Country | 3.24 |
| Men's Golf | 3.10 |
| Men's Track & Field | 2.84 |
| Soccer | 3.40 |
| Softball | 3.47 |
| Tennis | 3.46 |
| Volleyball | 3.49 |
| Women's Basketball | 3.19 |
| Women's Cross Country | 3.45 |
| Women's Golf | 3.27 |
| Women's Track & Field | 3.26 |
| Wrestling | 3.09 |
| | |
| --- | --- |
| Teams (Alphabetical Order) | Cumulative GPA |
| Baseball | 3.084 |
| Field Hockey | 3.374 |
| Football | 2.96 |
| Men's Basketball | 3.083 |
| Men's Cross Country | 3.379 |
| Men's Golf | 3.23 |
| Men's Track & Field | 2.98 |
| Soccer | 3.62 |
| Softball | 3.40 |
| Tennis | 3.43 |
| Volleyball | 3.57 |
| Women's Basketball | 3.17 |
| Women's Cross Country | 3.55 |
| Women's Golf | 3.44 |
| Women's Track & Field | 3.36 |
| Wrestling | 3.11 |
| | | |
| --- | --- | --- |
| Chancellor's List | | |
| | | |
| Baseball | Hayden Cross | Mathematics – Secondary Education |
| | | |
| Women's Basketball | Lexi Grant | General Mathematics |
| | | |
| Cheerleading | Tiffany Baity | Nursing |
| Cheerleading | Abigail Bernard | Communication – Advertising |
| Cheerleading | Erin Choi | Sustainable Development |
| Cheerleading | Emma Conley | Social Work |
| Cheerleading | Olivia Gaines | Elementary Education |
| Cheerleading | Ashley Macom | Accounting |
| Cheerleading | Kristen Roach | Communication Sciences and Disorders |
| Cheerleading | Olivia Rotan | Exercise Science |
| | | |
| Field Hockey | Charlotte Bosma | Applied Physics |
| Field Hockey | Sarah Callery | General Marketing |
| Field Hockey | Addie Clark | Art Management |
| Field Hockey | Ruby Clark | Cell/Molecular Biology |
| Field Hockey | Samantha Connors | Exercise Science |
| Field Hockey | Pauline Mangold | Exercise Science |
| Field Hockey | Sarah Perkins | Exercise Science |
| | | |
| Football | Connor Barry | General Marketing |
| Football | Carter Everett | General Marketing |
| Football | David Hernandez | Computer Information Systems |
| Football | Orlando Leon | Undecided |
| Football | Brady McBride | Recreation & Park Management |
| Football | Craig McFarland | Economics |
| Football | Eli Wilson | Management |
| | | |
| Women's Golf | Sara Adams | Communication – Advertising |
| | | |
| Women's Soccer | Liney Brantley | Communication Studies |
| Women's Soccer | Riley Terrill | Elementary Education |
| Women's Soccer | Kerry Eagleston | Social Work |
| Women's Soccer | Gracie Giacoletto | Biochemistry |
| Women's Soccer | Carly Lantz | Exercise Science |
| Women's Soccer | Izzy Lusardi | General Marketing |
| Women's Soccer | Emma McGibany | Biochemistry |
| Women's Soccer | Sarah Widderich | Sustainable Development |
| | | |
| Softball | Delani Buckner | Psychology – Education |
| Softball | Claire Carson | Political Science |
| Softball | Makena Fidler | Recreation & Park Management |
| Softball | Addison Jones | Psychology – Health Services |
| Softball | Taylor Thorp | Exercise Science & Criminal Justice |
| | | |
| Women's Tennis | Brooke Demerath | Computer Information Systems |
| Women's Tennis | Maggie Pate | Accounting |
| Women's Tennis | Virginia Poggi | Exercise Science |
| | | |
| Men's T&F/XC | Patrick Freeman | General Geography |
| Men's T&F/XC | Calbert Guest | Mathematics – Business |
| Men's T&F/XC | Caleb Kirchhoff | Finance and Banking |
| Men's T&F/XC | Luke Lair | History |
| Men's T&F/XC | Oliver Wilson-Cook | Outdoor Experiential Education |
| | | |
| Women's T&F/XC | Celia Agee | Elementary Education |
| Women's T&F/XC | Catherine Breault | Ecology, Evolution & Environmental Biology |
| Women's T&F/XC | Madison Christy | Communication, Advertising |
| Women's T&F/XC | Bianca Copeman | Communication Studies |
| Women's T&F/XC | Jasmine Donohue | Exercise Science |
| Women's T&F/XC | Elizabeth Fuller | Psychology – Business |
| Women's T&F/XC | Abby Granberg | Exercise Science |
| Women's T&F/XC | Morgan Kornke | Dietetics |
| Women's T&F/XC | Megan Plummer | Family and Child Studies |
| Women's T&F/XC | Ava Studney | Exercise Science |
| | | |
| Volleyball | Sam Bickley | Computer Information Systems |
| Volleyball | Lily Harvey | Cell/Molecular Biology |
| Volleyball | Tess Herendeen | Biochemistry |
| Volleyball | Cierra Huntley | Public Health |
| Volleyball | Lauren Pledger | Construction Management |
| Volleyball | Kenady Roper | Exercise Science |
| | | |
| Wrestling | Levi Andrews | Health & Physical Educ, K-12 |
| Wrestling | Chopper Mordecai | Political Science |
| Wrestling | Nicholas Woodruff | Undecided |
| | | |
| Dean's List | | |
| | | |
| Baseball | Jordan Fisher | Management |
| Baseball | Alexander Hamilton | Accounting |
| Baseball | Greyson Laspaluto | Accounting |
| Baseball | Cy Smith | Nutrition & Foods |
| Baseball | Austin St. Laurent | Marketing – Sales |
| Baseball | Jackson Steensma | Biochemistry |
| Baseball | Bradley Wilson | General Management |
| | | |
| Men's Basketball | CJ Huntley | Recreation & Park Management |
| Men's Basketball | Andrew Muse | Health & Physical Educ, K-12 |
| | | |
| Women's Basketball | Nadiyah Byard | Psychology – Human Services |
| Women's Basketball | Chaé Harris | Nutrition & Foods |
| Women's Basketball | Zada Porter | Communications – Public Relations |
| | | |
| Cheerleading | Shi Barnhardt | Nursing |
| Cheerleading | Mary Beam | Interior Design |
| Cheerleading | Elizabeth Bullins | Criminal Justice |
| Cheerleading | Gina Gallo | Exercise Science |
| Cheerleading | Madison McDonald | Cell/Molecular Biology |
| Cheerleading | Kathryn Miller | Nursing |
| Cheerleading | Gabriella Rodrigues | Management – Human Resources |
| Cheerleading | Angelo Scionti | Exercise Science |
| Cheerleading | Amelia Vanwormer | Actuarial Science |
| Cheerleading | Liza Warner | Interior Design |
| Cheerleading | Grace Wilkins | International Business |
| Cheerleading | Valencia Williams | Exercise Science |
| Cheerleading | Ashlyn Wooten | Interior Design |
| | | |
| Field Hockey | Lise Boekaar | Criminal Justice |
| Field Hockey | Allison Corey | Cell/Molecular Biology |
| Field Hockey | Claire Grenis | Environmental Science |
| Field Hockey | Hadley Kuzmicky | Exercise Science |
| Field Hockey | Jillian Orcutt | Exercise Science |
| Field Hockey | Henriette Stegen | General Marketing |
| Field Hockey | Fien Zwaan | Cell/Molecular Biology |
| | | |
| Football | Kyle Arnholt | History |
| Football | Cole Becker | Management |
| Football | Nate Blanton Jr. | Sustainable Development |
| Football | Tre Caldwell | Exercise Science |
| Football | Anderson Castle | Management |
| Football | Damion Daley | Exercise Science |
| Football | DeAndre Dingle-Prince | General Marketing |
| Football | Troy Everett | Communication Studies |
| Football | Jake Ganoe | Construction Management |
| Football | Carter Greene | Exercise Science |
| Football | Sammy Henderson | Exercise Science |
| Football | Peter Hennigan | Construction Management |
| Football | Michael Hetzel | Accounting & Finance & Banking |
| Football | Ethan Johnson | Criminal Justice |
| Football | David Larkins | Management |
| Football | Chris Lyle | Recreation & Park Management |
| Football | Colston Powers | Management |
| Football | Jayden Ramsey | Management |
| Football | Kaedin Robinson | Communication, Advertising |
| Football | Gerry Synder | General Marketing |
| Football | Coen Sutton | Exercise Science |
| | | |
| Men's Golf | Josh Buxbaum | Marketing – Sales |
| Men's Golf | Herman Huus | Digital Marketing |
| Men's Golf | Lukas Jonsson | Applied Physics |
| | | |
| Women's Golf | Shani Brynard | General Management |
| Women's Golf | Ekaterina Prokhorova | General Management |
| Women's Golf | Jacquelyn Taylor | Actuarial Science |
| Women's Golf | Hannah Wang | Recreation Management |
| | | |
| Women's Soccer | Hayley Boyles | Supply Chain Management |
| Women's Soccer | Olivia Cohen | Exercise Science |
| Women's Soccer | Addison Cooper | Management |
| Women's Soccer | Felicia Erkenfeldt | Applied Physics |
| Women's Soccer | Katelin Fuller | Exercise Science |
| Women's Soccer | Megan Gregg | Cell/Molecular Biology |
| Women's Soccer | Isabel Guisasola | Communication, Advertising |
| Women's Soccer | Anna Kate Highsmith | Exercise Science |
| Women's Soccer | Jazzmin Salters | Exercise Science |
| Women's Soccer | Katie Schumacher | Criminal Justice |
| Women's Soccer | Lela Stark | Exercise Science |
| Women's Soccer | Shannon Studer | Healthcare Management |
| Women's Soccer | Gabriella Tremonti | Elementary Education |
| | | |
| Softball | Kathleen Barton | Communication, Advertising |
| Softball | Hannah Forbes | Cell/Molecular Biology |
| Softball | Alannah Hopkins | Exercise Science |
| Softball | Kayt Houston | Psychology – Human Services |
| Softball | Kylie LaRousa | Special Education |
| Softball | Ambry Lucas | Exercise Science |
| Softball | McKenzie McCullen | Psychology – Health Studies |
| Softball | Sejal Neas | Exercise Science |
| Softball | Kaylie Northrop | Communication, Advertising |
| Softball | Emily Parrott | Biology – Secondary Education |
| Softball | Lilly Runaas | Exercise Science |
| | | |
| Women's Tennis | Riley Collins | Health Care Management |
| Women's Tennis | Erika Dodridge | Psychology – Human Services |
| Women's Tennis | Brooke Gruber | Finance and Banking |
| Women's Tennis | Olwyn Ryan-Bovey | Exercise Science |
| | | |
| Men's T&F/XC | Ethan Barber | Applied Physics |
| Men's T&F/XC | Chase Burrell | Industrial Design |
| Men's T&F/XC | Taylor Fox | Exercise Science |
| Men's T&F/XC | Rylan Haskett | Computer Information Systems |
| Men's T&F/XC | Nathan Karl | History |
| Men's T&F/XC | Parker Kinney | Exercise Science |
| Men's T&F/XC | Ethan Lipham | Environmental Science |
| Men's T&F/XC | Jackson Nichols | Exercise Science |
| Men's T&F/XC | Nicholas Scrocco | Environmental Science |
| Men's T&F/XC | Jacob Stanley | Exercise Science |
| Men's T&F/XC | Ryan Teuscher | Computer Information Systems |
| Men's T&F/XC | Niejel Wilkins | Public Health |
| | | |
| Women's T&F/XC | Lucia Garcia | Exercise Science |
| Women's T&F/XC | Nevaeh Haddock | Political Science |
| Women's T&F/XC | Karsyn Kane | Elementary Education |
| Women's T&F/XC | Linnea Maynard | Environmental Science |
| Women's T&F/XC | Khalilah Razzak | Accounting |
| Women's T&F/XC | Alexis Svoboda | Psychology – Natural Sciences |
| Women's T&F/XC | Maya Sweeney | Exercise Science |
| Women's T&F/XC | Daye Talley | Exercise Science |
| | | |
| Volleyball | Lulu Ambrose | Marketing – Sales |
| Volleyball | Madison Baldridge | Exercise Science |
| Volleyball | McCall Denny | Nutrition & Health |
| Volleyball | Morgan Flores | Public Health |
| Volleyball | Sarah Missroon | Public Health |
| Volleyball | Alec Quinn | Geology |
| Volleyball | Caroline Reeder | Risk Management and Insurance |
| Volleyball | Maya Winterhoff | Elementary Education |
| | | |
| Wrestling | Hunter Adams | General Management |
| Wrestling | Chad Bellis | Computer Information Systems |
| Wrestling | Riley Edwards | Construction Management |
| Wrestling | Heath Gonyer | General Marketing |
| Wrestling | Nicholas Grizales | Criminal Justice |
| Wrestling | Kaden Keiser | Exercise Science |
| Wrestling | Noah Luna | Digital Marketing |
| Wrestling | Braden Welch | Psychology – Natural Sciences |
| Wrestling | Joe Zovistoski | General Marketing |