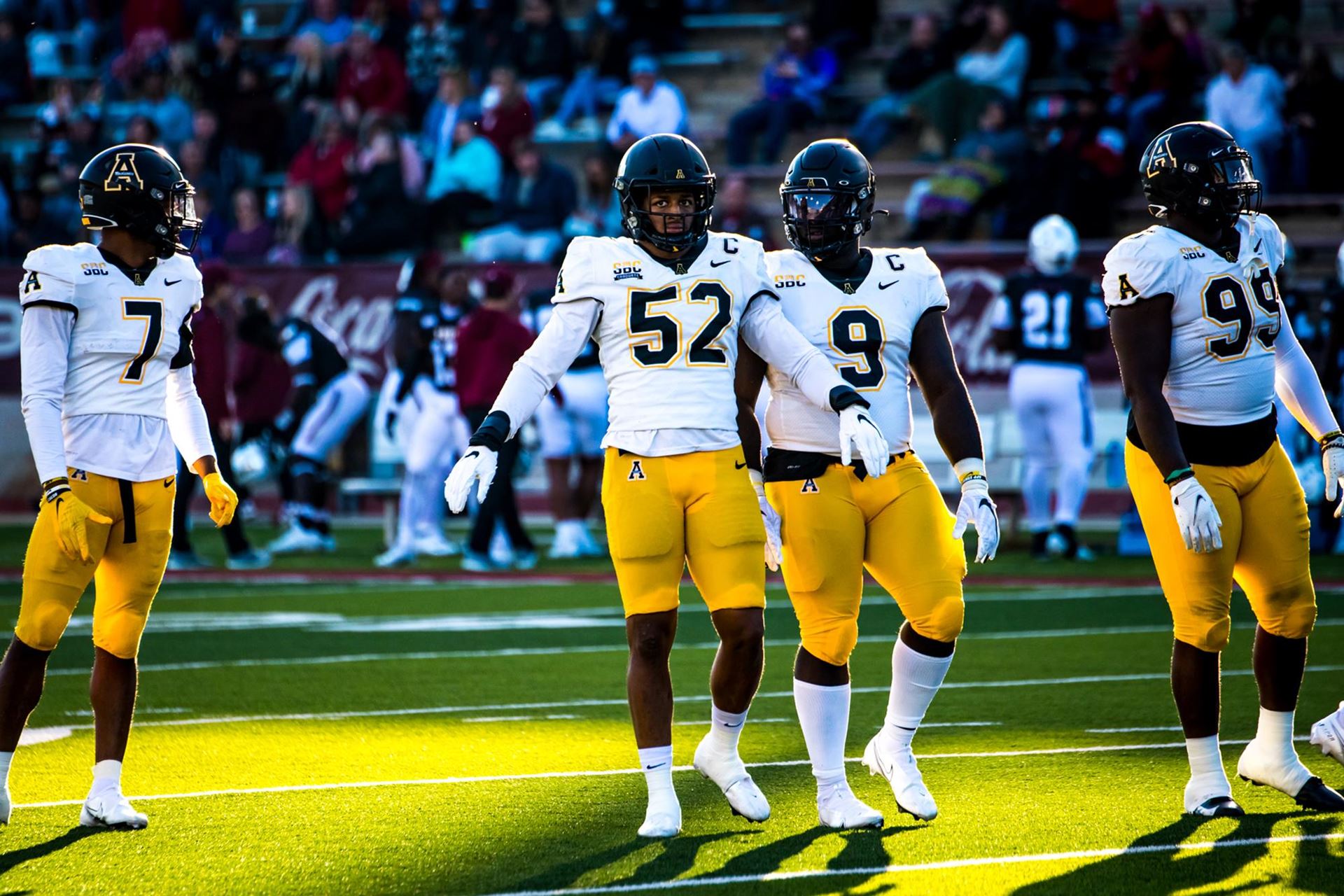 Last Updated on November 20, 2021 8:04 pm
TROY, Ala. — At risk of facing a halftime deficit, App State used a pile-driving sack from T.D. Roof to trigger a title-clinching blitz.

The Mountaineers secured a Sun Belt East Division title and spot in the Dec. 4 championship game at West Division champ Louisiana thanks to a 45-7 victory at Troy on Saturday.

App State fans can purchase Sun Belt championship game tickets by visiting appstatesports.com/SBC21. They will need to register for an account and purchase tickets in the O section of Cajun Field.

App State (9-2, 6-1) trailed 7-3 late in the first half when Troy had possession in its own territory with an opportunity to run out the remainder of the period. Roof's sack started a string of events that produced 21 points in a rapid-fire span of 3 minutes and 21 seconds, allowing the Mountaineers to head into the fourth quarter with a comfortable lead.

After the Trojans (5-6, 3-4) took the lead on a 37-yard touchdown pass with 6:15 left in the first quarter, they managed one first down and 19 total yards over the final 51 minutes as App State turned a small deficit into a 38-point lead. It scored 42 unanswered points over the final 30:21, finished with more than 43 minutes of possession time and didn't allow a sack against a defense that entered the weekend with 36 in its first 10 games.

In addition to his sack, Roof had a key interception and two tackles for loss as the Mountaineers limited Troy to 142 total yards. All three of Chase Brice's touchdown passes occurred in that 21-point surge, with his 21-yard connection to Corey Sutton giving App State the lead for good with 21 seconds remaining before halftime.

Touchdown passes to Thomas Hennigan and Eli Wilson just 14 seconds apart, sandwiched around Roof's interception deep in Troy territory, pushed App State's lead to 24-7 with 12 minutes left in the third quarter.

Nate Noel, Daetrich Harrington and Jahmir Smith added touchdown runs over the final 21 minutes.

Noel's 102 yards pushed him over 1,000 yards for the season, giving App State a 1,000-yard back for the 10th straight year. Entering this season, the second-longest streak among current FBS programs was three apiece from Buffalo and Minnesota.
After missing the second half of last season with a knee injury, Harrington scored his first App State touchdown in 13 months, and Smith reached the end zone for the first time as a Mountaineer.
App State's only first-quarter points came on a field goal from Chandler Staton, who improved to 16-for-16 on the season and ran his streak of consecutive makes to a school-record 18 with that kick. The streak later came to an end, but the Mountaineers turned red-zone chances and fourth-down calls into six touchdowns.