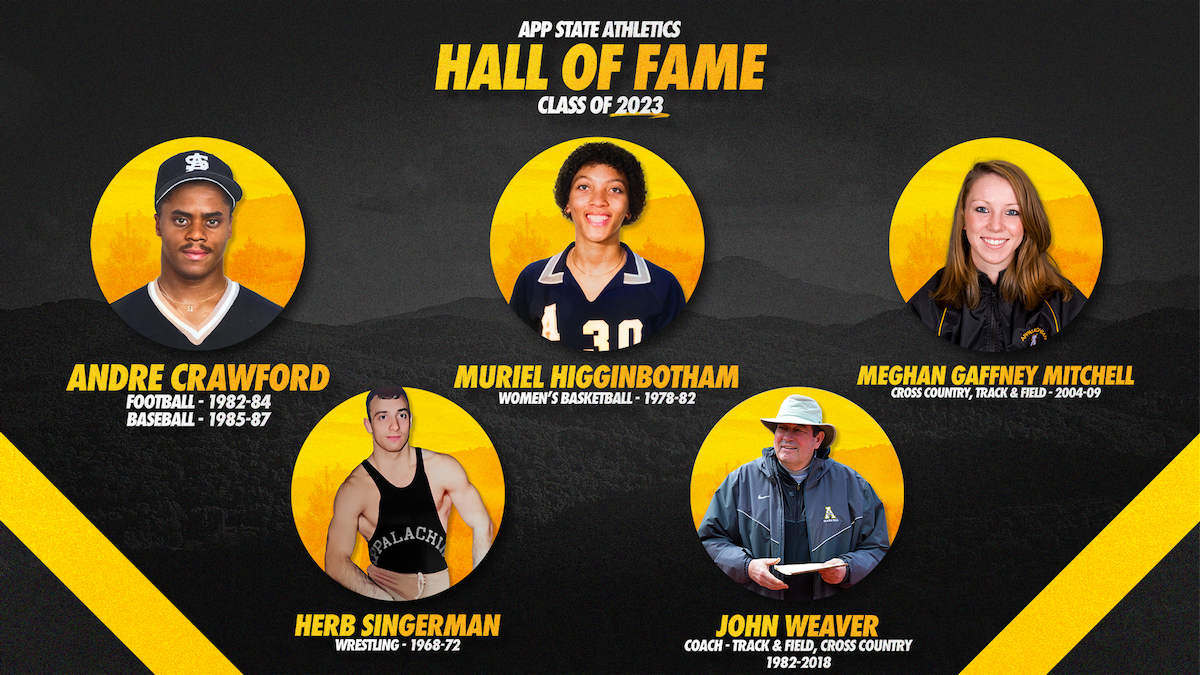 Last Updated on July 19, 2023 9:47 am
BOONE, N.C. — App State's Former Athletes Association is excited to announce the 2023 App State Athletics Hall of Fame class.

In alphabetical order, the 2023 inductees are Andre Crawford (Baseball — 1985-87, Football — 1982-84), Muriel Higginbotham (Women's Basketball — 1978-82), Meghan Gaffney Mitchell (Women's Track & Field/Cross Country — 2004-09), Herb Singerman (Wrestling — 1968-72) and John Weaver (coach, track and field, cross country, 1982-2018).

Oval Jaynes, a 1962 App State graduate, is receiving the Special Service Award. Jaynes was a two-sport athlete in Boone before embarking on a long, successful career in college athletics as a coach and administrator.

This is the 48th class in the history of the App State Athletics Hall of Fame. The group will be inducted in an evening ceremony in the Grandview Ballroom of the north end zone facility on Friday, Sept. 1, the night before the Mountaineers' season-opening football game against Gardner-Webb.

Tickets to the Hall of Fame dinner and ceremony are $30, with doors opening at 5:30 p.m. that night and the ceremony starting at 6 p.m. You can register online by clicking HERE, contacting Dominic Parisi at parisidj@appstate.edu or calling 828-262-6607.

2023 APP STATE ATHLETICS HALL OF FAME INDUCTEES
Andre Crawford (Baseball — 1985-87, Football — 1982-84)
Two-sport athlete was an all-conference outfielder for App State's baseball team in 1986 (for a North Division champion that played in an NCAA Regional before finishing 40-13) and 1987 (for a North Division champ that went 26-13) … App State's career home run leader with 33, including 16 in 1986 (tied for No. 3 in App State's single-season history) … Homered three times in a 1986 win against Marshall … Top 10 at App State in single-season batting average (.416 in 1987) as part of a .361 career average … No. 9 at App State in single-season RBIs (56 in 1986) as part of 117 career RBIs … No. 4 at App State in single-season slugging (.762 in 1987) and No. 3 with a career slugging percentage of .653 … Helped 1986 team start 33-5 and finish 15-2 in league play before advancing to the NCAA's Midwest Regional in Stillwater, Okla. … Drafted by the Minnesota Twins as a senior at Harding High School in Charlotte and played football at App State from 1982-84 … Intercepted one pass and made five tackles as a cornerback during his freshman season in 1982 … Moved to receiver during the 1983 season before contributing as a receiver, kick returner and rusher in 1984.

Muriel Higginbotham (Women's Basketball — 1978-82)
Top 10 in program history in both career points and career rebounds, with a double-double season average as a senior in 1982 … Ranks eighth on App State's career scoring list with 1,477 points, good for a 14.9 scoring average across 99 career games … Fourth in program history with 969 career rebounds, with a 9.8 per-game average across her career … During the 1981-82 season, had 297 rebounds, good for the seventh-highest season total in program history, topped by only three Mountaineers (Bayley Plummer, Valorie Whiteside and Glenda Cunningham) … Team scoring leader across three straight seasons (1979-80, 1980-81, 1981-82), topped by a 17.7 average during her senior year … Team rebounding leader across all four seasons, with an 11.9 average as a senior … Led team with field-goal percentages of 56.8 in 1980-81 and 49.8 the following season … Played for coaches Judy Clarke and Marian Brewer at App State.

Meghan Gaffney Mitchell (Women's Track & Field/Cross Country — 2004-09)
Academic All-American in 2008 and member of the SoCon 100th Anniversary Team … Ten-time All-SoCon selection (three-time steeplechase and three-time cross country, plus 3,000-meter run, mile run, 10,000-meter run and 1,500-meter run) … App State record holder in the 3,000-meter run (9:39.84 in 2009) while being second in the indoor mile (4:53.05) and fourth in the 3,000-meter steeplechase (10:41.55) … Also top 10 in the 5,000 meters and 1,500 meters … Five-time SoCon individual champion, including 2007 wins in the indoor mile, 1,500 meters and 3,000-meter steeplechase … NCAA Regional qualifier in the 3,000-meter steeplechase (2006, 2007) and 1,500-meter run (2007) … 2008 Southeast All-Region in cross country … Key contributor to seven SoCon title teams (four indoor, three indoor) … Graduated with a 3.97 GPA in special education and then a 4.0 with a Master's degree in reading.
Herb Singerman (Wrestling — 1968-72)
Wrestling All-American in 1970 (NAIA fifth place at 126 pounds) … NCAA Championships qualifier in 1972, App State's first year back at the NCAA level … North Carolina collegiate champion in 1970 and 1971 … Represented Canada as a 1968 Olympian in Mexico City … Wrestled for coach Steve Gabriel at App State … 1969 Canadian Greco-Roman national champion and 1970 Canadian National wrestling champion … Also in 1970, wrestled in World championships for Canada and was a silver medalist in the Commonwealth Games … Montreal native originally planned to go to college out west but had a stellar career after instead choosing App State.

John Weaver (Coach, Track & Field, Cross Country, 1982-2018)
After graduating from App State in 1971 and returning to Boone in 1979 as a men's graduate assistant, took over as the first head coach of the women's program in 1982 and became the head coach for both programs in 1995 before retiring at the conclusion of the 2018 outdoor season … Inducted into the U.S. Track & Field and Cross Country Coaches Association (USTFCCCA) Coaches Hall of Fame in 2021 … Helped App State post 33 NCAA All-Americans, claim 78 team conference championships, win 571 individual conference titles and record roughly 1,700 all-conference performances during his time coaching men and women in track and field as well as cross country … With App State competing in both the Southern and Sun Belt conferences during his 47-year coaching career, was named a conference coach of the year 43 times and a Southeast region coach of the year three times … Coached 11 triple crowns, with either the App State men or women recording season sweeps of cross country, indoor track and outdoor track conference titles in the same academic year … Coached national champion Mary Jayne Harrelson, a two-time champ in the 1,500 meters, and two-time Olympic bronze medalist Melissa Morrison-Howard.

2023 APP STATE ATHLETICS HALL OF FAME SPECIAL SERVICE AWARD
Oval Jaynes (App State Class of 1962)
Two-sport athlete at App State (football and baseball) was a four-year football letterman (1958-61 seasons) and two-year baseball letterman … Football all-conference and all-state selection as an end in 1961, when App State went 7-3 overall and 5-1 in the Carolinas Conference … President of the Monogram Club (1960-61) … Had a 9-yard TD catch in 13-0 win over Catawba in 1961 … Began work in college athletics in 1964 and retired in 2011 … Athletics administrator for more than 20 years, serving as the Athletics Director at five schools (Colorado State, Pittsburgh, Idaho, Chattanooga, Jacksonville State) after being an associate A.D. at Auburn … Coached for more than 15 years at seven different Division I institutions, including a stint as Gardner-Webb's head coach in the mid-1970s … 1962 graduate received the 2014 Distinguished Alumnus Award from App State … Inducted into the National Association of College Directors of Athletics (NACDA) Hall of Fame in 2012 … Received the General Robert R. Neyland Award for Lifetime Achievement by the All-American Football Foundation in 1999 … Awarded life membership in the American Football Coaches Association in 2001 … In 2013, received the Spirit of Giving Award from the executive director and the board of trustees of the American Football Coaches Association.