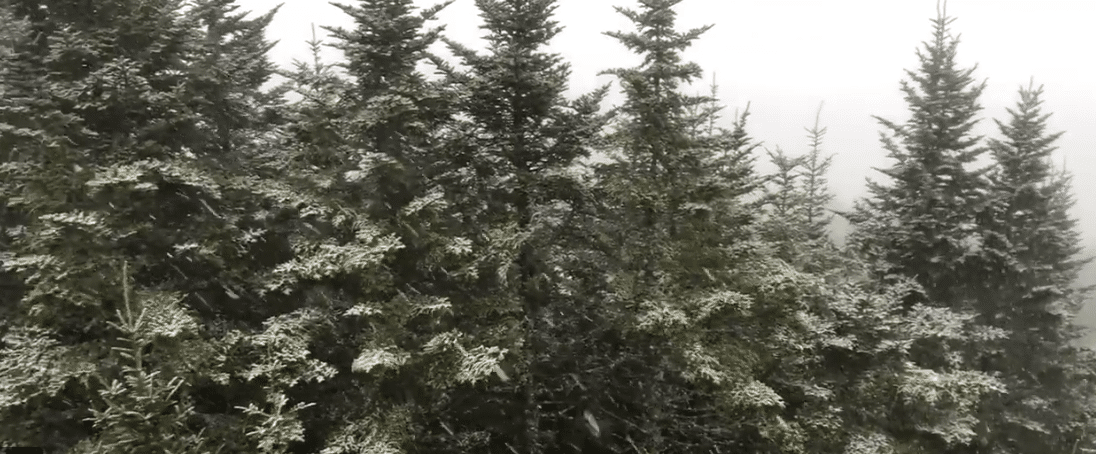 Last Updated on October 30, 2021 3:46 pm
The highest point east of the Mississippi is getting winter weather to close out October. Mount Mitchell, located in Yancey County, closed on Thursday due to snow and ice, and high winds. The North Carolina State Parks and Recreation agency reported the closing via social media.
A trace of snow was reported on Mount Mitchell on Friday, according to the National Weather Service.
On Saturday morning, Evan Fisher captured video of "Big snowflakes falling on Mount Mitchell, NC this morning". The National Weather Service office out of Greenville-Spartanburg noted on Twitter that, "Area webcams also confirm snow across some of the highest peaks of the southern Appalachians, including the highest, Mount Mitchell! Snow levels will remain above 6000 feet, except locally lower in heavier showers."
At 12:30 pm today (Saturday) the temperature on Mount Mitchell was 34 degrees with a wind chill of 25 degrees, according to current conditions on the mountain.
Snow was reported for a brief period of time on Beech Mountain on Thursday, according to Brad Panovich, Chief Meteorologist for NBC Charlotte. Video of that snow is below.
Mount Mitchell was established as North Carolina's first state park by the state legislature in 1915.
The earliest measurable snow in the state's history occurred on October 1, 2011 on Beech Mountain. Previous to that, Mount Mitchell held the record set on October 5, 1980.