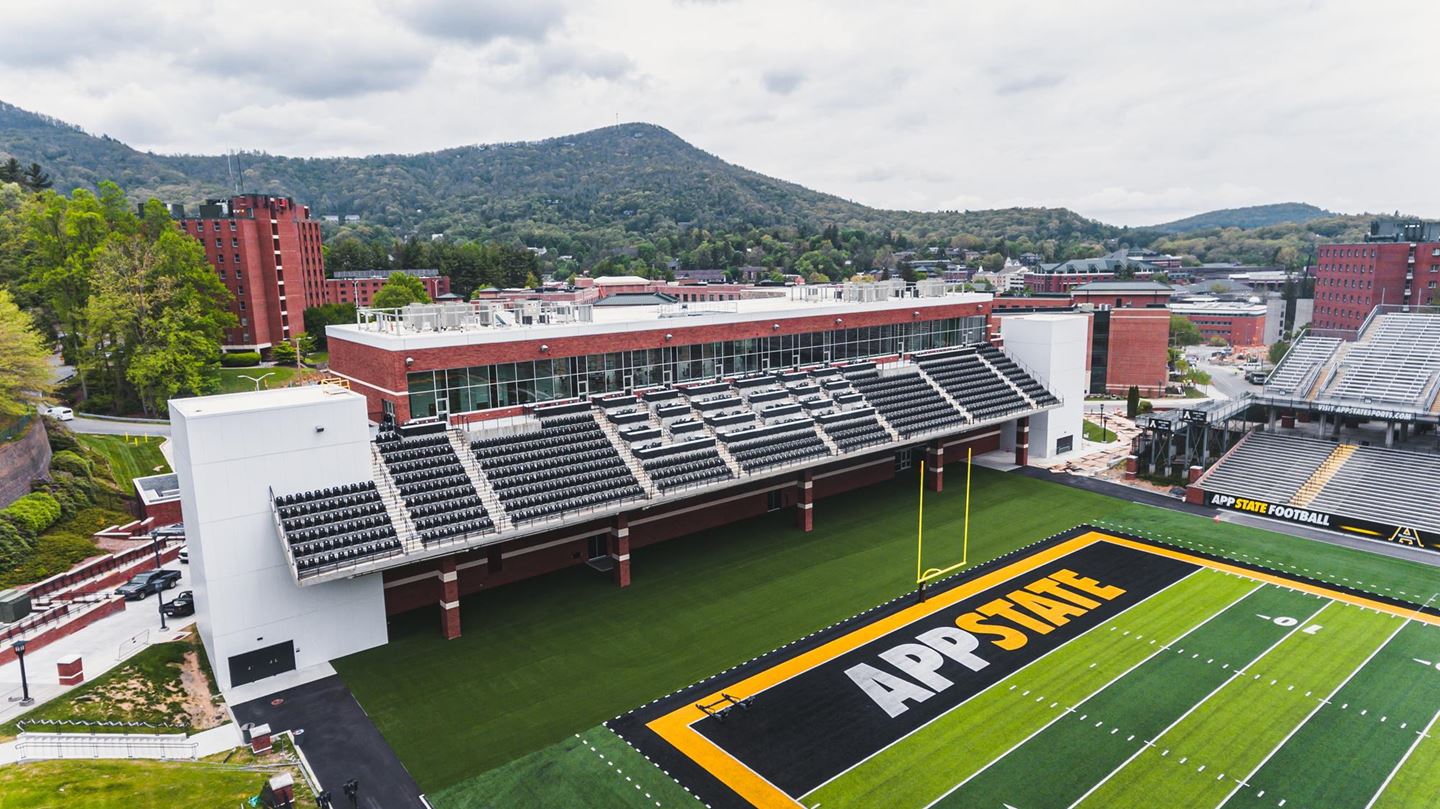 Last Updated on September 10, 2021 5:16 pm
BOONE, N.C. — App State's Kidd Brewer Stadium will host its first game of the 2021 season on Saturday, Sept. 18, when the Mountaineers face former Southern Conference rival Elon.
The home opener in Boone is designated as App State's Family Weekend and will also include Athletics Hall of Fame festivities and a special tribute to legendary head coach Jerry Moore with the unveiling of the new Jerry Moore Plaza and statue.
Below are a variety of enhancements, protocols and new amenities to App State's game day experience in 2021. We look forward to welcoming App Nation back to The Rock!
Gates open 90 minutes prior to kickoff
–       Clear bag policy remains in effect
– There will be express lanes for those without bags at the Echota West Gate
– Please arrive early, and thank you for your patience
COVID-19 safety precautions
– No crowd size restrictions at this time
– Face coverings are not required outside
– Face coverings are required inside (bathrooms, Ricks Athletics Center, North End Zone facility)
– Hand sanitizer stations will be available throughout the stadium
Mobile tickets for students
– All App State students attending the game are required to download and present a mobile ticket for entrance
– Students will receive email instructions on how to reserve their mobile tickets
Concessions
– New concessions vendor EMS offers a higher quality and wider variety of food and beverage options
– Concessions options will include fried chicken tender basket ($11), pulled pork sandwich ($6), stadium dog ($5), warm pretzel ($5), nachos & cheese ($5), french fries ($5), kettle corn ($7), popcorn ($5), cotton candy ($5), varied candies ($4), frozen ices ($5.50), 20 oz. Pepsi products ($5), 20 oz. Aquafina water ($5), lemonade ($5), coffee ($4) and cups of ice ($2)
– Beer stations and an assortment of food trucks similar to 2019 will be on site, including The Cardinal, Hungry Howie's Pizza, Appalachia Cookie Company and The Farmer's Wife Fried Pies
The Rock Garden
– New field-level seating at the North End Zone
– $100 per ticket
– Amenities include premium lounge-style seating, food and beverage for purchase, private cash bar and televisions
Team Store at The Rock
– App State apparel will be sold on game days at the new team store at the front entrance of the North End Zone facility
Mountaineer Walk
– The App State team will walk up Stadium Drive this year for the Mountaineer Walk
– Begins three-and-a-half hours before kickoff (12 p.m. for a 3:30 p.m. kickoff)
– The team will walk up the center of the street, while fans cheer from the sidewalks
Jerry Moore Plaza and statue
– The new Jerry Moore Plaza and statue will be unveiled at 1 p.m. on Sept. 18
– The plaza is located outside the entrance to the new North End Zone facility, along Jack Branch Drive
–       To purchase a personalized brick, the proceeds of which directly benefit App State student-athletes, visit www.jerrymooreplaza.com. Bricks purchased this fall will be installed by the 2022 season.
New team entrances
– The Mountaineers will enter the field out of the North End Zone facility starting this season
– Pyrotechnics and smoke will accompany the team's entrance, as well as a new exciting intro video
– Fans are encouraged to follow along with prompts from the cheerleaders, dance and band members in the moments prior to team introductions
– North End Zone club seat holders and The Rock Garden seat holders can enjoy premium views of the team entrance from field level
– Visiting team will enter the field from App State's old locker room in the Ricks Athletics Center and the tunnel at the southwest corner of the stadium
Miller Hill
– Fans with general admission tickets will enjoy the regraded Miller Hill with a gentler slope that ends closer to the action
– At the top of Miller Hill is an expanded concourse for smoother traffic flow and more space for concession areas
Campus Alerts
– Sign up to receive campus alerts (emergency and safety information, i.e. missing child) by texting AppStateAlert to 67283 starting no more than 2 days prior to each home game
– All records are purged the day after each event
– Your information is not used for advertisements or other marketing purposes
– Standard MSG & data rates may apply, but no cost for registering