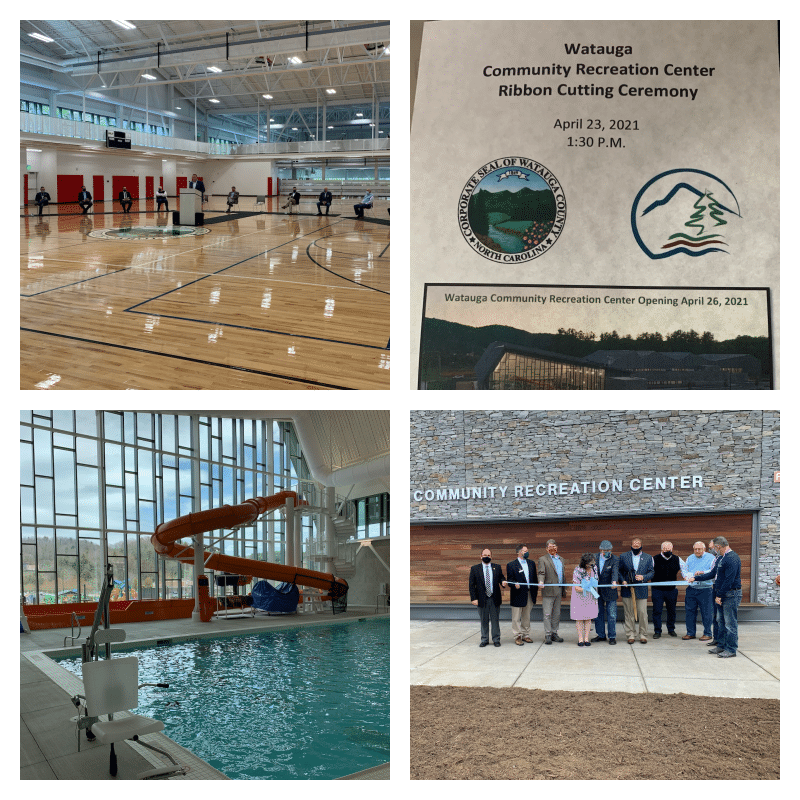 Last Updated on April 24, 2021 6:49 pm
Ribbon-cutting for the new Watauga Community Recreation Center took place on Friday afternoon. The ceremony was attended by local elected officials, Senator Deanna Ballard, Representative Ray Pickett, members of the Watauga County Parks and Recreation staff, other local dignitaries, members of the media and other interested parties.
The Center had been scheduled to open in 2020, but due to COVID-19 restrictions had to remain closed over those many months. It has been open for COVID-19 vaccines over the last several weeks and officially opens to the public Monday (April 26th) at 6 am.
Current members of the Watauga County Board of Commissioners spoke during the ceremony, John Welch (Chairman), Billy Kennedy (Vice-Chairman), Carrington Pertalion, Larry Turnbow and Charlie Wallin. Former board members Jimmie Hodges and Perry Yates also spoke.
Also making remarks were Denny Norris, the Chairman of the Watauga County Recreation Commission; Steven Poulos, the Director of Watauga County Parks and Recreation; Chad Roberson with Clark Nexsen (architects and engineers company) and Matt Johnson, Vice-President of Operations Harper General Contractors.
Here's some of the more notable items:
The Watauga County Seal, seen in a photo below, are hand-painted on the floor in two different locations in the main gym. BOC Chairman John Welch noted to WataugaOnline.com that the seals are the work of a couple from the Asheville area. They are protected from getting scratched by sealant/finish used on the gym floor.
A quilt created by the Mountain Laurel Quilt Guild was unveiled, depicting scenes from the local communities in the county. A photo of the quilt can be found below.
A plaque near the main entrance, seen in a photo below, includes one of the shovels used at the ground breaking ceremony in October 2018 and names of the then Board of Commissioners.
In his remarks, Matt Johnson noted that over 800 tons of structural steel were used to create the skeleton for the new facility. He also noted that the swimming pools contain over 236,000 gallons of water. "If you do the math that's almost 3.8 million cups of water. You need to thank the staff for managing so much water. Congratulations.", he cheerfully said.
Steven Poulos noted to WataugaOnline.com that some of the workout equipment, in the upstairs area, uses air pressure to create resistance as opposed to traditional weights. That concept has been used mostly in California for some time but has gained some traction on the East Coast in recent years.
To sign up for membership visit the facility at 231 Complex Drive or signup online.
Videos and photos: Kenneth Reece/WataugaOnline.com