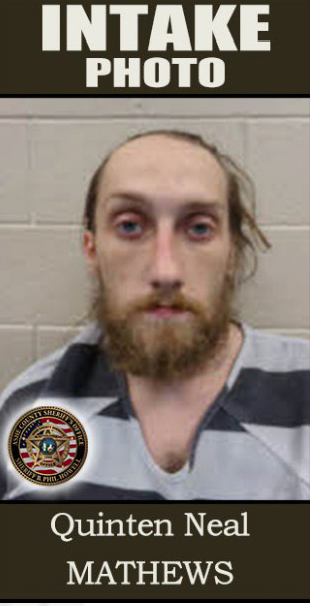 Last Updated on September 20, 2023 1:51 pm
Jefferson, N.C. – Sheriff B. Phil Howell announces the arrest of 28-year-old Quinten Neal Mathews of Winston Salem, NC. Mathews was a wanted fugitive from Forsyth County on multiple drug charges, including Trafficking in Fentanyl. 
On Friday, September 8th, Ashe County Sheriff's Office was able to detain the wanted fugitive. Through various investigative technologies and the collaboration of multiple agencies, including NC SBI and ALE, the subject was in the Fleetwood area, hiding in a family-owned cabin. Once officers arrived on the scene, Mathews would not surrender to negotiation. A search warrant was issued to enter the home, where a team detained Mathews without incident.
While in the cabin, deputies found a baggie of white powder, which was later identified as Fentanyl. Mathews was transported to the Ashe County Detention Center by Deputy Wingler, where he was served with warrants from Forsyth County and charged with additional charges for possession of a Schedule II controlled substance.
Quinten Neal Mathews of Winston Salem is being held at the Ashe County Detention Center under a $325,000 secured bond. His charges include:
• 2 Felony Counts Trafficking in Opium or Heroin
• Felony PWIMSD Schedule II Controlled Substance
• 3 Felony Counts Possession Schedule II Controlled Substance
• Simple Possession Schedule IV Controlled Substance
• Maintain Veh/Dwell/Place CS
• Possess Drug Paraphernalia