Last Updated on February 12, 2022 6:28 pm
5:45am – Roads across the county are snow covered and slick per incoming reports. Many areas reporting snowfall between two and half to three inches.
6:24am – getting multiple reports of cars stuck on Rock Crusher Hill on 105.
Downtown Boone at 6:30am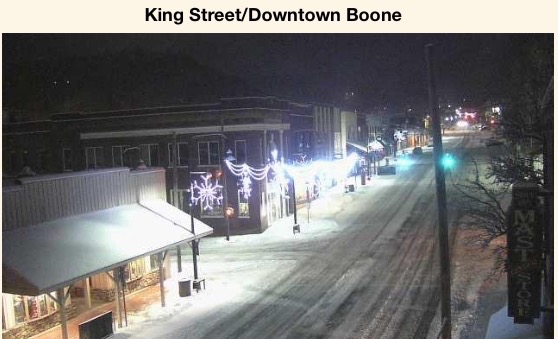 Winter Weather Advisory remains in effect until 4:00pm for Watauga County, Ashe County.
221 in Ashe County continues to be at a standstill due to multiple wrecks – 7:48am.
421 at New Market at 7:50am. Photo: Maggie Tilley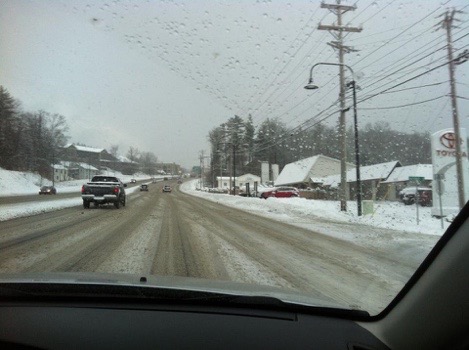 221 in Ashe is moving again – 9:05am
Downtown Boone at 9:13am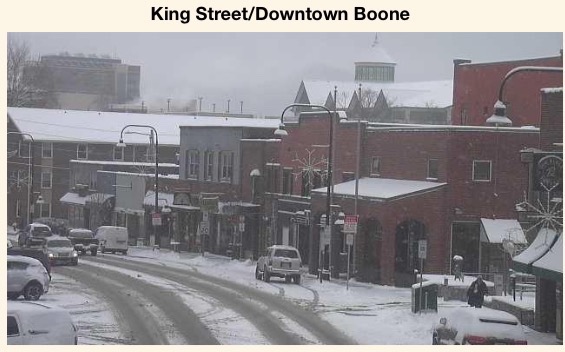 Due to a water main break near the Convocation Center there will be no water in the area of Hill/Hayes/Whitener for most of the day per Boone PD.
NWS snowfall observations from 2am-8am
ALLEGHANY COUNTY:
ENNICE – 0.5
ASHE COUNTY:
YATES – 3.0
TRANSOU – 2.6
WEST JEFFERSON – 2.5
JEFFERSON – 2.0
WATAUGA COUNTY:
VALLE CRUCIS – 3.0
BOONE – 3.0
1 SE BEECH MOUNTAIN – 2.8
Happy Tuesday from the Rock! #AppNation pic.twitter.com/ZjB2ucImkx

— App State Football (@AppState_FB) February 24, 2015
wasn't expecting to wake up to this ❄️ @WataugaRoads pic.twitter.com/Z7wjIIivx3 — Katie Becker (@katiebecker2016) February 24, 2015
Was not excepting to wake up to this… #Boone pic.twitter.com/i3oZgJFaNy

— Tyler Buckwell (@TylerBuckwell) February 24, 2015
Good morning, #AppState pic.twitter.com/gcv7jvbhm0 — Kyle Keith (@JKyleKeith) February 24, 2015
@WataugaRoads Just an example of the side roads near 194. Plows having a hard time plowing, just like last week. pic.twitter.com/HFLPh7S7CI

— Joey Langston (@CrystalledHeart) February 24, 2015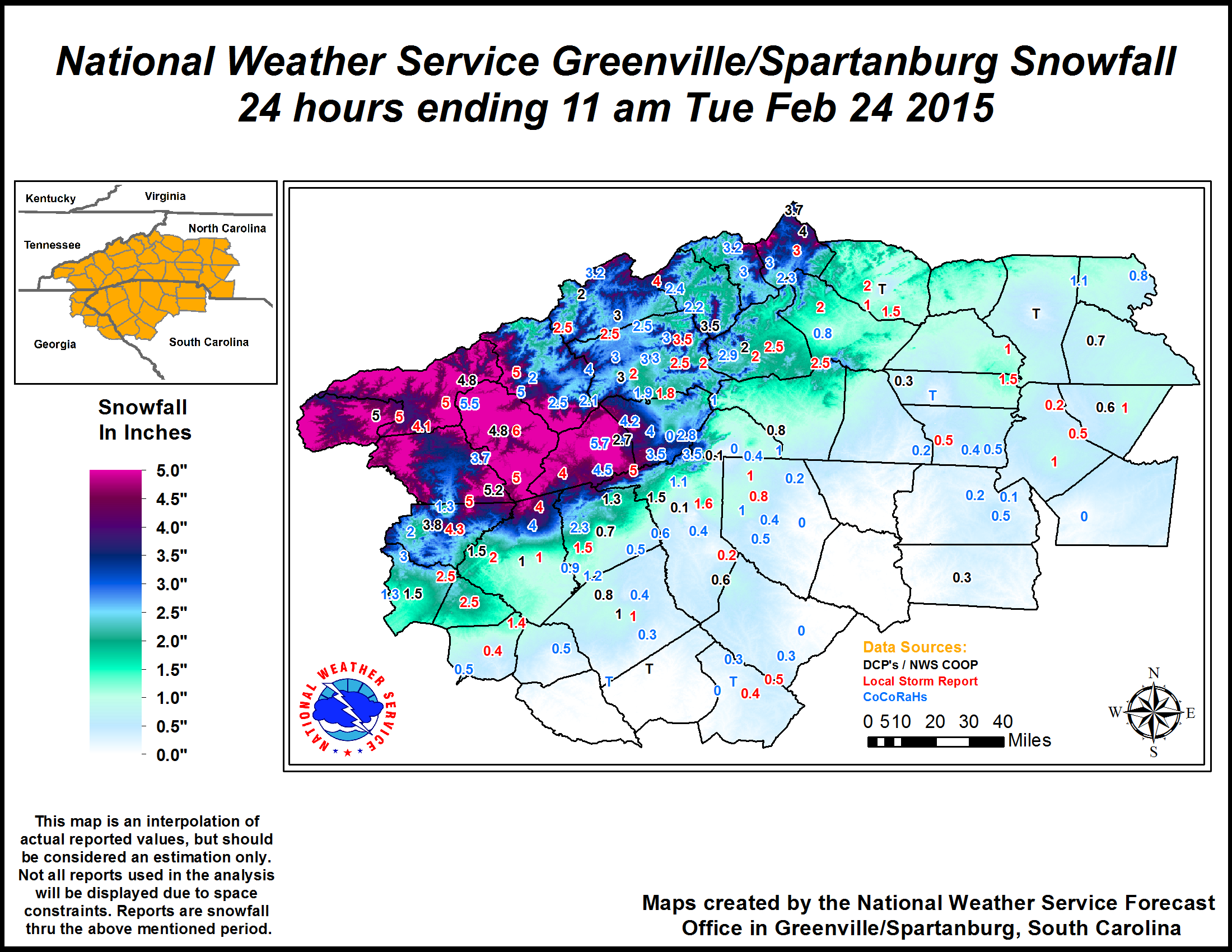 11:15am – Main roads have improved per incoming social media reports. Secondary roads and gravel roads remain snow snow covered.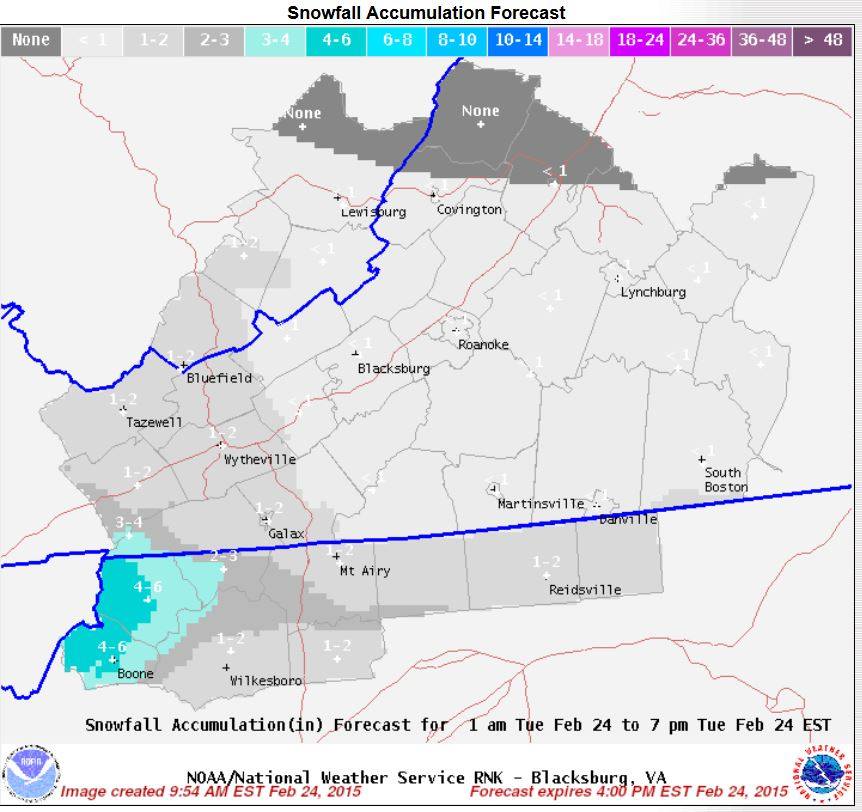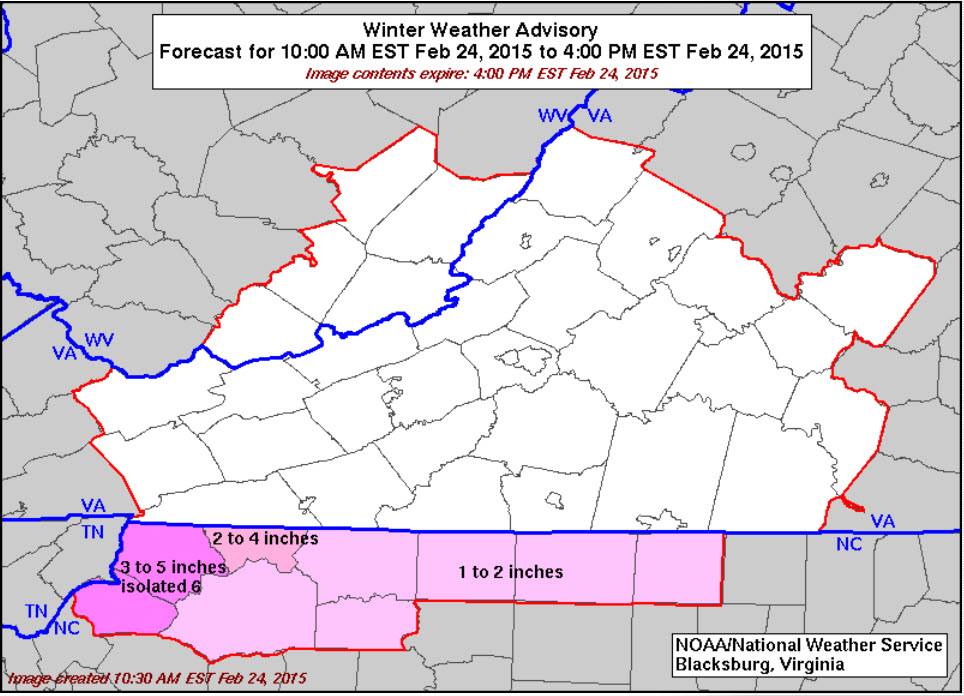 1:47pm – Secondary roads continue to be at least partially snow covered, with many still fully snow covered per incoming reports. Main roads have improved greatly since this morning. Gravel roads still fully covered.
National Weather Service snowfall observations from 2pm Monday-2pm Tuesday
…ALLEGHANY COUNTY…
SPARTA 2.0
ENNICE 0.5
…ASHE COUNTY…
BALDWIN 4.0
WEST JEFFERSON 3.0
YATES 3.0
TRANSOU 2.6
JEFFERSON 2.0
…WATAUGA COUNTY…
DEEP GAP 4.0
TODD 4.0
VALLE CRUCIS 3.0
BOONE 3.0
1 SE BEECH MOUNTAIN 2.8
4 W BLOWING ROCK 2.0
…WILKES COUNTY…
PURLEAR 3.0
HAYS 2.5
MILLERS CREEK 2.0
3 S BUCK 1.5
New event. Winter Storm Watch from 2/25/2015 7:00 PM to 2/26/2015 1:00 PM EST for Watauga County, Ashe County, Wilkes County. http://1.usa.gov/1LDcq7Z
SPSRNK from 2/24/2015 5:00 PM to 7:00 PM EST for Watauga County, Ashe County: PATCHY FREEZING DRIZZLE TO CAUSE SLICK SPOTS THROUGH … http://1.usa.gov/1wlL3Md