Last Updated on January 8, 2015 7:51 am
6:35am – no reported issues with roads this morning. However be mindful of possible slick spots especially on secondary roads. Gravel roads still snow covered.
Wind chill of -27 recorded at 6:15am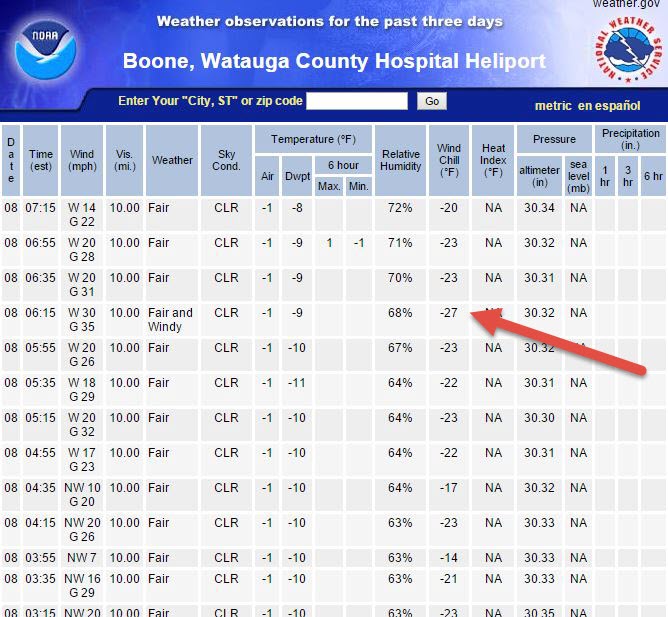 With a temperature measurement of -2 at 6am at the Boone 1SE reporting station today now moves into fourth coldest for this date. Below are the extremes for this date from the State Climate Office as of January 6.

-1 with windchill of -21 in Boone at 8:20am eastern time, meanwhile in Juneau Alaska it's 31 degrees.
From the National Weather Service at 12:13am Thursday morning
THE FOLLOWING ARE UNOFFICIAL OBSERVATIONS TAKEN DURING THE PAST 32
HOURS FOR THE STORM THAT HAS BEEN AFFECTING OUR REGION. APPRECIATION
IS EXTENDED TO THOSE WHO PROVIDED REPORTS. THIS SUMMARY IS ALSO
AVAILABLE ON OUR HOME PAGE AT WEATHER.GOV/BLACKSBURG

********************STORM TOTAL SNOWFALL********************

LOCATION          STORM TOTAL     TIME/DATE   COMMENTS                   
                     SNOWFALL           OF 
                     /INCHES/   MEASUREMENT

NORTH CAROLINA



...WATAUGA COUNTY...


   SUGAR GROVE            3.0   830 PM  1/07  COCORAHS                
   BOONE                  1.0   900 PM  1/07  COCORAHS