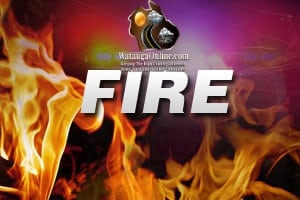 Last Updated on March 13, 2020 7:22 am
Units from multiple fire departments responded to what initially appeared to be two separate structures fires, going on at the same time in the same district, on Thursday afternoon.
Around 1 pm, Beaver Dam Fire Department was dispatched to a structure fire in the area of 2308 Mountain Dale Road.  Approximately 2 minutes later, a second fire was reported by a Beaver Dam fireman in the area of Hwy 321 and Kellersville Road, with fireman reporting the structure was heavily involved with fire. 
It was later determined that there was only a single fire at 107 Kellersville Road, according to Taylor Marsh, Watauga County Fire Marshal.  
Marsh tells WataugaOnline.com that the caller, which was a passerby on Hwy 321, saw a sign for Mountain Dale Baptist Church across the street from the address on Kellersville Road which lead to the confusion. 
There was one occupant at home at the time of the fire but escaped without injury, Marsh added.  The fire is still under investigation at this time.  American Red Cross is assisting the occupants of the home.  The fire was contained in about 30 mins.  Fire Department units cleared around 4:30 pm with investigators from the Fire Marshal's Office and Sheriff's Office remaining on scene until approximately 8pm. 
Units responding to the scene(s) were Beaver Dam, Cove Creek, Zionville, Fall Creek (Avery County), Watauga Medics, Watauga Rescue, Watauga County Fire Marshal's Office, and Watauga County Sheriff's Office.