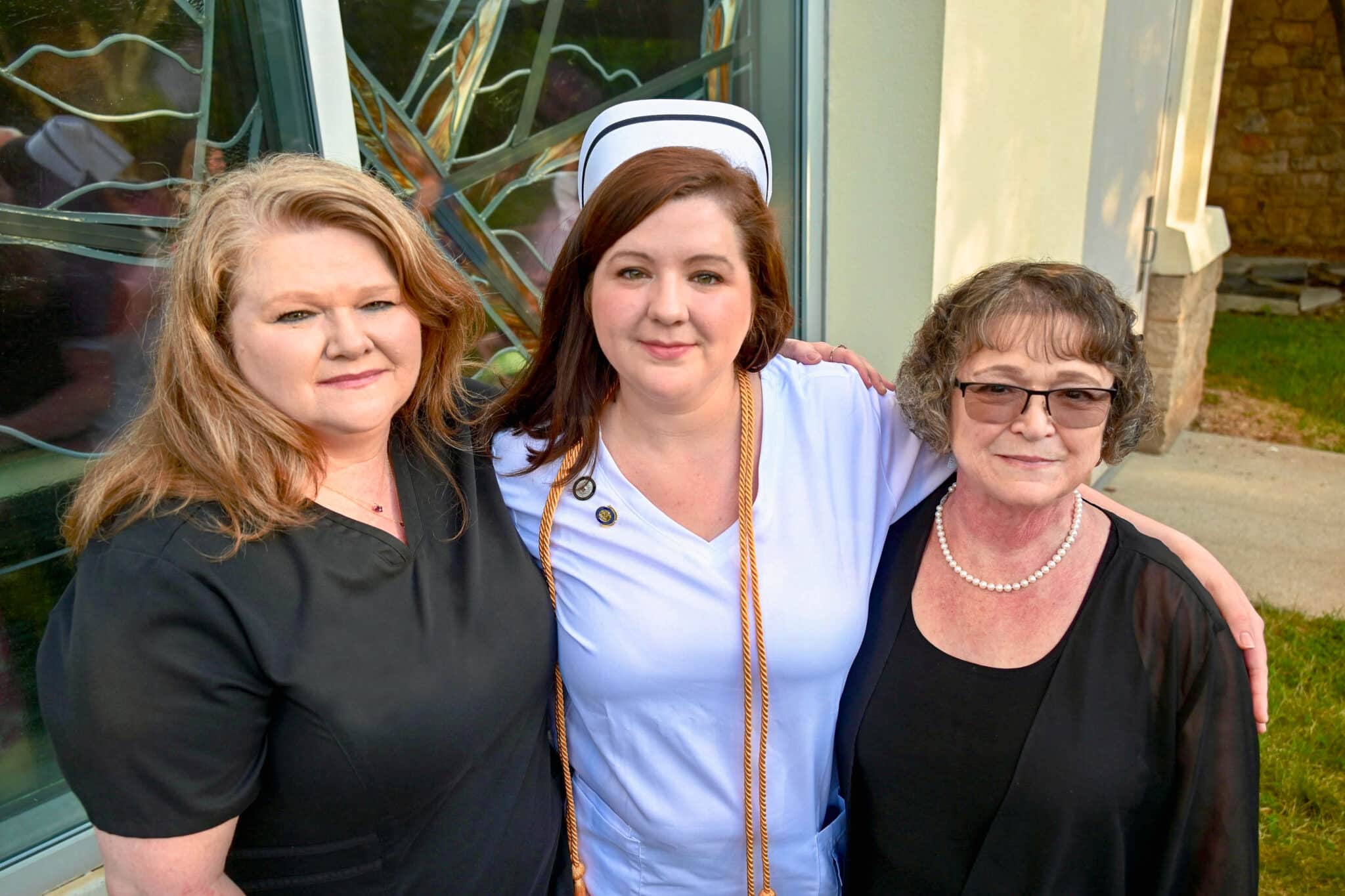 Last Updated on June 1, 2023 11:20 am
The field of nursing calls those with a passion for caregiving and the desire to make a difference. This is especially true for Chelsea Norris Kilgore, the third generation in her family to graduate from the nursing program at Caldwell Community College and Technical Institute.
For Kilgore, nursing is not just a job. "It's literally in my genes," she said. "I feel in my heart that I was put here on this earth to care for people and that is what I plan to do for the rest of my life." Since she was young, Kilgore was determined to make her dream a reality and looked forward to one day enrolling in nursing school at CCC&TI. Her mother, Karen Watson Norris, always told her CCC&TI has the best nursing school around – and not just because she's an adjunct instructor for the ADN and LPN programs on the Watauga Campus, but it is where she herself went to nursing school. It's also where Kilgore's grandmother, Geneva Greene Hennessee, earned her nursing degree. Kilgore recalled, "I had planned from high school that I wanted to go to CCC&TI, but I've known since I was a little girl that I wanted to be a nurse. My grandma and my mom both made an impact on me about the profession of nursing from as young as the age of four." Having this inspiration and an innate desire to care for others, Kilgore would become a third-generation nurse as a 2023 graduate from CCC&TI's Nursing program.
Kilgore grew up watching her mother and grandmother taking care of patients at Watauga Medical Center in the Medical Surgical Units and could always be found in the breakroom after school doing her homework. "I basically grew up on Two West," she said. "My mom worked there as an LPN and RN for 29 years, and my grandma as an LPN on Two West and in the birthing center for more than 10 years." Her mother then began to teach for CCC&TI in multiple roles including the ADN program for five years and the LPN clinical lab since it began on the Watauga Campus. Her grandmother transitioned to a local obstetrics office where she worked for 22 more years. With a drive and value for hard work, Kilgore always knew she would follow in their footsteps. In high school she took the Allied Health Sciences courses and became a Certified Nursing Assistant. She shared, "My teacher, Regina Alford, reiterated to me that the best thing I could do for my future career in nursing was to go to CCC&TI so I graduated from high school a semester early to get ahead."
While pursuing her education, Kilgore got married and started her own family, raising a son while working as a CNA at Watauga Medical Center for the past 10 years. She took advantage of online courses at CCC&TI that would count toward her degree and was also applying year after year to the nursing program. "Needless to say, it's a hard program to get into but I never gave up," she said. With the onset of the pandemic in 2020, when being a frontline worker meant facing unprecedented challenges, Kilgore grew even more committed to providing nursing care and again applied to CCC&TI. As she and her husband welcomed their second child, she learned she was put on a waiting list for nursing school but soon after was invited to begin Fall 2021, which she immediately accepted.
"CCC&TI has a lot to offer adult students who are working and have families. The instructors are dedicated to helping you be successful, no matter what career path you choose," Kilgore stated. "There is so much support for adult students within the campus community and especially the student-instructor relationships. Without that support, I couldn't have made it this far."
Referring to her academic and clinical experiences in nursing school, Kilgore shared, "The ADN and LPN programs at CCC&TI provide students with the ability to think like a nurse. They have the best instructors and uphold the principles needed to guide us in our practice."
The guiding principles of nursing are aligned with personal character strengths that cannot be taught, including a genuine love of community and service. As the granddaughter of Merle Watson and great-granddaughter of Doc Watson, famed father and son musicians, Kilgore's bond to the High Country region runs deep. She takes pride in her community and often volunteers to help promote public health both inside and outside of the workplace. While attending a clinical lab, Kilgore recognized an opportunity to support her colleagues. She recalled, "We were learning about burnout and nursing shortages in class and I wanted to do something to show appreciation to my coworkers." Relying on her part-time business as a Tupperware consultant, she organized the "Adopt a Healthcare Worker" fundraiser and asked customers to sponsor a healthcare worker by purchasing cups for them that she would fill with candy and personally deliver. "Tupperware was having a sale on Eco Togo cups with hearts on them and I thought it was a perfect way to show our local healthcare professionals some love." She then matched the donations and delivered over 200 cups throughout Watauga, Avery, Ashe and Wilkes counties.
At the pinning ceremony on the evening of May 9, 2023, CCC&TI celebrated the largest nursing class to-date. Her mother and grandmother both attended and were recognized on stage by the president of the college, Dr. Mark Poarch. Elected by her peers to be president of the 2023 Associate Degree Nursing class, Kilgore addressed all those in attendance at the ceremony, stating, "Caldwell Community College and Technical Institute has provided us with the solid foundation we need to be successful professionals. The nurses that graduate from this program are an example of excellence."
Upon licensure, Kilgore plans to continue yet another family tradition as a nurse on the Medical Surgical floor of Watauga Medical Center. "I've never had any second thoughts about what I wanted to do in my life. I've always felt I was meant to be a nurse; it just took me a while to get here."
To anyone deciding whether to go back to school for a degree or to explore a new career, Kilgore advises, "Never give up on your dreams. It doesn't matter how old or young you are. Go back to school and make your dreams come true."
Third generation CCC&TI graduate Chelsea Kilgore, center, followed in the footsteps of her mother Karen Watson Norris (left), and grandmother Geneva Greene Hennessee (right) by earning her Associate Degree in Nursing.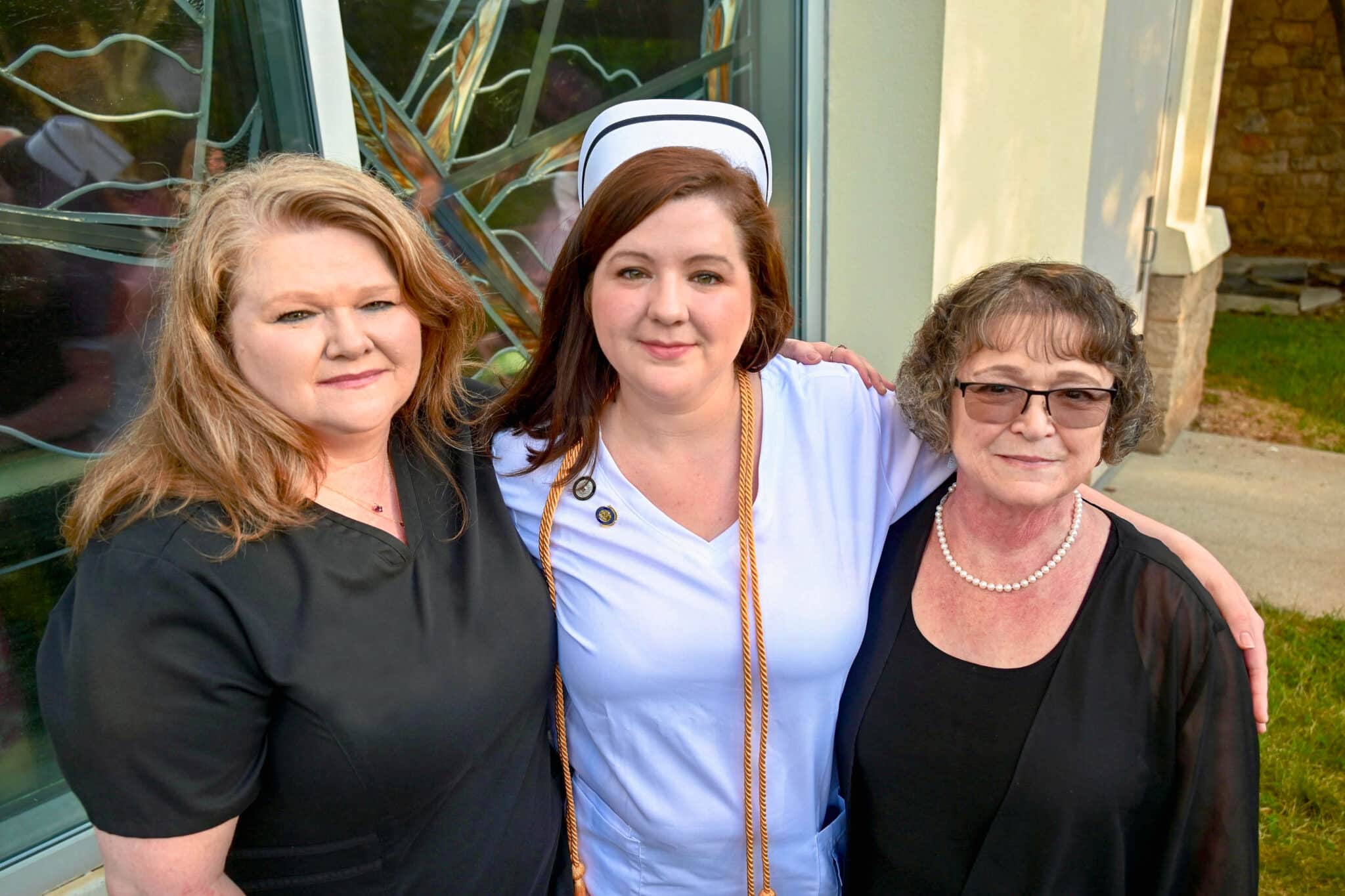 Third generation CCC&TI graduate Chelsea Kilgore speaks at the college's recent Associate Degree Nursing Pinning Ceremony. Kilgore was elected by her peers to be president of the 2023 Associate Degree Nursing class.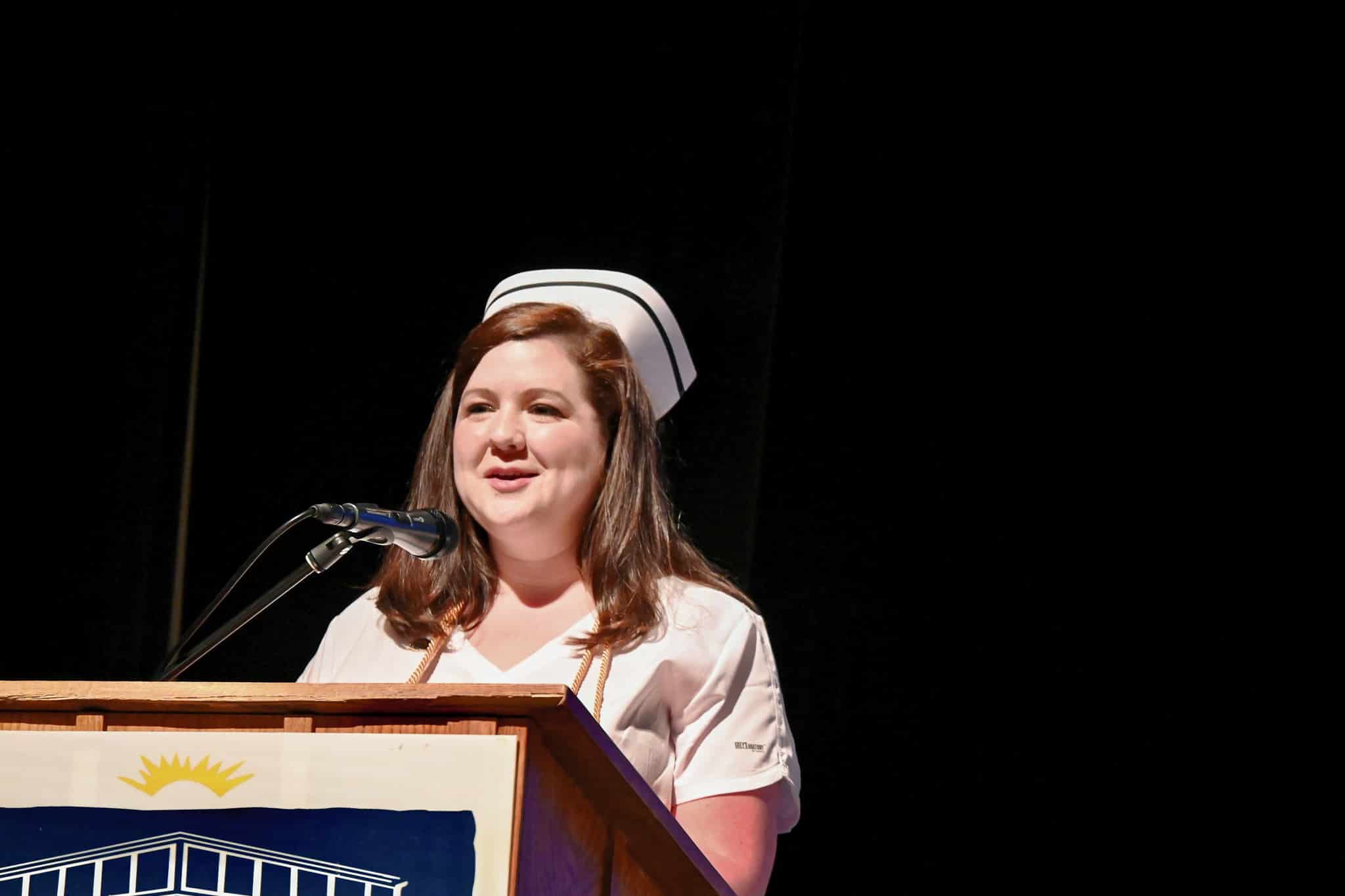 Pictured with CCC&TI President Dr. Mark Poarch, third generation CCC&TI graduate Chelsea Kilgore receives her Nursing Degree during the college's 2023 graduation ceremony.