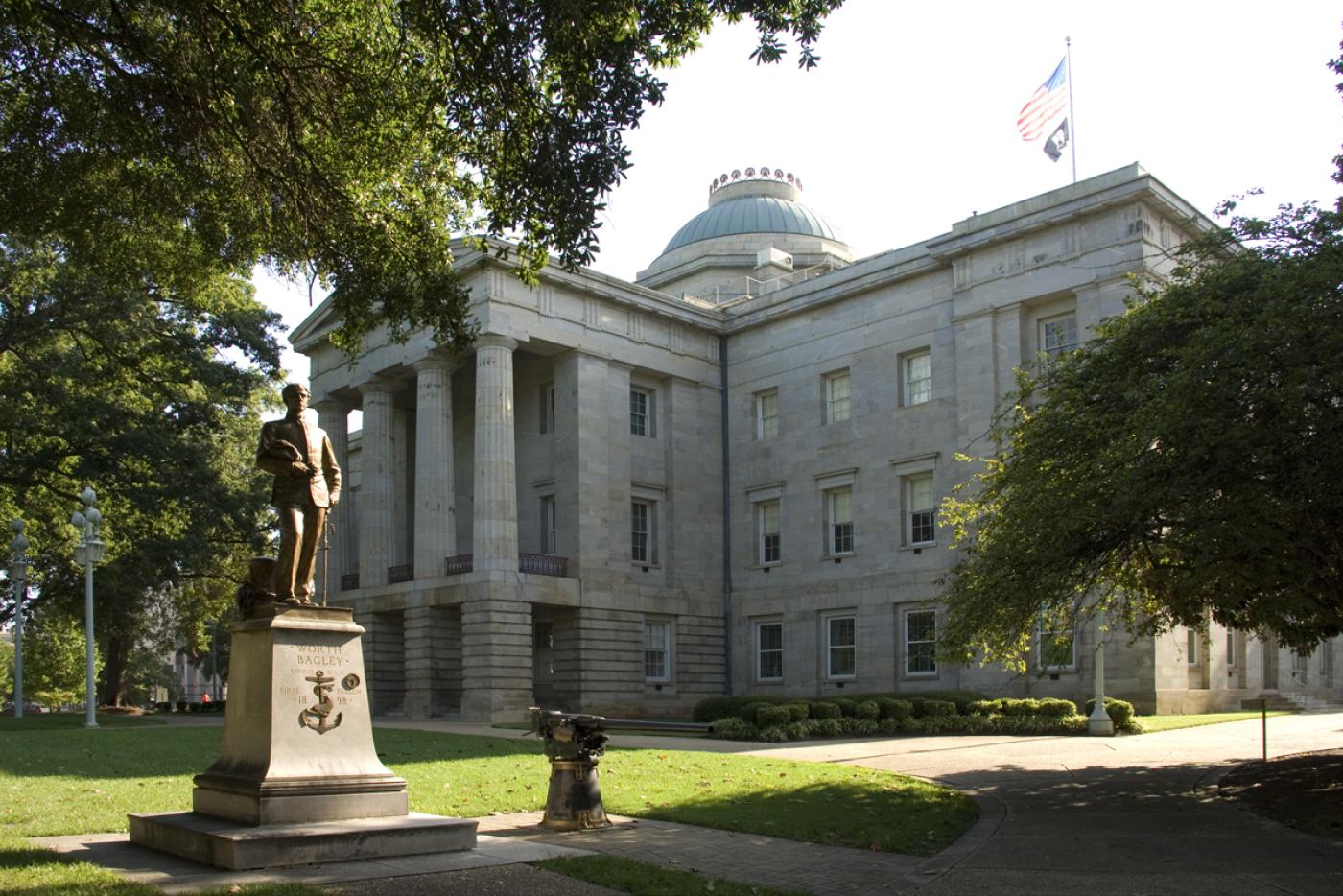 Last Updated on August 29, 2023 10:02 am
This fall the North Carolina State Capitol is once again offering live interpreter-led virtual programs for students.
These interactive programs are free, take place via a preferred video platform, and last 30-45 minutes. Educators or group leaders can choose from one of three themed programs or sign up for a guided virtual tour of the Capitol, all led by trained Capitol staff. All programs are offered weekly on Tuesdays and Thursdays at 10 a.m. and 1 p.m., Sept. 5-Dec. 15.
The lesson on the Great Seal of North Carolina reviews the history and symbolism of the state seal and is recommended for 4th grade or younger.
"Let's Talk About Voting!" teaches the evolution of voting in North Carolina and the State Capitol. It also explores facets of modern elections, includes a mock election, and is recommended for 4th and 5th grades.
"`The People's House?' Slavery in the NC State Capitol" addresses slavery, race, and power. It includes information about the enslaved African Americans who constructed the Capitol and is designed to fit into discussions of American slavery with tangible, concrete examples from our state. Two versions are offered, and this lesson is recommended for 4th and 5th grades or for high school.
To sign up for a program or to ask questions, contact Natalie.Rodriguez@dncr.nc.gov.
The North Carolina State Capitol is closed to the public for renovations and will remain closed until further notice. While the Capitol is closed, visitors can access a virtual tour.
About the North Carolina Department of Natural and Cultural Resources
The N.C. Department of Natural and Cultural Resources (DNCR) manages, promotes, and enhances the things that people love about North Carolina – its diverse arts and culture, rich history, and spectacular natural areas. Through its programs, the department enhances education, stimulates economic development, improves public health, expands accessibility, and strengthens community resiliency.

The department manages over 100 locations across the state, including 27 historic sites, seven history museums, two art museums, five science museums, four aquariums, 35 state parks, four recreation areas, dozens of state trails and natural areas, the North Carolina Zoo, the North Carolina Symphony, the State Library, the State Archives, the N.C. Arts Council, the African American Heritage Commission, the American Indian Heritage Commission, the State Historic Preservation Office, the Office of State Archaeology, the Highway Historical Markers program, the N.C. Land and Water Fund, and the Natural Heritage Program. For more information, please visit www.ncdcr.gov.