Last Updated on September 16, 2012 12:29 pm
*The following information is courtesy of Dr Howie Neufeld, Professor of Plant Eco-physiology at Appalachian State University. Dr Neufeld is other wise known as "The Fall Color Guy". Along with sharing his expertise with the NC Division of Tourism, he has agreed for WataugaRoads.com to post his information. You can find all the links to Dr. Neufeld's sites at the end of all the information. We're including both of his reports from Sunday Sept 16 & Sunday Sept 9 in this first report*
Fall Color Report for Week of September 16th, 2012
This report marks our first official fall leaf color report for the 2012 Fall Color Season in the North Carolina Mountains – that is, we will be up on VISITNC.COM and will be here for the duration of this year's fall color season. Many of you have been writing me and wondering if the record warmth we've experienced this year will affect fall leaf color, and I've been telling everyone that since this is an unprecedented year in terms of warmth that we have nothing to base our predictions on. What I can say is that we have not had any severe drought, which is good, and recently, the weather has shifted noticeably cooler, with warm sunny days, and all of these conditions are conducive to good fall leaf color. So, this far ahead, I am predicting a good year for fall leaf color, assuming our weather continues to cooperate over the next few weeks.
That being said, I have noticed some unusual patterns among the trees. Dogwood trees began turning two weeks ago, which is very early. I've also noticed sumac along roadsides turning red, and sugar maples have been turning orange and yellow since late August. Today, I spoke to the North Carolina Christmas Tree Growers, and we went up to Roan Mountain, elevation ~5,800'. There, I saw noticeable coloration in the woods, and even all the way down to 3,000' at Elk River in Avery County. Most of the trees turning color were sugar maples (yellow/orange to red), mountain ash (yellowish), and chestnuts (also yellow, but browning too due to a leaf disease they get each year at this time). Some birches were also yellowing up while black locusts were dropping their leaves due to a native insect that eats their leaves.
So, are these observations indicative of an early fall leaf color season? It is possible that some species might react to the warm temperatures and drop leaves early, while others maintain their usual schedule. If that happens, we may see a somewhat extended, but diluted fall color season. If most trees turn color at their usual time, then we should expect a great fall color season. We'll know more each week, and I'll keep you informed as to how all this works out.
For some great drives, consider coming up Rt. 261 from Bakersville/Spruce Pine to Roan Mountain. The Appalachian Trail crosses the road there, and you can hike in the spruce-fir forests on one side and on the balds on the other. It's a great place to hike, with tremendous views all around. Other drives include the Blue Ridge Parkway to Grandfather Mountain State Park, the Linn Cove Viaduct, and points north and south. U.S. 64 through Cashiers/Highlands is also a wonderful drive, and there are numerous places to stop and hike along the way.
Remember, colors start earliest at the higher elevations and then work their way downslope each week. For more information, don't forget to check my Fall Color Facebook page (http://www.facebook.com/pages/Fall-Color-Guy/222437294470967) and my ASU page, where you can also read about the science of fall colors (http://biology.appstate.edu/fall-colors). Happy and safe driving!
——————————————————————————————–
Fall Color Report for Week of September 9th, 2012
This Sunday, a high pressure system from the upper Midwest moved into the North Carolina Mountains, bringing with it sunny, dry, and cooler air. Temperatures on Sunday got as low as 46oF, which is great sleeping weather and also just what the doctor has ordered for a good fall display! We are about four weeks away from peak color in the Boone area, and if the weather conditions stay like this over the next three weeks, we should expect a good fall color season.
We are fortunate not to have had any severe drought this summer, and that's another good sign it could be a good fall color season. However, a dry period these next few weeks may make for more intense colors, particularly the reds, according to most fall color predictors. However, the mechanism they propose, which is that mild drought concentrates the sugars, doesn't make much biological sense to me. Rather, I think that a dry period means more sunny days and the more sun, the more sugars a tree can make. When trees load up on sugars, they produce more anthocyanins, which are the pigments that give us the red colors.
Since last week's report, there hasn't been much change in the status of the trees. It's still very green throughout the mountains. However, if you take a hike through the woods (and I recommend that you do!), you'll see plenty of signs of the coming fall in the understory. The bright red berries on the Jack-in-the-Pulpits, and the dappled red berries of the False Solomon's Seal are sure signs that summer is ending. Indian Cucumber Root, another understory herb, has the unusual habit of setting its dark black berries against a red splash of color on the leaves below the fruits, perhaps to aid in attracting animals to disperse the seeds (see the picture below). I wonder what eats those seeds. One published study suggested deer, small mammals, and possibly birds might remove the fruits.
Remember, fall colors start first at the higher elevations and next week I'll be checking out the high elevation areas and reporting in detail on their fall color status. Stay tuned, and have a good week!
——————————————————————————————————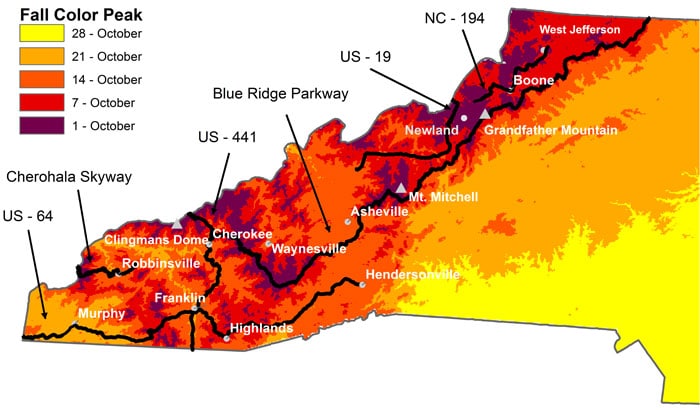 Conceived by Howard Neufeld and Michael Denslow
Map Constructed by Michael Denslow
This map above gives an estimation of the timing of fall color peaks for the various regions of North Carolina. If you have used our map in the past, you'll see that we have added two new features to the mountain section of our fall color map: towns and scenic roads. We hope these new graphics help you orient yourself as you decide where to visit in the North Carolina Mountains during our fall foliage season. This map differs from most other such maps because it combines the effects of both elevation and latitude on fall color, whereas most other maps simply use elevation alone.
We constructed the map using the following assumptions. First, we assumed that fall color would start earlier at higher elevations. We then figured (guessed!) that for each 1,000′ increase in elevation, peak fall colors would occur about one week earlier, with the exception of those areas near the coast, where we divided the elevation into 500′ sections.
For the latitude effect, we used data from published papers suggesting that each degree of latitude north is equivalent to going up in elevation by about 200 m (656′). This means that if you were to compare 3,000′ down in Murphy with 3,000′ in northern Ashe County (which are about 2.5 degrees apart), it would be as if you were really at 3,656′ in Ashe County, at least fall color peak-wise. In other words, the same elevation in the north is cooler than the same elevation in the south, which causes the vegetation to differ. The resultant cooler temperatures mean that peak fall colors will come earlier to those same elevations in the north than in the south.
Thus, our map is among the first to take both elevation and latitude into consideration. However, it is only an approximation, and we would love to hear from any of you as to whether we have hit the fall color peak correctly or missed it. Over the next few years, we hope to "adjust" the map to better model the progression of fall colors throughout our state.
Thanks to Michael Denslow of the Department of Biology at ASU for creating this graphic.
————————————————————————————————
You can find more information from The Fall Color Guy at the following links:
http://biology.appstate.edu/fall-colors/fall-color-report-week-september-10-2012
http://www.fallcolorguy.blogspot.com/
http://www.facebook.com/pages/Fall-Color-Guy/222437294470967