Last Updated on August 24, 2014 7:52 pm
***For more information about the history of earthquakes in the High Country visit High Country Earthquake History page***
The USGS has confirmed a 2.4 magnitude earthquake near Blowing Rock from Sunday evening.  The Watauga Roads social media outlets were quite active with questions and comments about a possible earthquake in the area starting just before 7:20pm. Many residents reported a possible sound of thunder while others commented of feeling a shaking that lasted roughly 3-5 seconds.
As of 7:52pm Sunday there was nothing officially from the USGS, but the seismograph in Camp Creek, NC did detect some shaking around 7:17pm according to Brad Panovich of NBC Charlotte.
On Monday morning the confirmation from USGS showed the quake 2 miles northeast of Blowing Rock and 4 miles South-southeast of Boone.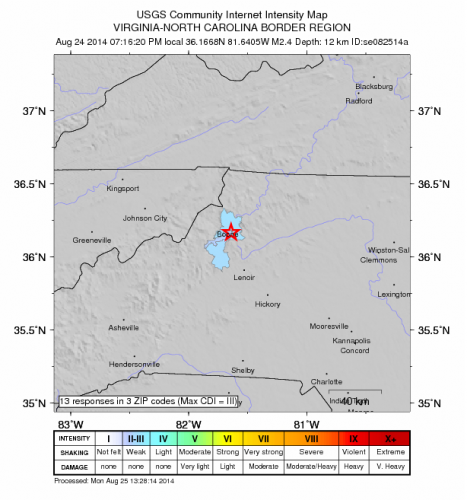 Graphics: Brad Panovich "This is the 3rd earthquake near the Tweetsie Railroad since May. M2.3 5/3/2014, M2.5 6/12/2014, M2.4 8/24/2014. All small but this is the only cluster of quakes in western NC this year."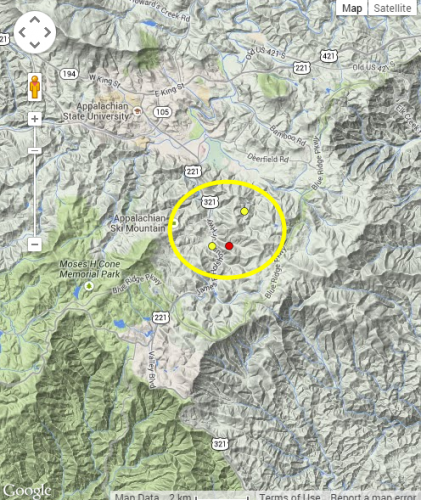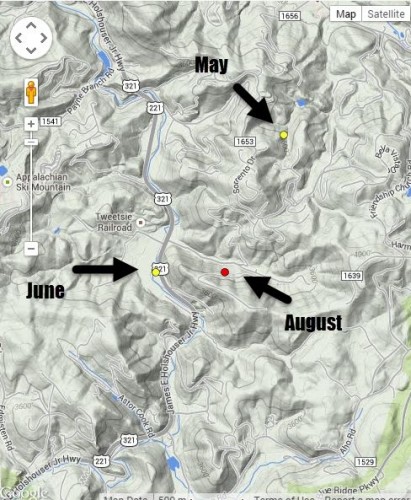 For more information on past earthquakes in the High Country see these articles:
Earthquake Confirmed Thursday Evening
Early Morning Earthquake Near Blowing Rock
South Carolina Earthquake Felt In Watauga & Ashe
Area Residents Feel Earthquake Rumble