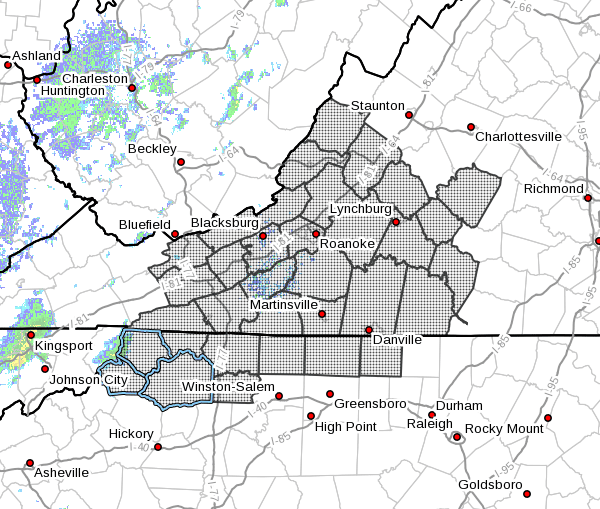 Last Updated on September 12, 2022 4:30 am
Special Weather Statement
National Weather Service Blacksburg VA
112 AM EDT Mon Sep 12 2022
NCZ001>006-018>020-VAZ010>020-022>024-032>035-043>047-058-059-
121300-
Ashe-Alleghany NC-Surry-Stokes-Rockingham-Caswell-Watauga-Wilkes-
Yadkin-Bland-Giles-Wythe-Pulaski-Montgomery-Grayson-Carroll-Floyd-
Craig-Alleghany VA-Bath-Roanoke-Botetourt-Rockbridge-Patrick-
Franklin-Bedford-Amherst-Henry-Pittsylvania-Campbell-Appomattox-
Buckingham-Halifax-Charlotte-
Including the cities of West Jefferson, Sparta, Dobson, Danbury,
Eden, Yanceyville, Boone, Wilkesboro, Yadkinville, Bland,
Pearisburg, Wytheville, Radford, Pulaski, Blacksburg,
Independence, Whitetop, Troutdale, Volney, Galax, Floyd,
New Castle, Clifton Forge, Covington, Hot Springs, Roanoke,
Salem, Fincastle, Lexington, Buena Vista, Stuart, Rocky Mount,
Bedford, Amherst, Martinsville, Danville, Lynchburg, Appomattox,
South Boston, and Keysville
112 AM EDT Mon Sep 12 2022
…Areas of Dense Fog Expected Through the Early Morning Hours…
With a very humid air mass in place and wet ground from the past
few day`s rainfall, widespread fog has developed across the region
early this morning. Fog has become quite dense in some areas,
including elevations at or above 2500 ft and also in deeper
valleys, especially west of the Blue Ridge. Fog is likely to
worsen as the night progresses and at some point it may become
necessary to issue a Dense Fog Advisory for parts of the forecast
area.
If you are planning travel overnight and early Monday morning, be
alert for areas of dense fog. This will be particularly true at
the higher elevations of the mountains along and west of the Blue
Ridge and near rivers, lakes, and other bodies of water. Be
prepared for rapid changes in visibility from good to very poor as
you travel through areas of fog at different elevations along the
roadways.
Reduce speed, leave extra space between you and the vehicle in
front of you, allow extra time to reach your destination, and use
your low beam headlights.
Conditions will begin to improve after 9 AM EDT this morning.