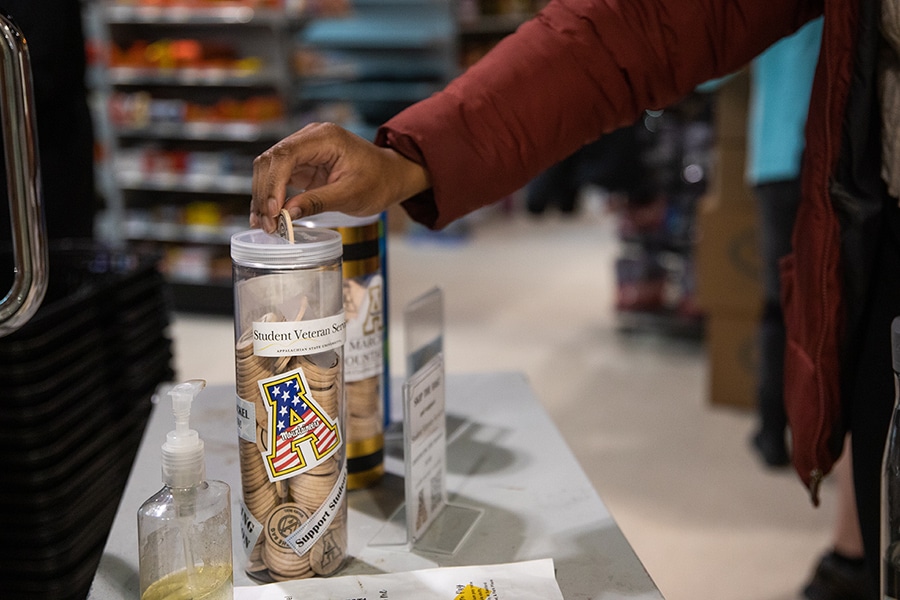 Last Updated on February 11, 2022 10:15 am
BOONE, N.C. — Mountaineers kept nearly 68,000 plastic bags out of local landfill last semester thanks to Skip the Bag, a student-initiated sustainable shopping program introduced in fall 2021.
Appalachian State University's Campus Services encourages patrons to "take a wooden nickel" — instead of a bag for their purchases — when shopping at the University Bookstore or Campus Dining markets. They can then deposit the wooden nickel, which represents the approximate 5-cent cost of each bag, into a canister supporting an App State organization.
At the end of each semester, Campus Services tallies the tokens and converts them to a monetary contribution made to the organizations. At the end of the fall 2021 semester, almost $3,400 was distributed as follows:
Program support will continue for these three organizations through the spring 2022 semester. Three different organizations will be chosen as beneficiaries for the 2022–23 school year.
John Eckman, App State's associate vice chancellor of campus services, said the idea for the program came from an email he received in spring 2021 from Ben Negin, a sophomore and Student Government Association (SGA) senator.
In the email, Negin, who is majoring in political science–pre-professional legal studies and minoring in LGBT studies, expressed his desire to reduce single-use plastics on App State's campus.
Negin, along with another SGA senator, Madison Neisz — a senior from Richmond, Virginia, majoring in sustainable development–environmental studies with a double minor in political science and geography — met with Eckman and Pam Cline, director of campus dining, Dr. Lee Ball, App State's chief sustainability officer, and Jennifer Maxwell, sustainability program director in App State's Office of Sustainability.
As a result of their meeting, the Skip the Bag program was launched in fall 2021 as a positive reinforcement of customers' sustainable choice to opt out of taking a single-use plastic bag — seeking alternatives such as reusable bags and backpacks, or simply carrying purchases by hand, Eckman said.
"The wooden token solution was a great example of a collaboration between students and administrators, bringing on concrete and effective results," Negin said.
Negin said the success of the program "speaks to the power of taking the first step. We have a collective responsibility to care for the world we live in."