Last Updated on October 2, 2022 5:25 pm
(A running list of road and traffic reports for the week as they come into the facebook & twitter pages)
Monday April 16 – 6:30am -a tractor & trailer has reportedly flipped over in front of Canyons on 321 in Blowing Rock, expect delays. 7am – Traffic down to one lane in front of Canyons on 321 in Blowing Rock, a tractor & trailer flipped in the 6am hour. Traffic is moving in one lane so expect delays.
8:32am – Traffic still down to one lane on 321 in Blowing Rock at Canyons, wrecker is moving the tractor&trailer now per reports. Facebook report at 8:32am also indicated that it was a Maymead truck with roof crushed on passengers side.
10:09am – per facebook report " Just came through. Only one lane at Caldwell line where clearing ROW"
1:45pm – report of cows loose on 421 coming from Boone heading towards Mountain City right outside of Zionville. Careful in that area just in case they are still out.
TUESDAY April 17
11:45am via twitter – @WataugaRoads town working on water on howard street by Phil citgo. One lane closed.
12:50pm via twitter – @WataugaRoads Utility work on Winklers Creek in front of ESC. Kind of a mess.
1:45pm – Careful on 105 outside Boone lots of standing water in the road
1:56pm – Also major water in the road on 105 near Casa Rustica
2pm – Careful driving anywhere in Boone, this downpour is sending a lot of water into the roads, culverts can't handle it
3pm report of mall parking lot flooding
4:27pm- 321 souths has lots of water standing on it from Tweetsie to shoppes on parkway.
THURSDAY
One lane in southbound lane of Blowing Rock Road at intersection of Deerfield Road, due to work.
FRIDAY April 20
Getting a report that workers are putting up cones knocking 105 Extension down a couple lanes at Boone Point where 105 EXT meets (King, 221/421)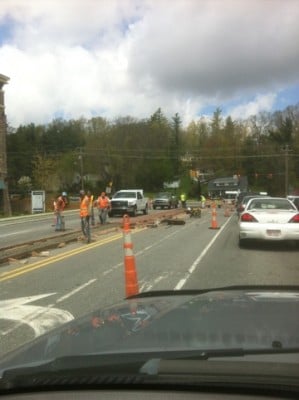 SATURDAY
5:45pm – getting reports of two wrecks that may be impacting traffic – 1 at the intersection of Blowing Rock Road and Walmart shopping center. 2 is at Tweetsie intersection