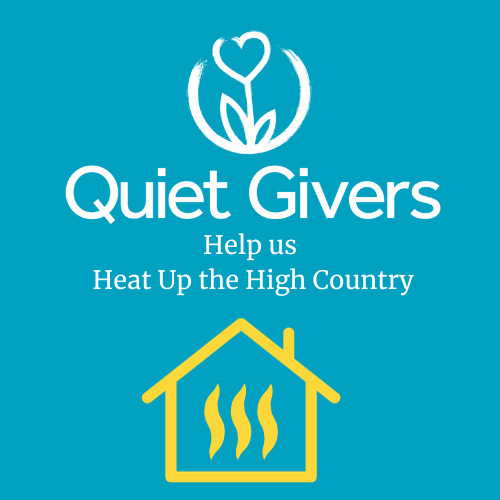 Last Updated on November 6, 2023 12:48 pm
Boone, NC – Quiet Givers, a local non-profit organization serving Watauga, Avery, and Ashe counties, is launching its annual "Heat Up the High Country" campaign for the fourth consecutive year this November 2023. The campaign aims to raise funds to assist families struggling with heating fuel bills throughout the fall and winter seasons.
Stephen McDaniel, Board Chair of Quiet Givers, said, "In previous years, our Heat Up the High-Country campaign has been a beacon of hope for many families in our community. With the increasing fuel costs, we anticipate an even greater need. But we are confident that with the continuous support of our generous community, we can meet the challenge."
The organization has ambitiously set a fundraising target of $30,000 for this year's campaign, a significant increase from last year's $10,000 goal. "Our community's overwhelming support in the past has encouraged us to aim higher," McDaniel added. "Every contribution, no matter how big or small, can make a huge difference and bring warmth to our neighbors in need."
The "Heat Up the High Country" campaign helps those struggling with heating and energy costs across Watauga, Ashe, and Avery counties. The average cost of minimum fill-ups often exceeds $700, a substantial amount for families already grappling with financial difficulties.
Those interested in learning more about the campaign or making a contribution can visit www.quietgivers.org or mail your donation to:
Quiet Givers
PO Box 95
Boone NC 28607
Let's join hands and help keep our community warm this winter.
About Quiet Givers:
Quiet Givers is a Boone, NC-based non-profit facilitating community assistance in Watauga, Avery, and Ashe counties. We operate as a hub, connecting individuals needing help with appropriate agencies, funds, or grants. All needs are referred to Quiet Givers by approved agencies like schools, faith organizations, or the Department of Social Services. We rely on the vetting capabilities of the referring agencies due to resource limitations and privacy regulations. If resources aren't found, needs are shared on our website and social media platforms. Quiet Givers upholds the privacy of our donors by never disclosing their names, quietly preserving their anonymity.