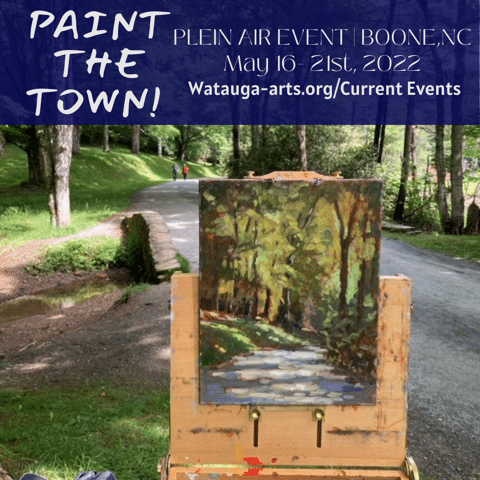 Last Updated on May 28, 2022 10:15 am
In honor of Boone's 150th year anniversary, Watauga Arts Council (WAC) is hosting a "Paint the
Town!" event. We invite Plein Air (outdoor) painters of all mediums and abilities to come to paint
the beloved scenery of Downtown Boone and its expanded areas.

"Paint the Town!" Registration is $35. Plein Air Painters are invited to set up paint stations at
locations that inspire them to capture the scenery from May 16th to May 21st. Painters can stop
by Cheap Joe's Art Stuff from 10am – 6pm Monday – Friday have their canvases stamped and
pick up a welcome bag. "Paint the Town" participants will receive 10% off purchases.

Paintings will be received at WAC's King Street Art Collective gallery on Friday from 1-3pm and
Saturday from 10am – 1pm. The Paint the Town Boone 150 Showcase will commence from 4pm-6pm Saturday, May 21st.

On Saturday, May 21st, a "Paint the Town!" wet paint show will be held at the King Street Art
Collective, at 585 West King Street, from 4 – 6 pm. Pictures from the wet paint show can remain
in the gallery to be included in our Boone 150 Showcase exhibit that will run from May to the
end of June.

High Country Plein Air Painters invite participants to join them for a meet-and-greet breakfast
and paint session on Wednesday, May 18th from 9am -12pm, at the Historic Lovill House Inn.
Lovill House Inn will provide a delicious breakfast for purchase when you arrive. You can RSVP
for breakfast on our registration form. Breakfast is not required to participate.

Need a place to stay? Lovill House Inn, in Downtown Boone, has graciously blocked their rooms
for "Paint the Town!" participants from May 15th, 2022 – May 21, 2022. You can stay at this
historic bed-and-breakfast, visit with other painters, and paint to your heart's delight all week
long. To make reservations call: 828-270-0831
We cannot wait to celebrate the 150th anniversary of Boone with you! Find more information
about the Paint the Town! Boone 150 Plein Air Event on our website:
https://www.watauga-arts.org/paint-the-town.html#/
Register here: https://form.jotform.com/WataugaArts/paint-the-town-registration

Calling All Artists! Boone 150 Showcase Call for Artists

We invite artists to submit work (any medium) they have completed (old or new) that capture
people, places, or scenes of our beloved down. Artwork that is for sale will be able to be
purchased off the wall throughout the length of the showcase. Artwork can be replenished as
well. Go to our website to learn more! watauga-arts.org