Last Updated on April 15, 2021 11:07 am
BOONE, N.C. — Doors opened on the newly renovated Sanford Hall on Appalachian State University's campus March 25. A small gathering of university leadership, members of App State's Board of Trustees and others from the Appalachian Community celebrated the occasion with a reopening ceremony and toured the building.
Almost every undergraduate Mountaineer has a class during their college career in this iconic building, constructed in the 1960s. The renovated building houses the Department of English and provides classroom and office space.
In her remarks, App State Chancellor Sheri Everts expressed appreciation for those who came together to complete the project on budget, despite the many obstacles presented by the global pandemic.
"In July 2019, we embarked on this renovation to update critical safety and mechanical systems, install air conditioning, enhance energy efficiency and reimagine classroom, office and meeting spaces," Everts said. "With its elegant glass elevator tower, this building is now a beautiful anchor to the east end of Sanford Mall."
College of Arts and Sciences Dean Neva Specht said, "Every step of the way, the chancellor has supported the ideas we had to make this building better for our faculty, our students and our campus. The Department of English faculty worked tirelessly to discuss how the building should be designed for the most positive impact on the student experience and their input was acknowledged in the changes and updates."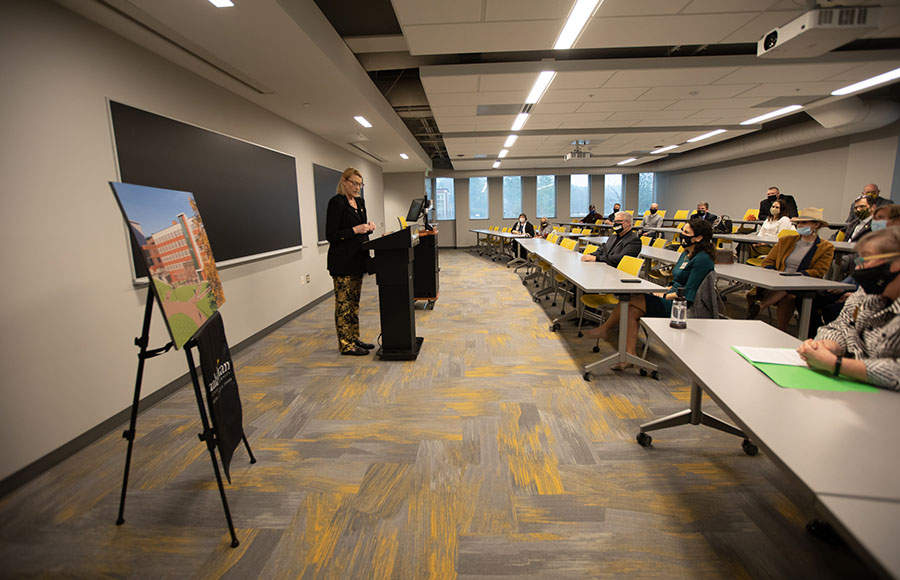 The first four floors of the 71,000-square-foot building are now complete, and the fifth floor, which houses offices and meeting room space, will be opened this summer.
App State's Department of Languages, Literatures and Cultures, formerly located in Sanford Hall, will remain in Lillie Shull Dougherty Hall, where it moved at the onset of the construction.
The first phase of renovations included the following:
Addition of air conditioning and a fire suppression system.
Replacement of approximately 450 panes of glass for energy efficiency savings.
Redesign of office spaces and classrooms.
Creation of a new lecture hall, a large reception area and three specially designed film screening rooms.
Complete replacement of the building's electrical and mechanical systems, IT infrastructure and fire alarm system.
Installation of a double elevator system, replacing the former single elevator.
Addition of stone veneer and masonry work on the exterior, as well as landscaping and hardscaping.
"Sanford Hall has always been a workhorse of a building," said Jeff Pierce, director of planning, design and construction at App State. "It had good bones but needed to be modernized. Students and faculty are going to be so much better served by this freshening. It's a very pleasant, functional learning environment."
Sanford Hall is named in honor of the late Terry Sanford, who served as governor of North Carolina from 1961–65 and as a U.S. senator from 1987–93, and his wife, Margaret Rose Sanford, who is also deceased. Cost of construction for the original building: $1.5 million.