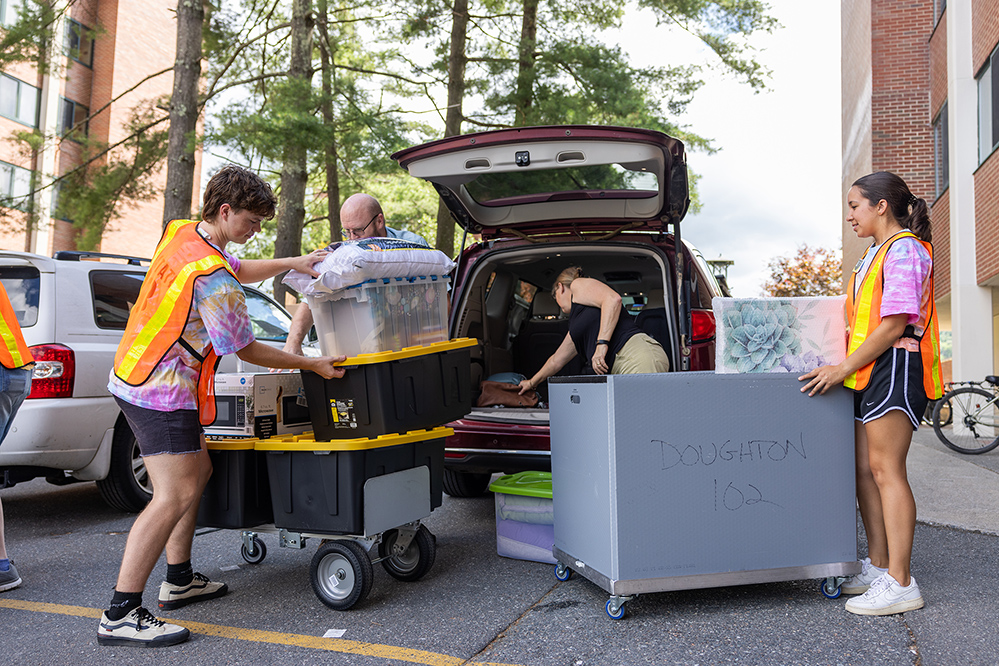 Last Updated on August 20, 2023 10:09 am
BOONE, N.C. — As of Friday, Aug. 18, nearly 6,300 first-year and returning Mountaineers moved into residence halls on App State's Boone campus in preparation for the first day of fall 2023 classes on Monday, Aug. 21.
Among the 6,280 students moving into App State's 19 residence halls:
4,625 new students — first-year and new transfer students; and
1,655 returning students.
Four years ago, the university implemented a weeklong phased move-in schedule — a departure from previous years, when move-in was conducted over one weekend prior to classes.
"Since moving to this phased move-in approach, App State has seen success in several areas," said Dr. Amanda Cutchens, associate director of student and administrative services. "It has reduced traffic, making the move-in experience more positive for our new, incoming students. It has allowed campus partners to plan special programming and ongoing orientation experiences for our students. And, it allows our residence life team to streamline the move-in process so they can focus staff and resources on helping our students."
"Additionally, University Housing would like to thank our campus and local community volunteers who gave their time to help us with move-in this year," Cutchens added.
Students and resident assistants said they are excited about the year ahead, and the streamlined move-in process is helping ensure a successful start to the new year.
"I have been looking forward to coming to App," said Jared Lowe, a first-year student from Durham who is planning to major in psychology. "I have friends here, and the campus is so beautiful. It only took a couple of minutes to get checked in, and I feel like my move has been very good and easy."
Jaeda Harris, a junior resident assistant majoring in cellular-molecular biology, applauded move-in staff and volunteers for working "hand-in-hand together to fill in gaps when needed. Everybody working as a team has helped move-in go quite swiftly."
Some parents and families of students moving in found the process bittersweet, of course, but they were also complimentary of the move-in process.
"Move-in has been very smooth so far," said Tracy Ewert, of Charlotte, whose daughter, Tessa, a first-year student and the Ewerts' fifth child to become a Mountaineer. "Tessa has gotten all the emails and instructions outlining the process for the day with parking and room assignment and our window of time to move in. The check-in went quickly and we started getting things into her room. It has been great."
The weeklong move-in schedule allows students to participate in multiple activities that are designed to help acquaint them with the campus, meet new friends and settle into campus life. Welcome to App activities organized by the Division of Student Affairs include:
App Sports on Sanford Mall — mini-golf, foosball and yard games.
A Turchin Center for the Visual Arts exhibition tour.
Boonearoo — live music on Sanford Mall.
Speed Friending at the Counseling Center — have fun and connect with other students.
AppSpectacular on Sanford Mall and in Varsity Gym — music, games and giveaways.
Ringing the Bell at Founders Plaza — celebrating App State's past and present.