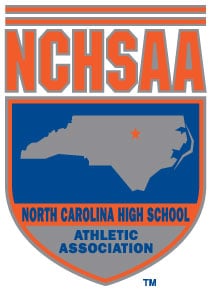 Last Updated on February 12, 2022 7:05 pm
The North Carolina High School Athletic Association (NCHSAA) will allow a limited return to sports starting later this month.
On Monday NCHSAA announced that effective June 15, they will lift the current Dead Period, provided each Local Education Agency (LEA) gives its okay and permission to do so.
Superintendents and local Boards of Education control when they will allow activities to resume in athletic facilities and venues, the statement went on to say.
The NCHSAA Staff has been working closely with the NCHSAA Sports Medicine Advisory Committee (SMAC) on recommendations for member schools regarding summer activities that align with NC DHHS directives. The guidance utilizes a phased approach for NCHSAA athletes and is intended to help school administrators, coaches, parents, students, and communities navigate a gradual reopening of high school athletic activities.
"The health and safety measures outlined in this plan were formed utilizing CDC, DHHS, and NCHSAA information at this time. It is recognized, however, that the information and circumstances concerning COVID-19 remain fluid and variable. Therefore, these guidelines are subject to change in conjunction with new knowledge of COVID-19 or changing social conditions.", the statement went on to say.
In order for students to be able to participate in workouts, the following documents are required:
Physical Examination Form – dated on or after March 1, 2019
Initial Screening Questions –  must be signed prior to beginning summer workout
Daily Monitoring Form –  daily temperature and symptom check
 
In addition to approving these guidelines, the NCHSAA Board of Directors kept in place the June 29 – July 5 Dead Period.  However, for this summer only, Board Members approved the elimination of the NCHSAA Dead Period scheduled for the week of the NC Coaches Association Clinic, Monday, July 20 – July 26.  Schools and coaches are reminded that, per NCHSAA policy, participation in summer activities must not be required and cannot be a prerequisite for "making" a team.