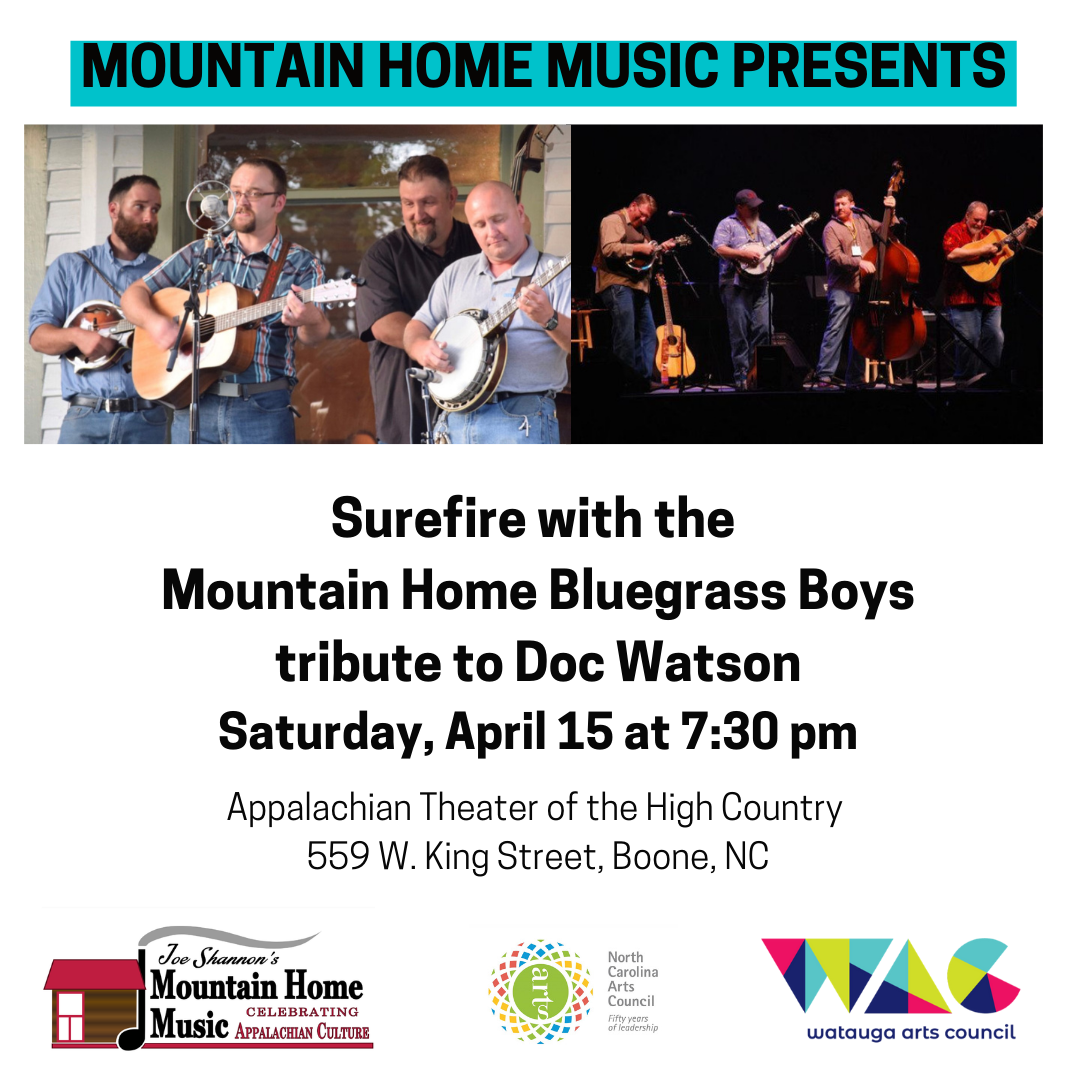 Last Updated on April 12, 2023 7:07 pm
BOONE — Hometown bluegrass and a tribute to Doc Watson — who would've turned 100 years old in March — are on the Appalachian Theatre marquee for Saturday, April 15, when Joe Shannon's Mountain Home Music presents Surefire and the Mountain Home Music Bluegrass Boys.
The concert begins at 7:30 p.m., with the Appalachian Theatre's doors opening at 6:45 p.m. Tickets are $17.50 for Joe Shannon's Mountain Home Music members, $10.50 for children 12 and younger and students with valid ID, and $22.50 for the public. Purchase tickets at apptheatre.org.
Since forming in 2008, Surefire has been a solid bet for high-energy mountain-style bluegrass music. All long-time friends, Surefire members Tom Isaacs (guitar), Robby Norris (mandolin), J.M. Trivette (bass), and Tim Norris (banjo) are the hosts of the Red, White, and Bluegrass Jam at the American Legion in Blowing Rock. The band keeps things close to home, making the rounds of the regional festival scene and touring up and down the East Coast.
Surefire's April 15 performance will be the band's debut at the Appalachian Theatre.
Also featured at the concert will be the Mountain Home Bluegrass Boys, who have been a Mountain Home Music staple for the past 29 years. The stories behind the origins of the Mountain Home Music "house band" lead directly back to the concert series's founder, Joe Shannon. Fronted by two-time national Studio Musician of the Year David Johnson — who plays anything with strings — the band also includes two-time National Banjo Champion and MerleFest and HendersonFest Guitar Champion Steve Lewis, plus master musicians Scott Freeman on mandolin and Josh Scott on bass.
The MHM Bluegrass Boys' set will be a tribute to the legendary guitarist and singer Doc Watson, a native of Deep Gap who was born on March 3, 2023. Watson was 89 years old when he passed away in 2012, but his legacy lives on in the countless musicians he has influenced over the past century.
Since 1994, Joe Shannon's Mountain Home Music has proudly celebrated Appalachian music, singing, storytelling, and dance, supporting working artists and providing accessible cross-generational arts experiences for High Country audiences.
More than 30 concerts, dances and other events are on the JSMHM schedule for 2023. To learn more and for updates about upcoming events, visit mountainhomemusic.org and follow the organization on Facebook and Instagram.