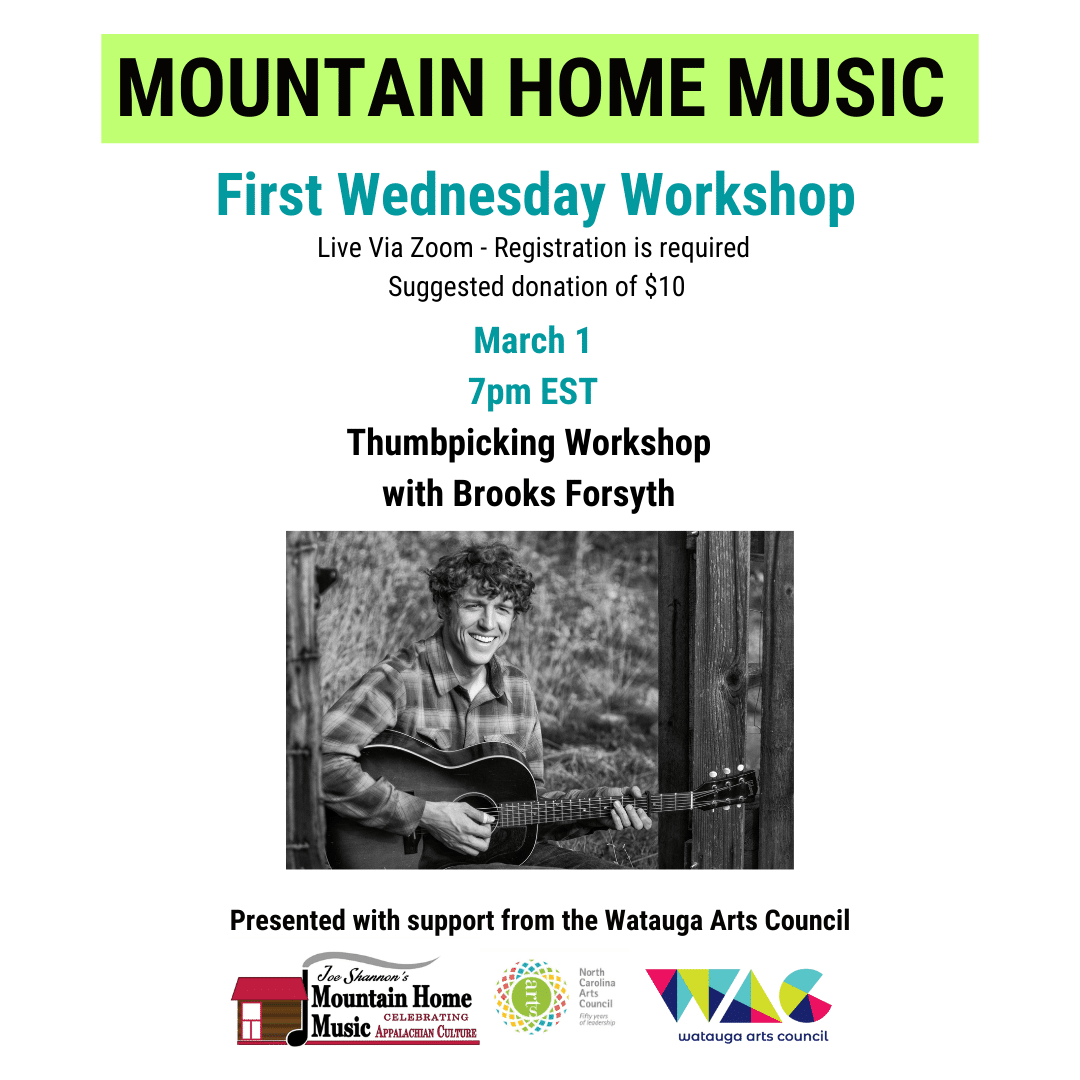 Last Updated on February 27, 2023 12:00 pm
BOONE — Joe Shannon's Mountain Home Music adds to its diverse Appalachian performing arts programming this year with a new First Wednesday Workshop Series, beginning with a Thumbpicking Workshop with Brooks Forsyth at 7 p.m. on March 1.
The series is presented with support from the Watauga Arts Council. All workshops in the series begin at 7 p.m.EST, and registration is required. A $10 donation is suggested. Visit mountainhomemusic.org and find the "Workshops" tab to register. Many of the workshop artists will also be performing as part of the Mountain Home Music concerts series.
Forsyth will discuss and demonstrate different techniques that make up his approach to thumbpicking guitar. The workshop will focus on the legendary Doc Watson and other players like Merle Travis, Chet Atkins and more country blues artists. Registration is required.
Following the March 1 workshop, Forsyth will perform with Will Easter on Thursday, March 9, at 7 p.m. at the Appalachian Theatre — part of the JSMHM and Appalachian Theatre "Local Nights" series. Tickets to that show are $10 ($7 for students) and are available at apptheatre.org.
Additional workshops in the First Wednesday series include:
Storytelling Workshop with Ray Christian
Wednesday, April 5
Join South Arts 2022 National Association of Black Storytellers Fellow Ray Christian for a storytelling workshop. And then grab your tickets for Mountain Home Music Presents: An Evening of Appalachian Music & Storytelling featuring Ray Christian with Sparky & Rhonda Rucker at the Appalachian Theatre on Saturday, April 8 (tickets at apptheatre.org).
Get Up, Get Into It, Get Involved with Dave Brewer
Wednesday, May 3
For more than two decades, Dave Brewer has been Boone, NC's resident multi-instrumentalist, DJ, talent buyer, promoter, festival organizer and band starter/joiner. Whether you're booking shows and communicating with venues, organizing and promoting events, or trying to take the next step, Brewer's been there, still doing it, and can offer helpful tips for musical types in a variety of genres.
Deciphering Doc with Willard Watson
Wednesday, June 7
Brush up on your Doc catalog before the June 15 Boonerang Kick-Off and Celebration of Doc Watson featuring the Kruger Brothers, Jeff Little Trio, and the Burnett Sisters (tickets at apptheatre.org) with this informative workshop. Arthel "Doc" Watson — a Watauga County native who would have turned 100 this year — had lightning-fast guitar licks and a smooth baritone voice that earned him international recognition and eight Grammy awards. In this talk, we will explore Doc's life, influences, style and legacy. This lecture will be a mix of music, film, family stories and ethnomusicology.
Sacred Steel Workshop with DaShawn Hickman
Wednesday, Sept. 6
DaShawn Hickman is one of the foremost contemporary practitioners of Sacred Steel, a blues-gospel tradition dating back to the Pentecostal-Holiness churches of the 1930s. Hickman will walk workshop participants through the tradition of the Sacred Steel, what makes it unique from other types of steel guitars, and demonstrate its versatility. Part performance, part workshop, participants will enjoy an evening all about the beauty, versatility, history, and future of this sacred instrument from one of the greatest Sacred Steel players in the region.
Hickman will return to the High Country on Friday, Sept. 22, as Mountain Home Music brings him to the Appalachian Theatre.
Additional workshops could be added to the schedule in the future.
Since 1994, Joe Shannon's Mountain Home Music has proudly celebrated Appalachian music, singing, storytelling, and dance, supporting working artists and providing accessible cross-generational arts experiences for High Country audiences.
More than 30 concerts, dances and other events are on the JSMHM schedule for 2023. To learn more and for updates about upcoming events, visit mountainhomemusic.org and follow the organization on Facebook and Instagram.