Last Updated on June 10, 2016 10:42 am
BLOWING ROCK — Reba Moretz figured that in all of her years she had never been to the dedication of a bridge until Thursday. The bridge dedication was in honor of her and her husband.
Transportation Secretary Nick Tennyson, several local dignitaries, friends and family members celebrated the dedication of the Reba and Grady Moretz Jr. Bridge at the intersection of U.S. 321 and Chestnut Ridge Parkway. The parkway leads to the Foley Center at Chestnut Ridge, which is a post-acute care center and set to open later this year.
"As most of you know, these two individuals obviously care very deeply about the well-being of this region, having impacted it in so many ways," Tennyson said. "Just as Grady and Reba have spent decades helping connect this area's residents to valuable opportunities, this bridge will physically connect those who need it to critical medical care.
Echoing the key points of Governor McCrory's 25-Year Vision plan for North Carolina, Tennyson said, "In fact, this couple and this bridge also truly embody what our department works to accomplish throughout the state — better connecting people to jobs, education, healthcare and recreation, and opening new doors for communities across the state."
Richard Sparks, CEO of Appalachian Regional Healthcare System, opened the remarks by recognizing the Moretz family, the N.C. Department of Transportation and the entire state. Tennyson followed with his own thank-yous and congratulations.
"Bridge and highway dedications are of the highest honors our department can bestow, and these two are certainly deserving of such a significant and symbolic recognition," Tennyson said. "From this day forward, all who cross over this bridge will be reminded of the tremendous difference Reba and Grady have made, and will continue to make, for countless individuals in this community."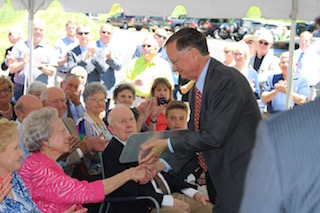 Tennyson closed by handing the Moretz family a metal replica of the sign that is now posted at the intersection. Blowing Rock mayor J.B. Lawrence followed with comments before Reba Moretz took to the podium. She closed her speech with a clever original poem.
The bridge is part of a new half-mile access road constructed into the facility. The J.W. Hampton Company of Boone was awarded the $4.2 million contract for the project, which was funded through an Appalachian Regional Commission grant. Construction began in August 2014, and the road was completed.
The Foley Center at Chestnut Ridge is built on a 68-acre site close to the Blue Ridge Parkway in Blowing Rock. It will replace Blowing Rock Rehabilitation & Davant Extended Care Center (formerly Blowing Rock Hospital).
Photo:Transportation Secretary Nick Tennyson presents a bridge sign to Reba and Grady Moritz Jr. at a dedication ceremony. Photo: NCDOT