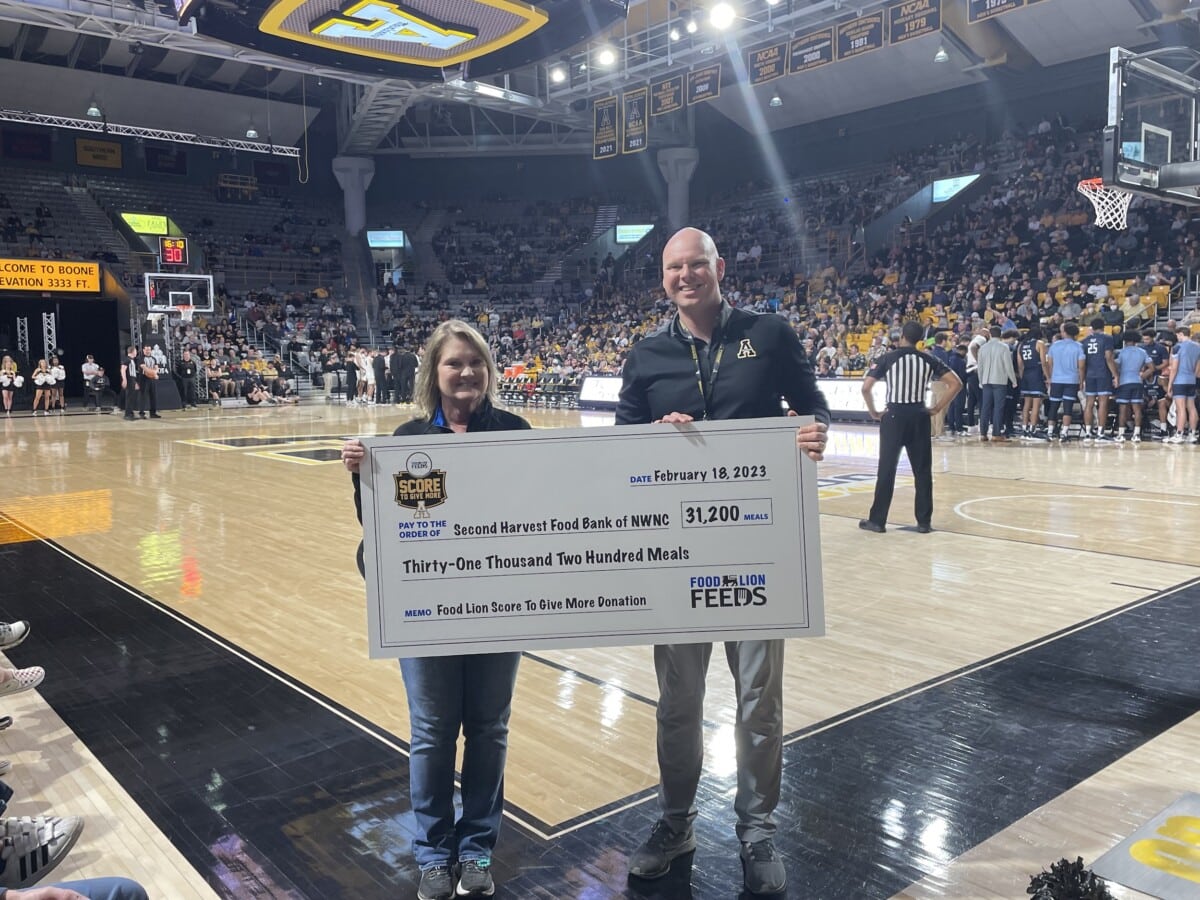 Last Updated on March 28, 2023 1:19 pm
SALISBURY, N.C. — Throughout the 2022-23 college basketball season, Food Lion Feeds partnered with 32 college and university teams to provide more than 1.2 million meals to nourish neighbors in need. Through this collaboration, known as Score to Give More, Food Lion Feeds provided 100 meals for each foul shot sunk to participating schools' local Feeding America® partner food bank, up to 30,000 meals per school. Food Lion Feeds was founded in 2014 by Food Lion to address food insecurity in the towns and cities it serves.
"The Score to Give More program inspires college students to be catalysts for change by creating awareness about food insecurity," said Kevin Durkee, Manager, Food Lion Feeds, Food Lion. "When student-athletes sink foul shots, we engage them in the fight against hunger while directly benefiting local food banks to nourish our neighbors."
Since 2019, Food Lion Feeds has provided more than 3.2 million meals to local food banks across Food Lion's 10-state footprint through the Score to Give More program. Of the 32 participating schools, Lincoln University was one of the top performing colleges, resulting in 48,200 meals for the Food Bank of Delaware in Newark, DE.
"We are grateful for the support of Food Lion Feeds and the Lincoln University basketball team for their amazing free throw skills," said Food Bank of Delaware President and CEO Cathy Kanefsky. "What a win-win for everyone – we are able to build awareness of food insecurity in our community, while also raising money to feed our neighbors. With more neighbors struggling to put meals on the table due to the high costs associated with inflation, this support comes at a critical time for our organization. We are thankful for committed partners like Food Lion."
The 32 Score to Give More participants benefited 15 Feeding America partner food banks serving communities where each school is located across Delaware, Maryland, North Carolina, Pennsylvania, South Carolina and Virginia.
The participating schools, season foul shots and correlating food banks that will benefit from each school's efforts are:
| | | | |
| --- | --- | --- | --- |
| School | School Location | Foul Shots / Meals Provided | Food Bank Benefiting from Meal Donations |
| Appalachian State University | Boone, NC | 312 free throws / 31,200 meals provided | Second Harvest Food Bank of Northwest NC |
| Bowie State University | Bowie, MD | 401 free throws / 40,100 meals provided | Maryland Food Bank |
| Catawba College | Salisbury, NC | 370 free throws / 37,000 meals provided | Second Harvest Food Bank of Metrolina |
| Claflin University | Orangeburg, SC | 375 free throws / 37,500 meals provided | Harvest Hope Food Bank |
| Duke University | Durham, NC | 363 free throws / 36,300 meals provided | Inter-Faith Food Shuttle |
| East Carolina University | Greenville, NC | 367 free throws / 36,700 meals provided | Food Bank of Central & Eastern NC |
| Elizabeth City State University | Elizabeth City, NC | 355 free throws / 35,500 meals provided | Food Bank of the Albemarle |
| Elon University | Elon, NC | 305 free throws / 30,500 meals provided | Second Harvest Food Bank of Northwest NC |
| Fayetteville State University | Fayetteville, NC | 335 free throws / 33,500 meals provided | Second Harvest Food Bank of Southeast NC |
| James Madison University | Harrisonburg, VA | 300 free throws / 30,000 meals provided | Blue Ridge Area Food Bank |
| Johnson C. Smith University | Charlotte, NC | 353 free throws / 35,300 meals provided | Second Harvest Food Bank of Metrolina |
| Liberty University | Lynchburg, VA | 311 free throws / 31,100 meals provided | Blue Ridge Area Food Bank |
| Lincoln University | Oxford, PA | 482 free throws / 48,200 meals provided | Food Bank of Delaware |
| Livingstone College | Salisbury, NC | 425 free throws / 42,500 meals provided | Second Harvest Food Bank of Metrolina |
| North Carolina Agricultural and Technical State University | Greensboro, NC | 356 free throws / 35,600 meals provided | Second Harvest Food Bank of Northwest NC |
| North Carolina State University | Raleigh, NC | 333 free throws / 33,300 meals provided | Food Bank of Central & Eastern NC |
| Old Dominion University | Norfolk, VA | 429 free throws / 42,900 meals provided | Foodbank of Southeastern Virginia and the Eastern Shore |
| Shaw University | Raleigh, NC | 406 free throws / 40,600 meals provided | Inter-Faith Food Shuttle |
| St. Augustine's University | Raleigh, NC | 268 free throws / 26,800 meals provided | Food Bank of Central & Eastern NC |
| University of Delaware | Newark, DE | 354 free throws / 35,400 meals provided | Food Bank of Delaware |
| University of Maryland (Men's) | Adelphi, MD | 386 free throws / 38,600 meals provided | Capital Area Food Bank |
| University of Maryland (Women's) | Adelphi, MD | 344 free throws / 34,400 meals provided | Capital Area Food Bank |
| University of North Carolina | Chapel Hill, NC | 419 free throws / 41,900 meals provided | Inter-Faith Food Shuttle |
| University of North Carolina at Greensboro | Greensboro, NC | 363 free throws / 36,300 meals provided | Second Harvest Food Bank of Northwest NC |
| University of Richmond | Richmond, VA | 300 free throws / 30,000 meals provided | Feed More |
| University of South Carolina | Columbia, SC | 300 free throws / 30,000 meals provided | Harvest Hope Food Bank |
| Virginia State University | Petersburg, VA | 426 free throws / 42,600 meals provided | Feed More |
| Virginia Tech University | Blacksburg, VA | 323 free throws / 32,300 meals provided | Feeding Southwest Virginia |
| Virginia Union University | Richmond, VA | 412 free throws / 41,200 meals provided | Feed More |
| Wake Forest University | Winston-Salem, NC | 403 free throws / 40,300 meals provided | Second Harvest Food Bank of Northwest NC |
| William and Mary College | Williamsburg, VA | 329 free throws / 32,900 meals provided | Virginia Peninsula Foodbank |
| Winston-Salem State University | Winston-Salem, NC | 351 free throws / 35,100 meals provided | Second Harvest Food Bank of Northwest NC |