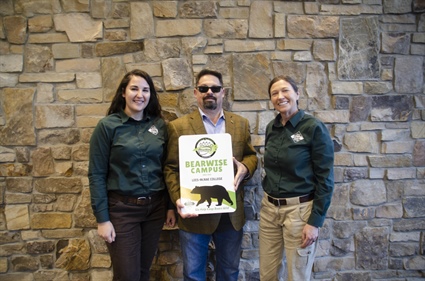 Last Updated on January 10, 2023 12:43 pm
BANNER ELK, N.C. (Jan. 3, 2023) — Wildlife biologists with the N.C. Wildlife Resources Commission recently recognized Lees-McRae College in Banner Elk as the first BearWise campus in the United States. BearWise is a national education program that was developed by bear biologists to provide science-based resources and solutions for living responsibly with American black bears.
BearWise encourages residents, businesses and communities to take proactive actions to avoid conflicts with bears. Some states, including North Carolina, are adopting formal recognition programs for BearWise communities, in which these communities formally commit to securing attractants and following the BearWise Basics to keep bears wild and people safe.
"By becoming a recognized BearWise campus, Lees-McRae College is addressing the human-bear conflicts occurring on campus, which will help keep bears wild and students, faculty and staff safe. It is also significant as Lees-McRae College prides itself on giving back to the community and becoming BearWise will serve as a regional model for how to live responsibly with bears in the High Country of North Carolina," said Wildlife Commission Black Bear and Furbearer Biologist Colleen Olfenbuttel.
As a BearWise campus, Lees-McRae College officials committed to implementing new reporting procedures for bear sightings and interactions through their emergency management webpage. They also are securing attractants on campus by:
Rearranging trash receptacles to minimize access for bears.
Phasing in bear-resistant trash receptacles around campus.
Purchasing trash compactors to minimize garbage in dumpsters.
Replacing dumpster lids with a sturdier metal option to keep bears out.
In addition, students and staff will be responsible for adhering to high standards of conduct, specifically not feeding or approaching bears. The college is committed to educating prospective, new, and current students about being BearWise while on campus.
"The most important reason to become a BearWise community is to protect both our human population and local black bears," said Lees-McRae College Executive Director of Campus Operations HD Stewart. "BearWise is a perfect partner for Lees-McRae because our emphasis on experiential learning and caring for local wildlife means our students are inspired to see the success of the program."
Learn more about how to become a recognized BearWise community or business at the Wildlife Commission website and BearWise.org.
(L to R): Ashley Hobbs, Assistant Black Bear and Furbearer Biologist, Wildlife Commission; HD Stewart, Executive Director of Campus Operations, Lees-McRae College; Colleen Olfenbuttel, Black Bear and Furbearer Biologist, Wildlife Commission. This photo was taken at the recognition presentation at Lees-McRae College on Nov. 18, 2022.