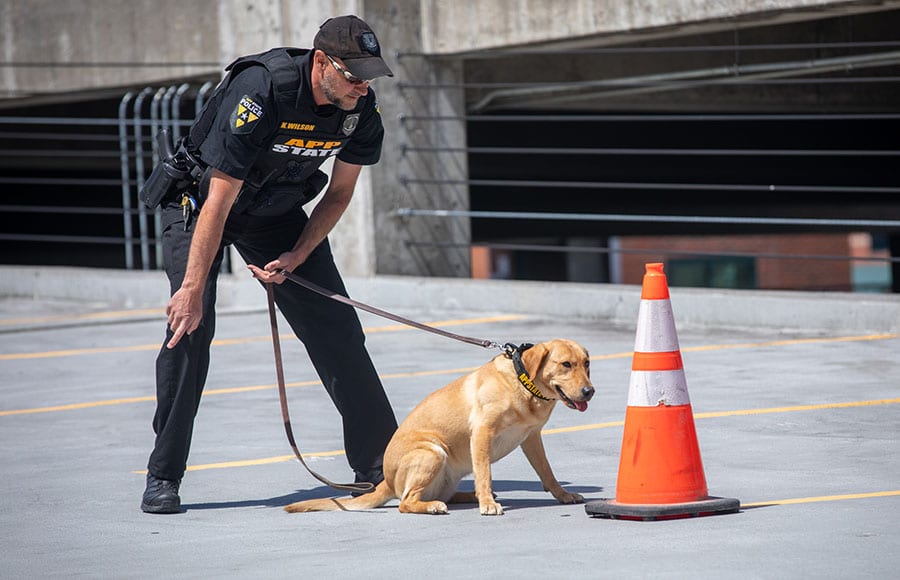 Last Updated on February 11, 2021 1:18 pm
BOONE, N.C. — One of the newest officers to join the Appalachian Police Department (APD) — Appalachian State University's official policing agency — has hit the ground running on all fours.
Officer Yaya, a golden Labrador retriever who joined APD in April 2020, is the first explosives detection and tracking canine in the High Country region of North Carolina and the first APD K-9. She and her partner, APD Officer Kevin Wilson, compose the APD K-9 unit — part of the department's expanding service capabilities for App State.
"Explosive detection and tracking are key support skills for our team and these types of canines are relatively rare. There are no others in our region and very few throughout the state," said Andy Stephenson, App State's director of public safety and chief of police. "Having our own K-9 team ensures that these services are always available to us."
Yaya's tracking abilities will assist APD, as well as other regional law enforcement agencies, in locating evidence, missing persons and/or suspects.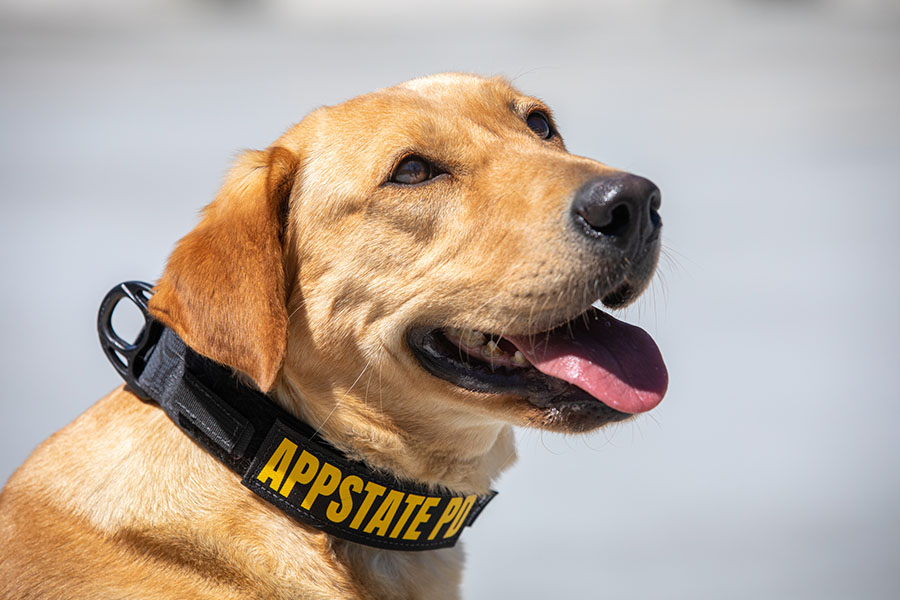 Yaya's certification as a K-9 included 680 hours of training — as much basic training as any other police officer in the state of North Carolina. After completing this initial training, Yaya trained with Wilson for another 200 hours, which helped fine-tune the team's skills.
Yaya is certified in Phase I and II explosive detection, as well as in tracking and trailing, through the International Police Work Dog Association (IPWDA) and can track 22 different scents. Her other certifications include firearm and shell casing recovery, a skill that could support the successful investigation of serious crimes.
"Her ability to track is astonishing, and we're confident that her services will be in high demand," Stephenson said.
Special training is required for K-9 handlers, and Wilson brings his policing experience to the team, along with his continuing desire to work within the K-9 specialization.
Wilson has helped operate K-9 training programs at several other police agencies and served as a corporal and K-9 officer for the Boone Police Department before joining APD in 2019. He has also served as part of a SWAT team and in other law enforcement agencies as a field training officer, supervisor, narcotics detective and general investigator.
"I could not be happier that I was selected to be APD's first K-9 handler," Wilson said. "The amount of work required is huge, as well as the time required to take care of her when she's not working, but I would gladly double that to be able to do what I'm doing. She's a great partner and I'm looking forward to seeing what we can achieve together at the university."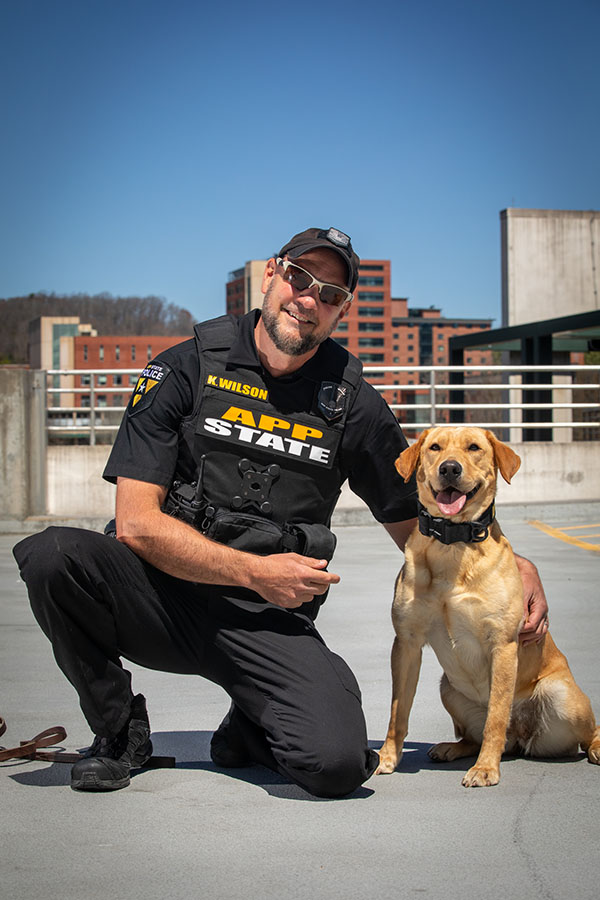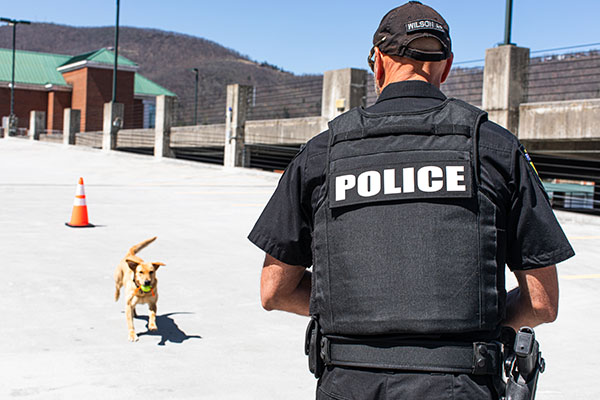 Training, tennis balls and trust
Both Wilson and Yaya have already embarked on many hours of training as a K-9 team, dedicating four to five days each week to training. Their work will enhance APD's capabilities to provide a safe environment when the university returns to hosting on-campus events that may require increased perimeter security, such as concerts, athletic events and commencements.
Yaya's training is toy-driven, Wilson said. She is rewarded with her favorite toy — a tennis ball — for each successful search she completes.
"Yaya thinks that when she finds something, it's supposed to be a party. She's sweet and friendly, and this is important if someone is missing and we are asked to help," Wilson said. "When she finds a scent, she wags her tail and sits down, and then I bounce a ball to her to reward her."
According to Wilson, Yaya is already looking forward to a more normal future on App State's campus — when she can interact with the campus community and visitors on a regular basis.
"We're excited to have Officer Yaya join our team and become a member of our amazing campus community. She already gets excited when she sees the Holmes Convocation Center!" Wilson said.
Wilson is looking forward to being able to grow the APD's K-9 program, as students, faculty, staff and visitors learn about Yaya and what an asset she is to the university and region.
Stephenson shared, "We hope that our K-9 teams will be a source of pride for the campus community and assist us in developing relationships and building trust. We also hope that those on campus will feel welcome to stop and say 'hi' when they see Yaya."