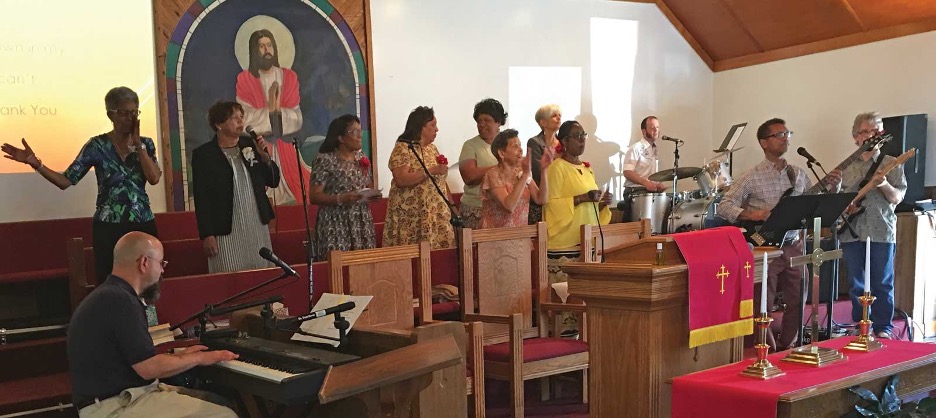 Last Updated on June 22, 2023 10:16 am
VALLE CRUCIS, NC – The 12th anniversary season of the popular Summer Concert Series at
historic St. John's Church in Valle Crucis continues with a choral performance at 5 p.m. on
Sunday, July 2 by the acclaimed Junaluska Gospel Choir . It is the next event on a series of
monthly concerts planned through August 2023.

A summer mission of Holy Cross Episcopal Church, the picturesque St. John's chapel,
consecrated in 1862, is located in the Watauga County countryside and provides marvelous
acoustics for music with its wooden walls and floors forming a natural sounding board for live
performances.

The concerts showcase some of the High Country's finest musicians along with regional artists
of national prominence. Attendees linger until sunset to mingle with the artists after their
performance. All concerts begin promptly at 5 p.m., are approximately 60 minutes in duration
and followed by a potluck supper. Admission is free, but a suggested contribution of $5 will help
the parish offset artists fees, with children 12 and under admitted free of charge.

Back on the concert series by popular demand, the Junaluska Gospel Choir from Boone
Mennonite Brethren Church brings an evening of spirituals and gospel music the concert series.
Nestled within the Junaluska neighborhood, one of the oldest predominantly African American
communities in western North Carolina, the "little white church on the hill" has been home to
some of the region's most talent-rich gospel ensembles, and over the years the Junaluska Gospel
Choir's unique and eclectic sound has evolved into a passionate blend of gospel styles.

Having performed at Boonerang and MerleFest, among many other engagements, the choir is
famous throughout the North Carolina High Country for their passionate and uplifting
performances in the Black Church and Old-Time Gospel music traditions, the choir features
singers who come from multiple generations of choral artists. They will be joined by some of
the region's best rhythm and blues musicians, and audience members will find that it's nearly
impossible to sit still during a choir performance.

Attendees traditionally bring their favorite dish to share during the potluck supper on the lawn
that follows every summer concert, with dozens of folks arriving early to begin the social aspect
of the evening's festivities. Many audience members prefer to set up lawn chairs near the open
windows of the chapel and listen to the music as it resonates throughout the valley. All are
welcome as High Country residents mingle with newcomers and visitors to the melting pot that
is historic St. John's.

St. John's Chapel is located at 645 Herb Thomas Road, off Mast Gap Road in the Sugar Grove
community near Valle Crucis, NC. Signs are posted throughout the valley directing audience
members to the concert location. For more information, please visit the concert website at
www.holycrossvallecrucis.net or call 828.963.4609.