Last Updated on October 2, 2022 5:41 pm
The High Country appears to be in line for the most significant snowfall of the winter. Most forecast are in agreement that 4-8 inches is possible below 3000ft and 10inches above 3000ft. The snow starts as rain Saturday into Sunday morning before changing over. At 4:36pm the Winter Storm Watch was upgraded to a Winter Storm Warning from midnight tonight through 6am Monday morning
Video update from Brad Panovich, WCNC NewsChannel 36 Chief Meteorologist, Twitter Facebook

4:36pm – Watauga & Ashe have been upgraded to a Winter Storm Warning starting at midnight tonight
2:48pm – via Brad Panovich "Avery, Ashe Watauga, Western Burke and Caldwell counties will be upgraded to a Winter Storm Warning shortly."
John L'Heureux of L'Heureux's Weather
Because the low is slowing down, it will be in a more mature phase by the time it hits the High Country. There will be more cold weather with the precipitation. In earlier forecasts I mentioned that a speedier low would mean less snow for everyone due to less cold air available. The low is moving slower, with the precipitation not starting until early Sunday morning. I am bumping up my snow projections the same right now to a slushy 4-6″ for lower elevations in the High Country, but elevation and how close you are to the NC/VA line will be important. For higher elevations, expect the snow to not be quite as dense/slushy when it reaches the surface, leading to higher accumulations. Still tweaking the numbers at this time but sufficient to say I think the heavy precipitation rate early (the wrench mentioned as early as Tuesday) will allow snow to reach the ground early on. At this time:
Below or AT 4000′: 4-6″ of very slushy snow
Above 4000″ OR farther north (Ashe): 6-10″
Snow density and warmer ground temperatures eat away at the models higher projections right now.
The change in forecast amounts is because precipitation will start heavy early on. Heavy, fat snowflakes can survive to reach the surface, even if it is above freezing at the surface. A few snowflakes that melt falling through the atmosphere can cool the layer underneath it. Through the heroic sacrifice of these early snowflakes, other snowflakes can fall unimpeded to the surface. Snowfall projections are up again, but I am not
Via Brad Panovich "The NAM4 has done well this season and does a great job with elevation dependent snows. You can see that places like Grandfather Mountain could see 14″ while lower elevations 2-3″."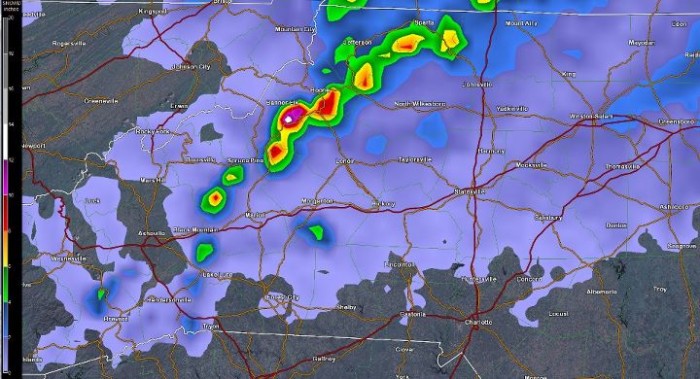 Updated probabilities of 1″ of snow Sunday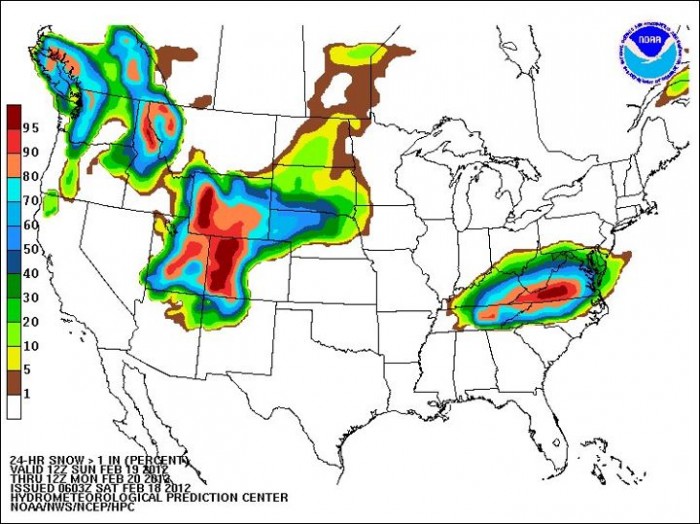 National Weather Service graphics

Here's Brad Panovich's forecast discussion from Friday night