Last Updated on March 4, 2015 1:08 pm
Winter finally arrived at Grandfather Mountain in February, bringing with it five new daily temperature records, the first substantial snow of the season and winds close to 100 mph.
A frigid spell in the third week of the month set the following daily temperature records on the mountain:
Feb. 14: -10.8° (Previously -5° in 1971)
Feb. 15: -11.1° (Previously -6° in 1963)
Feb. 18: -15.4° (Previously -14° in 1958)
Feb. 19: -16.4° (Previously -8° in 1972)
Feb. 20: -10.7° (Previously -4° in 1972)
"Winter certainly took its time getting here, but it came full force once it arrived," said Public Relations Specialist Kellen Short. "It was especially neat to break several daily temperature records that have been standing since the 1950s and '60s. Depending on who you ask, that's either very exciting or very distressing."
Grandfather Mountain did not, however, beat the record low for the month of February, which is -19°, set on Feb. 25, 1967.
Wind speeds also climbed substantially this month, creating wind chills as low as -50° and below.
The highest speed recorded for the month at the Mile High Swinging Bridge was 97.6 mph on Feb. 14, and the automated weather equipment also charted several other days in the 70-80 mph range.
The silver lining to the bitter cold was the arrival of snow — more than 16 inches at the base of the mountain.
Staff at the Entrance Gate recorded 16.6 inches of snow throughout the month, while staff at the Nature Museum halfway up the mountain recorded 11.3 inches. The snowiest day of the month was Feb. 26, when the Entrance Gate recorded 5.5 inches of snow and the Nature Museum recorded 3.8 inches of snow.
While snowfall was plentiful in February, it was largely absent from other months this winter.
"While we don't yet know what March will hold, this has the makings of being one of the least-snowy winters in recorded history on Grandfather Mountain," Short said.
Grandfather Mountain staff member Richard Brown uses a tractor to clear the road on Feb. 17, 2015. February brought the first significant snowfall and record low temperatures to the Linville mountain. Kellen Short | Grandfather Mountain Stewardship Foundation.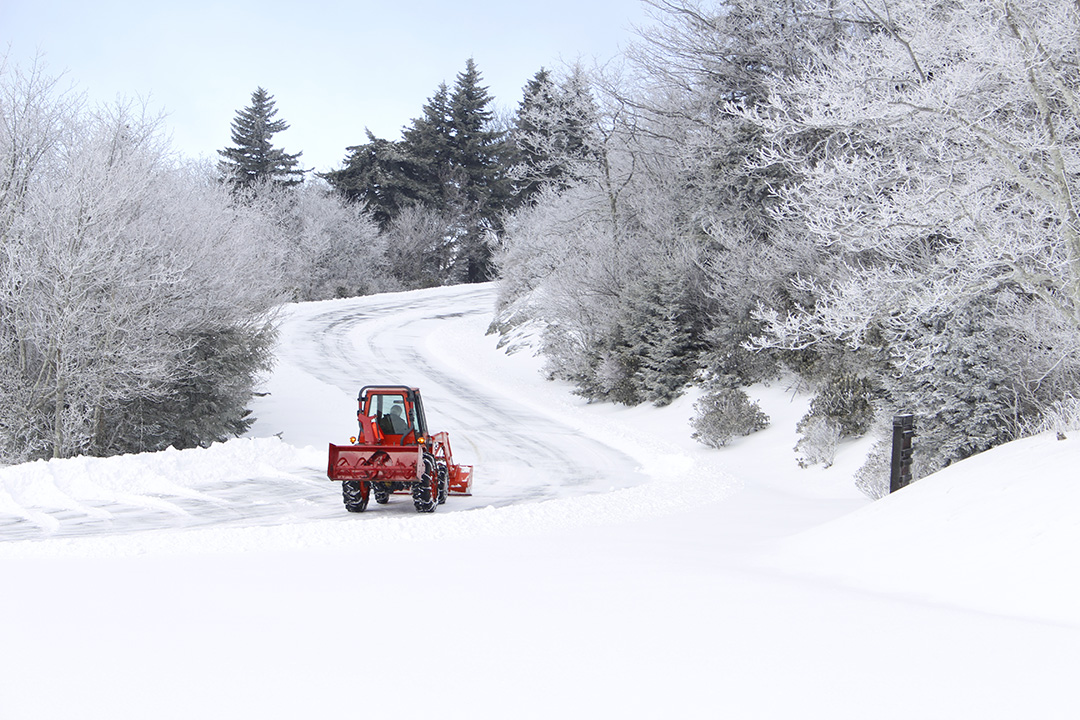 The Mile High Swinging Bridge at Grandfather Mountain stands covered with snow and ice on Feb. 17, 2015. Kellen Short | Grandfather Mountain Stewardship Foundation.