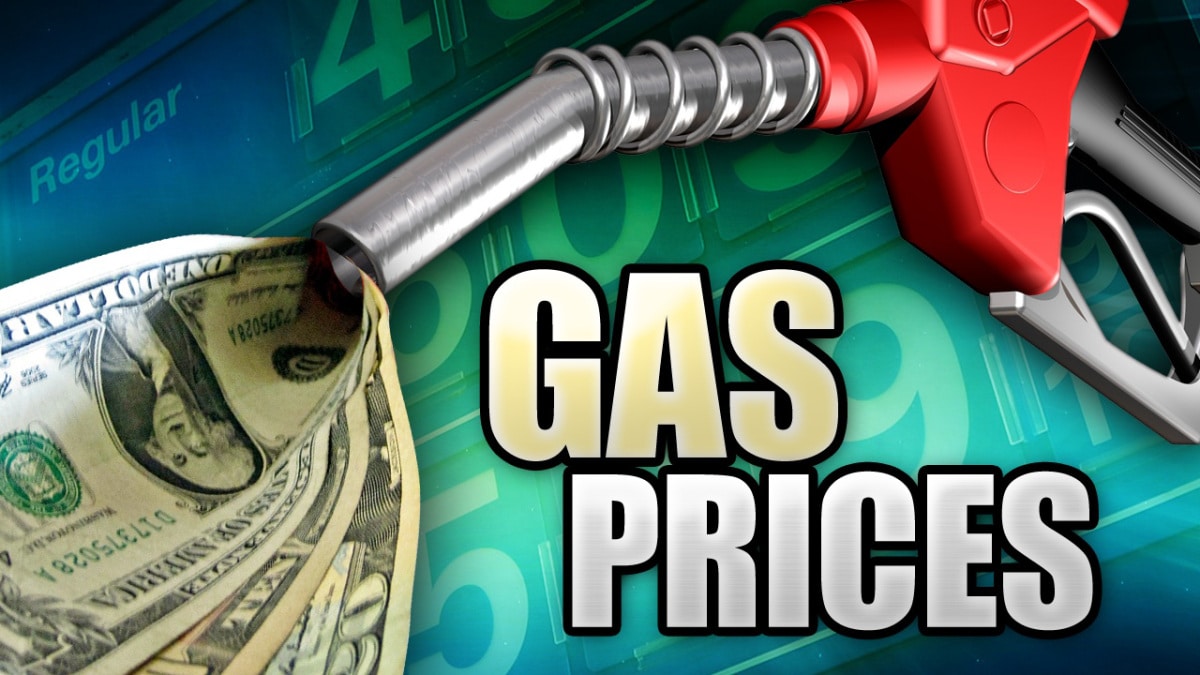 Last Updated on March 7, 2022 2:44 pm
Gas prices nationwide continue to go up and up and up and will now likely hit an all-time record.
On Monday, data from GasBuddy showed the nation's average gas price has risen a staggering 46.5 cents from a week ago and stands at $4.06 per gallon today. The average price of gasoline will likely set a new all-time record in the next 12 hours, breaching the previous $4.103 per gallon record, according to a GasBuddy report.
The national average is up 61.1 cents from a month ago and $1.29 per gallon higher than a year ago, according to the report. The national average price of diesel has risen 61.9 cents in the last week and stands at $4.61 per gallon, the highest since August, 2008 and is just 20 cents from the all-time record high of $4.84/gal, according to the report.
"There are few words to describe the unprecedented rise in gasoline prices over the last week, with massive spikes coast to coast in both gasoline and diesel prices, as oil prices jump to their highest since 2008. Forget the $4 per gallon mark, the nation will soon set new all-time record highs and we could push closer to a national average of $4.50/gal. California could be heading for $5.50 per gallon with more stations charging $6 and beyond," said Patrick De Haan, head of petroleum analysis at GasBuddy. "We've never been in this situation before, with this level of uncertainty. As we lose a major global producer under the weight of deserving bipartisan sanctions for invading a sovereign country, the cost is high. Americans will be feeling the pain of the rise in prices for quite some time, with little good news foreseen."
Local motorists have commented on social media about the increase in prices in recent days. One local driver noted on Monday that gas jumped 20 cents in just one hour. The location she saw that change at went from $3.99 to $4.19.
According to AAA on Monday March 7:

The nation's top 10 largest weekly increases: Rhode Island (+58 cents), Nevada (+57 cents), Connecticut (+56 cents), Kentucky (+56 cents), Alabama (+56 cents), West Virginia (+55 cents), Virginia (+55 cents), Massachusetts (+54 cents), New Hampshire (+52 cents) and New Jersey (+52 cents).
The nation's top 10 most expensive markets: California ($5.34), Hawaii ($4.69), Nevada ($4.59), Oregon ($4.51), Washington ($4.44), Alaska ($4.39), Illinois ($4.30), Connecticut ($4.28), New York ($4.26) and Pennsylvania ($4.23).
Crude oil prices were making additional gains in early Monday trade, with West Texas Intermediate crude oil up $2.31 per barrel, or 2%, to $117.99, up from last Monday's $95.80 per barrel level, but also well off Sunday evening's high of $125 per barrel, according to GasBuddy.
Last week, the International Energy Agency (IEA) announced a coordinated release of crude oil from its 31 member countries' strategic reserves, including the U.S., Germany, Canada, South Korea, and Mexico, to help counter the impact of rising crude prices, according to AAA. On Friday, IEA said member states committed to releasing a total of 61.7 million bbl from their strategic reserves to reassure markets roiled by the fallout from Russia's invasion of Ukraine. This amount—half of which is expected to come from the U.S.—is the largest coordinated release since IEA was founded in 1974. Despite this announcement, the impact on pricing has been limited given that the amount of oil planned for release is small in comparison to the amount that flows daily from Russia to other countries around the globe. According to IEA, Russia exports approximately 5 million b/d of crude oil, representing about 12% of its global trade.