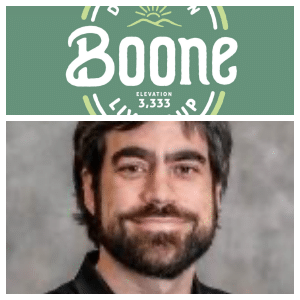 Last Updated on March 15, 2022 12:34 pm
The Town of Boone has named Mark Freed, Director of Cultural Resources, as the interim Downtown Development Coordinator for the Downtown Boone Development Association (D.B.D.A.). Prior coordinator, Lane Moody, recently left the post, and Freed will serve until the position can be filled.

"We are incredibly grateful for Lane Moody and all of the hard work she put in over the years as Boone's Downtown Coordinator," says D.B.D.A. President, Megan Mason.

"The Cultural Resources team has worked closely with the D.B.D.A. over the past several years, and this will help make a smooth transition, while we complete the search and hiring process for a new coordinator," says Dale Presnell, Director of Human Resources.
The Town of Boone expects to post the Downtown Development Coordinator soon and encourages applicants to check the Town's website at www.townofboone.net/humanresources for more information.
The D.B.D.A. operations will continue, with the next regular meeting scheduled for March 29, starting at 8:30 a.m. at the Jones House Cultural Center in downtown Boone at 604 W. King Street.

Activities will also continue, including Earth First Friday, starting at 5:00 p.m. on April 1, featuring a number of activities and participants. The Town of Boone's Sustainability and Special Projects Manager, George Santucci, will be giving away 150 trees, in honor of the Boone 150 celebration. There will also be a special presentation recognizing Boone as a certified Tree City USA member, starting at 6 p.m. at the Jones House.

Other activities coming this spring include the annual EGGSTRAVAGANZA in April, historic downtown walking tours in May, and multiple music festivals in June, including the High Country Jazzfest and Boonerang Music & Arts Festival.
"We have a lot of exciting momentum, and we look forward to seeing the community downtown
this spring," says Mason.
For more information visit www.downtownboonenc.com or call (828) 268-6280.
Mark Freed